CD DVD Label Maker templates
How to Make CD DVD Labels and Covers from Ready-to-Use Templates
RonyaSoft CD DVD label and cover templates are available online and may be accessed via the link provided below. You can now make and print CD DVD labels & covers as well as Blu-ray covers using the cover maker software program. The CD DVD label creator software comes with pre-attached label and cover templates for ease of use. Therefore, create your own attractive design and make tailored CD DVD labels & covers for your movie and mp3 collection.
There are a number of choices for you to opt for in order to create a completely unique design for your CD DVD labels & covers. You can use glossy or glittery paper to print the CD label or cover on. Or you could create a series of DVD labels for your favourite trilogy movies. CD DVD labels & covers are a great way to organize your disc collection. There can be any number of home videos that you would want to label and for every occasion be it a wedding, birthday party, anniversary, Christmas or even Baby's first steps video, you can create lovely and original covers for your home disc collection using the custom CD DVD Label and Cover templates.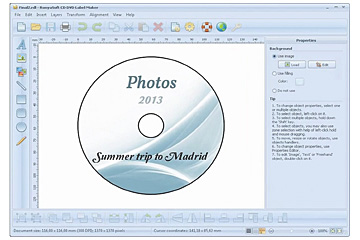 In order to start on your own CD DVD cover design, and to unleash the artist in you, follow these instructions to the end:
Download the software package for free and install the program onto your computer. This will take only one or two minutes.
Edit the template provided with the software program. You can use any number of images and fonts that you like to modify the label and cover templates. Also it is best if you make your own label or cover template to use for a number of similar CD and DVD covers.
Then, when you are satisfied with the design, print the created label or cover and see whether the writing is properly aligned and that the colors are to your liking.
Cut the created cover or insert or paste the label onto your album CD.
The RonyaSoft labelling software provides support for most Windows Operating Systems (including Windows 7 and Windows 8) as well as most sizes of disc box-sets and does not require Word label and cover templates. You may create CD DVD labels and covers using different formats of paper, including A4 and A5, as well as stock labelling papers. It supports popular paper stocks and disc surface printers. With this DVD holder making software program, you will be able to create exceptional and tasteful unique designs inspiring your friends to try it too! The complete label designer software includes the ready-to-use templates and amusing clipart images.
The disc case templates may be used to design and print labels & covers not only for your CDs, but also CD case inserts, DVD box covers, Blu-ray covers, CD sleeves and origami CDs.
CD labeler software supports a wide range of disc surface printers, eg: Canon iP4720, Canon iP8500, Canon MG6150, Canon MP610, Canon MP980, Epson Expression XP-800, Epson Stylus Photo PX700W, Epson Stylus Photo R230, Epson Stylus Photo T50, EZ CD Print 4200, HP Photosmart C5283, Microboards Print Factory, Trace Affex CD-Artist and others.
CD labeling software supports a wide range of disc paper stocks, eg: Americal 313901 3-up, Avery 8692, Avery J8676, Boma LS101HIG, DECAdry OLW-4824, DeskTop Labels 3303 Labels, JP 2-up, Micro Application, Online Labels O9985, ProLabel N4520, Verbatim 114 mm X 3, Zweckform J8776, Zweckform L7760 and others.