Origami CD Case
Free Origami CD Case template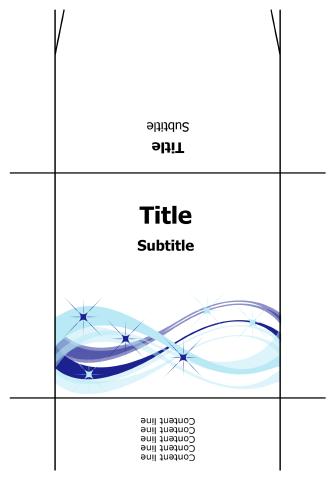 How to Create an Origami CD Case
There are hundreds of ways to make an origami CD case. The key problem of DIY origami CD sleeve or case is that you need to work with a clean sheet of paper, which in case of improper folding will look inaccurate. Moreover, most DIY origami CD cases will require the same do it yourself inscriptions.
RonyaSoft offers you a simple yet efficient origami CD DVD label maker producing greatly looking origami CD and DVD sleeves and cases.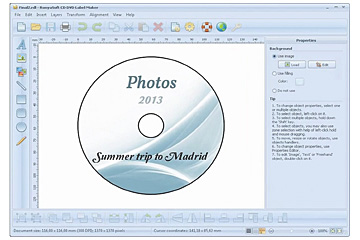 How to make a paper CD case with RonyaSoft application?
This is an all in one application providing you free templates for CD labels, origami CD cases, accurate DVD labels, high quality Blu-ray covers, inserts and sleeves. To make an origami CD case you will need to download and install the application. The RonyaSoft CD label maker does not need additional settings. It is ready to start right after installation is complete.
On the start you choose a necessary template (for example, origami CD sleeve). The template of origami CD case will be opened in a simple graphic editor providing you a set of tools to customize your origami CD case.
With RonyaSoft application you will be able to change a background. The software provides a choice of backgrounds or you can upload a desired image to use as a background for your origami CD case. You can also edit text blocks, add a necessary quantity of text blocks, choose fonts, change font size and color. When the origami CD case is ready then you can save it or print CD covers right from the application. CD DVD cover maker is compatible with most of the popular home printers.
You have surely watched many tutorials how to make a paper CD case, but none of techniques ensures as precise and accurate result as DVD cover maker application. When you print CD covers made with RonyaSoft application you get a ready to use cover. If you make origami CD case, then you will print a paper case with set folds. Following the folds you will make an accurate origami CD case of a proper size (exactly fitting a disk) with all imprints on their right places. All you need to do after printing CD labels, origami CD sleeve or DVD inserts with DVD case creator is to fold a printed sheet of paper.
What are the advantages of using RonyaSoft application for origami CD case?
RonyaSoft cover maker provides an effective tool of making a CD cover, origami CD sleeve, labels and inserts for DVD and blu-ray disks.
Its trial is completely free with unlimited options and templates. The price of the full version is low for an application of such a kind. This app will make any disk label, insert, case, sleeve for your extensive disk library to make every copy recognizable. The software is a perfect choice to make cheap CD cases, DVD sleeves and Blu-ray covers to organize and systematize your collection of disks.
Every template features exactly preset dimensions, in order every origami CD case, DVD sleeve or Blu-ray insert to perfectly fit in a plastic case.
Disc label maker software supports a wide range of disc label printers, eg: Aleratec Robojet AutoPrinter 100, Canon iP6700, Canon MG5320, Canon MP600, DisqueMate M5000, Epson PM-930C, Epson Stylus Photo 950, Epson Stylus Photo R270, Epson Stylus Photo RX590, Epson Stylus Photo TX800FW, HP Photosmart C5283, HP Photosmart D5368, Yurex MantraJet 1050 and similar.
Disc label making software supports a wide range of disc labels, eg: Alpinter A4, Avery 5691, Avery J6115, CDStomper Pro 2-up Core, CoolBeLa BMS002HI , Esselte Dataline 12426 labels, Kyso 5511 , LabelWhiz LW61260, Plain Paper, Printec AnyLabel L3771 L3773, Techworks, Zweckform 6043, Zweckform L6117 and similar.