Aleratec Robojet AutoPrinter 100 printer
Aleratec Robojet AutoPrinter 100 printer CD DVD tray layout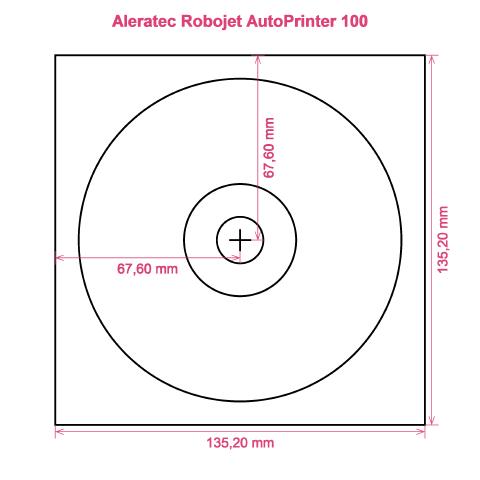 How to print labels on Aleratec Robojet AutoPrinter 100 printer
After you have used the RonyaSoft CD & DVD Label Creator, simplicity will be the word that comes to mind - you can be guaranteed to be blown away at how uncomplicated it is to download the labels printing software program by clicking on the link on this page and within just a couple of moments you will be printing professional-looking CD and DVD labels on your Aleratec Robojet AutoPrinter 100 printer.
Hold on as there's loads to this CD, DVD and Blu-ray labeller software than instantly meets the eye. Simple and easy to use doesn't produce simple prints, but more professional looking CD, DVD and Blu-ray labels than you would expect. This disk label printer program gives you loads of choices and has plenty of CD, DVD and Blu-ray label and cover templates already installed, not just for making CD and DVD labels, but also CD, DVD & Blu-ray covers and inserts to round off the professional look.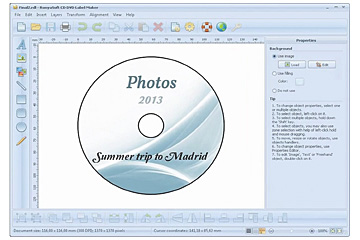 We also indicated this software was great to work with. Well, we understand that if you feel you are not 'tech-aware', once you have tried the RonyaSoft CD & DVD labels creator program, you will feel as confident as any professional graphic artist when you start making plenty of CD/DVD/Blu-Ray covers, disc labels and Blu-Ray inserts:
To automatically download the Blu-ray/CD/DVD labels making program, click on the 'Download' button.
Click on your chosen option from a wide choice of brilliant Blu-ray/CD/DVD label templates.
Change the design of your label according to your liking.
Print the new label by clicking the 'Print' button. Do not forget to specify your Aleratec Robojet AutoPrinter 100 printer during the setup process and to install the latest free version of the driver.
Smile!
Maximize the potential of your computer and Aleratec Robojet AutoPrinter 100 printer where you can now produce a fantastic array of Blu-ray/CD/DVD labels, inserts and covers, to make lovely gifts.
Anyone will tell you that a present with a personal touch, something sweet, will normally be appreciated far more than something purchased, so you will have more than paid for your CD & DVD label design program, when you give someone a present.
Try making some of these:
You are at your brother or sister's twenty-first birthday. It is an incredibly special day in their life and one they will fondly remember when they become older. What better way to aid them reminisce about their special event than for you to take lots of pictures and video clips of the event, from start to finish, put them all on a CD or DVD and give it to them as a unique way of saying how proud you are of them. It will make the day for them and it will have cost you next to nothing, save for a couple bits of paper, a blank CD or DVD and a dash of ink from your Aleratec Robojet AutoPrinter 100 printer.
Chose your nicest photos and snaps to make CD/DVD covers or make disc labels.
Use a photo of your pooch or cat on the cover and CD or DVD label so you can easily spot which CD your pet's photos are all compiled.
What a disaster if you have your laptop and memory stick damaged - where are all your photos stored? Make doubly certain you don't lose all treasured memories of those great days in your life - just print off some cool CD DVD labels, burn your pics on to a disc and keep everything securely where you can see it.
Keen to stand out from the crowd when keenly wanting to impress even before you have been offered a job interview? Produce a fantastic looking CD rounded off with printed box cover, printed insert and printed label to make a great impression.
The RonyaSoft CD & DVD Label Creator is ideal for using with your Aleratec Robojet AutoPrinter 100 printer, so there's nobody to stop you instantly from becoming your own brilliant print shop!
Blu-Ray/CD/DVD label making program supports Microsoft Windows Operational System, including Windows XP, Windows 2003, Windows7 and supports a wide range of CD/DVD/Blu-ray surface printers, including: Brother MFC J835DW, Canon iP5300, Canon MG5350, Canon MG8240, Epson Artisan 710, Epson Expression XP-800, Epson Stylus Photo PX820FWD, Epson Stylus Photo R260, Epson Stylus Photo RX640, EZ CD Print Plus, HP Photosmart D5145, HP Photosmart D5445, Yurex MantraJet 1050 and others.
Blu-Ray/CD/DVD labels printing program supports a wide range of CD/DVD/Blu-ray label providers, including: Ace 61300 series, APLI 11704, Boma LD002-CLR, CD Stomper A4 matt white CD DVD Labels, CoolBeLa LS101HIG, Herma 5086 CD DVD Label, Kyso 5511 CD DVD, Lorenz Bell, Office Depot CD DVD Jewel Case, Polyline CD458G, Verbatim CD DVD 114 mm X 3, Veriad VH577 JP582, Zweckform L6047 and others.