Standard DVD Cover
DVD Cover template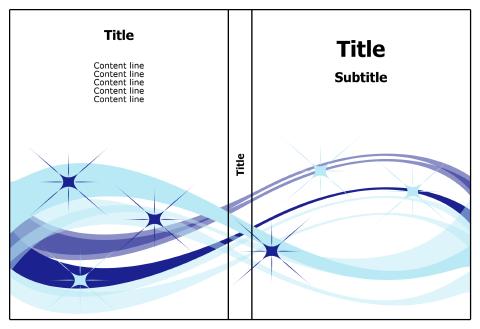 How to Make a DVD Cover
Your own DVD cover printing is now a piece of cake! The RonyaSoft disc covering software program makes you wonder what you have been doing with your CD and DVD labels up to now. Most of the time people do not realize how easy it is to create a DVD cover at home. People find it convenient to just order something online, and once they have paid good money for it, they cannot return it if they are not satisfied. However, the positively brilliant DVD case templates are here for you to create and design as you like.
DVD and CD covers, which are custom made, can definitely give a chic look to any assortment of discs. This is especially the case when teenagers have first started to idolize their favorite celebrities and need to display their loyalty to them. In such cases it is best to indulge their creativity and let them enjoy making DVD covers for their discs using the all-new DVD cover maker software program.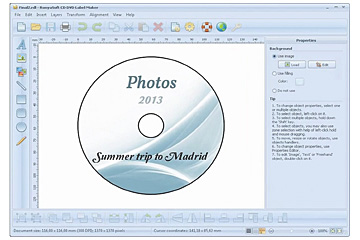 A standard DVD cover template is an added benefit when you download the disc case software from the provided link, as it comes free of cost with the software. It is also easy to use DVD cover making software which will enhance the look of your DVD movie collection and will be treat for the eye.
Basically all you need to do is to follow these straightforward steps:
Download the DVD cover maker software for free to try.
Install and run the executable program file on your computer.
Open the included DVD cover template and make alterations in the design and graphical images as desired.
Finally print out your DVD cover on a custom printing paper using a compatible printer.
After the printing has been done, check the printing to see whether all details look fine or not. If there are not, you may always go back and start making another album or movie box insert just as easily.
Then, cut out the print of the DVD cover and use it for as long as you please.
As regards the size requirements of your standard DVD case cover, a user of the DVD cover template mentioned, "I wouldn't go resizing anything. That will artificially stretch or compress the text and images. Frankly if a cover isn't sized properly to begin with then it probably isn't worth printing at all....and a cover intended for a standard-sized DVD should be 10.80 inches (274 mm) wide by 7.25 inches (184 mm) tall. You can fit either onto a standard piece of 8.5 x 11" paper, but for a DVD cover you'll need to engage the borderless printing option or a few millimeters will get cut off on one side."
Disc cover making software is compatible with most Microsoft Windows OS including latest Windows 7 and Windows 8 versions and does not depends on PhotoShop PSD or Word DVD Cover templates.
Once you have got the basic idea and have tried the DVD cover software out a few times, you can make any number of custom DVD covers to your heart's desire. Make DVD covers yourself and keep up to date with the latest DVD cover designs for your album collection.
RonyaSoft CD Label Maker allows to design and print not only DVD case covers, but CD labels, CD box covers and CD box inserts from a ready-to-use examples or from scratch.
Blu-Ray/CD label creation software supports a wide range of CD surface printers, including: Canon iP4300, Canon iP5300, Canon MG6170, Canon MP530, Canon Pro9500, Epson Artisan 800, Epson Stylus Photo PX730WD, Epson Stylus Photo R2880, Epson Stylus Photo TX700W, HP Photosmart C309 series, HP Photosmart C5383, HP Photosmart D5445, Yurex MantraJet 1150-XL and similar.
Disc labeling software supports a wide range of CD label suppliers, including: Americal 313900 3-up, Armor U11836, Boma BMS001-CLR, Canson 987-283, Custom Paper, DeskTop Labels 3302 Labels, HP CDX-8040E, Label+ Offset 118, Plain Paper, Printer Creations, ProLabel SGW4525, Worldlabel WL-OL5025, Zweckform L7860 and similar.