Paper Sleeve
Free CD Sleeve template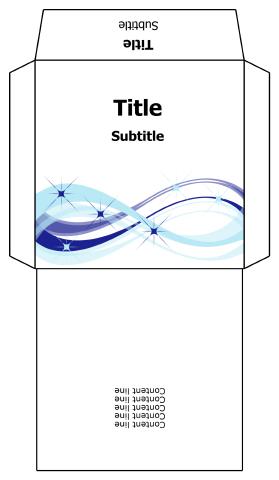 How to Print a CD Sleeve
A paper sleeve is a nicely doubled and fastened paper folder for the protection of your CDs and DVDs from scratches. CD wallets are commonly used for storing CDs and DVDs in cars, tight spaces and on shelves to save space. Attractive CD DVD paper sleeves can now be created using RonyaSoft's CD sleeve software. A custom CD sleeve template comes along with the label maker software and can be designed accordingly.
Many people have been using the CD and DVD covering software program to create good quality and unique designs of their own. A regular user of this CD envelope sleeve creator has remarked "Keep up the great work!"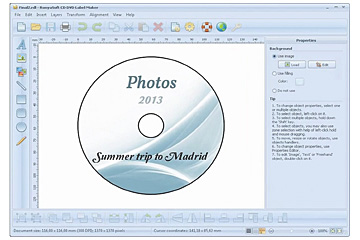 Making a paper sleeve from the CD sleeve template is quite a simple task. All you need to do is follow these instructions:
Download the free CD sleeve making software.
Install the sleeve maker software and run it on your computer.
Edit the CD sleeve template provided with the software according to your taste and ideas.
Cut out very carefully the paper sleeve print as instructed on the cut-out lines.
Glue together all the sides that are marked and your personalized and labelled sleeve is ready.
The RonyaSoft CD DVD Sleeve Maker has a user-friendly interface and there are various other templates to choose from. However, since CD paper wallets are easy and convenient to use as well as being simple to store, this CD envelope template will be useful for your album collection yet. Also, with there being only the cost of printing and paper products to be incurred, CD sleeve making by oneself is a highly cost-effective method. Moreover the use of paper sleeves as CD and DVD cover labels is being encouraged due to their being environmentally friendly.
The CD DVD holder template includes various details to accommodate many different graphic prints and CD cover designs. It allows you to print the album title, original cover artwork and a list of tracks on the back. You will be able to add your own comments on the DVD sleeve as well to guide you through your movie collection at once.
These CD paper sleeves are kind to the environment as well as easy on the pocket. They do not take up too much space at home. Also, the printing may be done in an effective and quick way so as to conserve energy. The software is compatible with most versions of Windows especially those dating from Window 2000 onwards, up to the latest Windows 7 and Window 8 versions and does not rely on MicroSoft Word sleeve templates. As well as the compatibility issue, you may rest assured that the software is completely clean and virus free. Therefore the paper holder creator should be one of the useful tools in your software library.
RonyaSoft Paper Sleeve Maker allows to create and print not only CD paper sleeves, but also disc labels, covers, case inserts and Origami paper cases from a predesigned samples or from blank.
Disc label make program supports a wide range of disc surface printers, eg: Canon iP4000R, Canon iP4950, Canon MG6220, Canon MP500, Canon MX850, Epson PM890C, Epson Stylus Photo PX730WD, Epson Stylus Photo R200, Epson Stylus Photo RX585, Epson Stylus Photo TX800FW, HP Photosmart C5390, HP Photosmart D5360, Yurex MantraJet 1150-XL and others.
Disc label designer software supports a wide range of disc label papers, eg: Ace 60400 series, APLI 2001, Avery Maxell MJ-CD17S-5, Boma LS001HI, DECAdry DLW-1824 (old format), Hisago CJ2843S, Kyso 5511CPM , Label+ Offset 118, Neato 2-up, ProLabel CD458, UBL SP0028 , Veriad VH585 587, Zweckform L7678 and others.