Canon iP6700 printer
Canon iP6700 printer CD DVD tray layout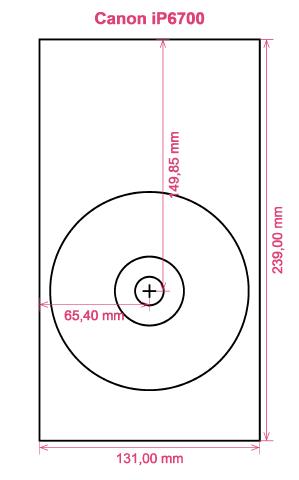 How to print labels on Canon iP6700 printer
It's after you have used the RonyaSoft Blu-ray CD DVD Label Creator that you can realize how utterly simple it is to use great prints - never again will you have any fears of failing to make the most of modern technology! Within moments of starting to use the Blu-ray CD DVD labeller software programme you can be printing CD or DVD labels and covers on your Canon iP6700 printer.
Hold on as there's plenty to this CD, DVD and Blu-ray labeller software than instantly meets the eye. Simple and easy to use doesn't create simple copy, but more professional style CD, DVD and Blu-ray labels than you would expect. This disk labels printer software gives you masses of choices and has so many choices of CD, DVD and Blu-ray label and cover templates already installed, not just for creating CD DVD labels, but also Blu-ray, CD or DVD case covers and case inserts to round off the professional look.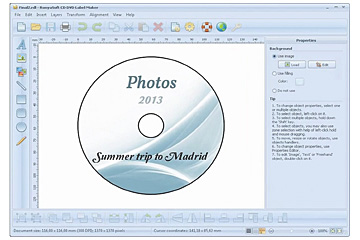 How simple do you want your labeling to be? A few clicks of a mouse is enough for you to then be printing your own CD/DVD/Blu-ray labels, CD & DVD case covers and CD & DVD case inserts. You don't have to be a genius to 'click' with this simple to download labels printing software, just try it and see for yourself!
To automatically download the Blu-ray/CD/DVD labels design software program, click on the 'Download' button.
Try out one of the predesigned Blu-ray/CD/DVD label and cover templates.
Alter the design of your label according to your liking.
Start printing your unique CD and DVD label after clicking the 'Print' button, after inputting your Canon iP6700 as the proper printer being used. Try to download the latest free driver updates.
Smile!
Maximize the potential of your computer and Canon iP6700 printer where you can now run off a fantastic array of Blu-ray/CD/DVD labels, case inserts and case covers, to make lovely surprises.
There is nothing sweeter than being given a gift which indicates someone cares enough to make something unique for you. Save on costly shop-bought presents and with your first gift to someone special you will have covered the cost of your RonyaSoft CD DVD labeller software.
How about these fantastic options:
Life is all about memories, and several of the greatest ones we have are of family days spent together. Everyone has a camera and everyone has their own set of pictures, but what excitement to make a collage of the 'best of' photos from everyone and then create a few copies on to a CD-disc, design your own special labels and case covers using the RonySoft label printing program for CD's, DVD's and Blu-rays and your Canon iP6700 printer and post them as a memorable gift to each member of the family who was in attendance.
Use funky images and pics to to design CD & DVD case covers or design CD/DVD/Blu-ray labels to easily identify your CD's and DVD's.
Do you like being clever? Why not make new photos for the CD and DVD covers for your collection?
Memories shared always last longer - download your pics of a do on to a disc and design a label, cover and insert, then give a copy to all who were attending!
Make a personal video for job applications and design an attractive box with a smart CD DVD label to add the perfect touches.
RonyaSoft Blu-ray CD DVD Label Creator is the perfect software addition to operate with your Canon iP6700 printer so download it instantly and get those imaginative creative juices flowing!
CD label maker software runs on Microsoft Windows OS, including Windows XP, Windows 2003, Windows7 and works with a wide range of CD DVD label printers, eg: Canon iP4820, Canon iP6700D, Canon MG5330, Canon MP630, Custom Printer, Epson L800, Epson Stylus Photo 960, Epson Stylus Photo R1800, Epson Stylus Photo RX610, EZ CD Print Plus, HP Photosmart C5324, HP Photosmart D5460, Yurex MantraJet 1100 and others.
CD labels make software supports a wide range of CD DVD label stocks, eg: Americal 313910, APLI 10400, Big W, Compulabel 312715, Data Becker 3-up, Herma 5083 CD DVD Label, Hisago CJ4846S CD DVD (A5), LabelWhiz LW60360, Plain Paper 2-up, PressIt, SureThing US CD DVD 2-up, Zweckform L6044, Zweckform L7676 and others.