DisqueMate M5000 printer
DisqueMate M5000 printer CD DVD tray layout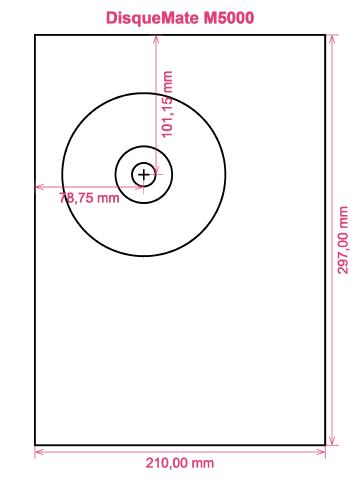 How to print labels on DisqueMate M5000 printer
Only when you have used the RonyaSoft DVD Cover Maker that you can realize how utterly easy it is to get brilliant prints - gone are the days when you be afraid of failing to make the most of modern technology! Within no time at all of installing the DVD labeling software program you will be printing Blu-Ray CD DVD labels on the DisqueMate M5000 printer.
However that's not all that's useful with this fantastic CD DVD labels making software. RonyaSoft may have made this software as obvious as possible to use, but the outcome would suggest differently when you see the standard of printed CD or DVD labels. This CD and DVD label creator software has choices galore for making top quality labels! However for making CD and DVD labels isn't all when you know there are CD and DVD inserts and covers too and realize RonyaSoft have a selection of templates you can use.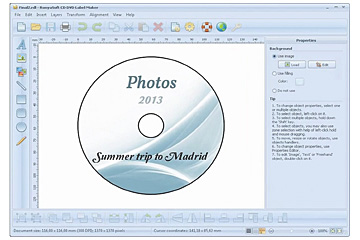 How simple do you need labeling to be? A few clicks of a mouse is enough for you to then be printing your own disc labels, CD & DVD covers and CD inserts. You don't need to be a boffin to 'click' with this simple to download label printing software, just try it and see for yourself!
Highlight the 'Download' button and installation for the CD and DVD label program is automatic.
Try out one of the installed CD and DVD label templates.
Click on the 'Print' button to begin your unique CD and DVD printed label after you have entered DisqueMate M5000 in to the print settings dialog. Do not forget to ensure that the latest printer driver is used.
Be proud of yourself for what you have printed off!
Enhance the potential of your computer and DisqueMate M5000 printer where you can now run off a fantastic array of CD and DVD labels, inserts and covers, to make lovely presents.
There is nothing better than being given a gift which shows someone cares enough to make something special for you. Save on costly shop-bought presents and with your first gift to someone special you will have covered the cost of your RonyaSoft CD & DVD label software.
What about creating some of these:
You are at your brother or sister's graduation. It is an incredibly special occasion in their life and one they will forever think about when they become older. What smarter way to help them reminisce about their special day than for you to take lots of pictures and video clips of the day, from start to finish, put them all on a CD or DVD and give it to them as an individual way of showing how proud you are of them. It will complete the day for them and it will have cost you next to nothing, save for two bits of paper, a blank CD or DVD and a dash of ink from your DisqueMate M5000 printer.
Use jazzy images and snaps to to print CD & DVD covers or print disc labels to easily identify your CD's and DVD's.
Need to store pics cataloged? Put a relevant photo on the compact disc label or DVD box cover.
What occurs if you have your laptop and memory stick stolen - where are all your photos stored? Make extra certain you don't lose all treasured memories of those occasions in your life - just print off some cool CD DVD labels, burn your pics on to a disc and keep everything securely where you can see it.
Need to stand out from the crowd when desperately trying to impress even before you have been offered a job interview? Create a superb looking CD DVD finished off with printed box cover, printed insert and printed label to make a great impression.
RonyaSoft DVD Cover Maker is the ideal software addition to use with your DisqueMate M5000 printer so download it now and get those stylistic juices flowing!
Blu-Ray/CD/DVD label printing software works on Windows Operational System, including Windows XP, Windows Vista, Windows 8 and supports a wide range of disc label printers, eg: Canon iP4600, Canon iP6700, Canon MG5450, Canon MP810, Canon Pro9000, Epson Expression XP-800, Epson Stylus Photo 1410, Epson Stylus Photo R1800, Epson Stylus Photo TX700W, HP Photosmart C309a, HP Photosmart C5580, HP Photosmart D5468, Yurex MantraJet 1050 and others.
Blu-Ray/CD/DVD labels creator software supports a wide range of disc label suppliers, eg: Americal 313936N, Avery 8960, Avery Maxell M87361, CD Stomper 2-up CD DVD with Center Labels, Data Becker, D-Tech CD DVD, IBM, Memorex 3-in-1, Online Labels OL1200, Printer Creations, Smart Label Model Q, WriteAway CD DVD, Zweckform L7860 DVD and others.