Epson Stylus Photo R360 printer
Epson Stylus Photo R360 printer CD DVD tray layout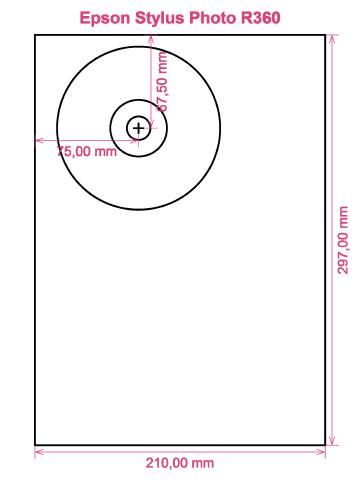 How to print labels on Epson Stylus Photo R360 printer
After you have successfully operated the RonyaSoft CD DVD Cover Creator, simplicity will be the word that springs to mind - you can surely be thrilled at how simple it is to download the label design software program by clicking on the link on this page and within just a couple of moments you will be running off professional-looking CD or DVD labels on your Epson Stylus Photo R360 printer.
However that's not all that's available with this exceptional CD DVD label print software. RonyaSoft may have made this software as simple as possible to use, but the results would suggest differently when you see the standard of printed CD or DVD labels. This Blu-ray, CD or DVD label maker software has options galore for making top quality labels! However for making Blu-ray, CD or DVD labels isn't all when you know you'll need Blu-ray, CD or DVD inserts and covers too and discover RonyaSoft have a selection of templates you can use.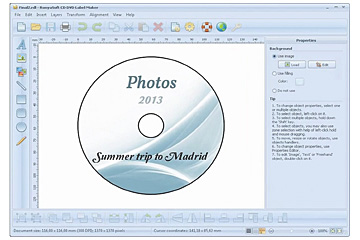 And as for easy to use, well 'user-friendly' is now even more friendly. Just read the text to understand how simple, yet effective and professional results will be when you begin to design Blu-ray, CD or DVD covers, Blu-ray labels and Blu-Ray DVD inserts:
To automatically receive your CD DVD label making program, click on the 'Download' button.
Opt for your favorite design from any of the great CD DVD label and covers templates.
Print the new label by clicking the 'Print' button. Don't forget to indicate your Epson Stylus Photo R360 printer during the setup process and to install the latest free version of the driver.
Smile!
All it needs to turn your PC and Epson Stylus Photo R360 printer in to a busy personal gift factory is a little imagination.
Have you ever noticed how a personally made gift really matters to someone you like? Why spend money on pricey, presents that anyone can buy, when with the RonyaSoft CD DVD label and cover printing software, you can save a fortune on gifts and become ten times more thoughtful?
How about these for suggestions:
You're at a wedding and you take loads of un-staged photos or video clips of attendees looking happy and having a ball. Choose your favorites, burn them on to a disc and send it to the bride and groom as a thank you for the invitation to their special day. They will love you for the sweet and personal touch. And what did it cost you to produce one of the most kind gifts they will be given during their wedding? - The money for a blank disc, a couple of pieces of paper and a dash of ink from your Epson Stylus Photo R360 printer. Great huh?
Use jazzy images and snaps to to print Blu-ray, CD or DVD covers or print Blu-ray labels to easily identify your CD's and DVD's.
Need to keep photos cataloged? Put a topical photo on the compact disc label or DVD case cover.
What happens if you have your laptop and memory stick damaged - where are all your photos kept? Make super sure you don't lose all recorded memories of those occasions in your life - just print off some cool CD and DVD labels, burn your photos on to a disc and store everything safely where you can see it.
Need to stand out from the throng when desperately wanting to impress even before you have been offered a job interview? Create a superb looking DVD rounded off with printed case cover, printed insert and printed label to make a brilliant memorable impression.
RonyaSoft CD DVD Cover Creator is the perfect software add-on to use with your Epson Stylus Photo R360 printer so download it now and get those imaginative creative juices flowing!
DVD label design software runs on Windows Platform, including Windows XP, Windows Vista, Windows 8 and supports a wide range of disc surface printers, eg: Canon iP4810, Canon iP4870, Canon MG5330, Canon MP610, Epson Artisan 710, Epson PM920C, Epson Stylus Photo PX700W, Epson Stylus Photo R210, Epson Stylus Photo RX590, HP Photosmart C5200 series, HP Photosmart D5100 series, HP Photosmart D5360, Yurex MantraJet 1150-XL and others.
DVD label making software supports a wide range of disc label papers, eg: Ace 30700 series, Avery 8692, Avery Maxell C95361, Compulabel 312737 3-up, Data Becker 3-up, DeskTop Labels 3302-CD CD DVD Labels, HP CDX-8040E, LabelStuff 59200, Neato CD DVD 2-up, ProLabel FFCD, Sanwa LB-CDR001 CD DVD, Zweckform L6015, Zweckform L7678 and others.