Canon Pro9500 MarkII printer
Canon Pro9500 MarkII printer CD DVD tray layout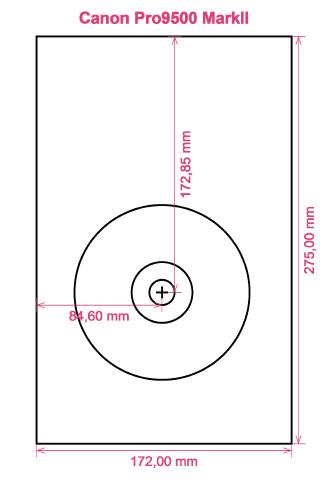 How to print labels on Canon Pro9500 MarkII printer
Once you have successfully operated the RonyaSoft DVD Label Designer, easy will be the word that springs to mind - you will definitely be amazed at how uncomplicated it is to download the label design software by clicking on the link on this page and within just a couple of moments you will be producing professional-looking CD and DVD labels and covers on your Canon Pro9500 MarkII printer.
However that's not all that's available with this fantastic CD label creation program. RonyaSoft may have made this software as obvious as possible to use, but the prints would suggest differently when you see the impressiveness of printed CD and DVD labels. This Blu-ray, CD or DVD labels program has choices galore for making professional and classy labels! However for making Blu-ray, CD or DVD labels isn't all when you know you'll need Blu-ray, CD or DVD inserts and covers too and notice RonyaSoft have a load of templates you can use.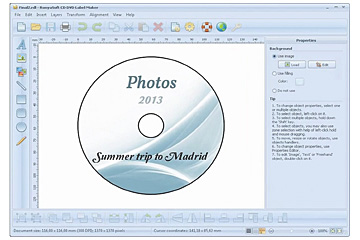 How simple do you need label creation to be? A few clicks of a mouse is enough for you to then be producing your own disc labels, Blu-ray, CD or DVD covers and Blu-Ray inserts. You don't need to be a genius to 'click' with this simple to download labels printing software, just try it and see for yourself!
To automatically receive your CD DVD label printing program, click on the 'Download' button.
Click on your chosen option from a great choice of predesigned Blu-ray/CD/DVD label and cover templates.
Click on the 'Print' button to begin your unique CD and DVD printed labels after you have entered Canon Pro9500 MarkII in to the print settings dialog. Do not forget to inspect that the latest printer driver is installed.
Be proud of yourself for what you have printed off!
All it needs to turn your PC and Canon Pro9500 MarkII printer in to a busy personal gift factory is a bit of imagination.
There is nothing nicer than receiving a gift which shows someone cares enough to make something unique for you. Save on costly shop-bought presents and with your first gift to someone special you will have covered the cost of your RonyaSoft CD DVD label program.
What about doing some of these:
You're at a wedding and you take loads of un-staged photos or video clips of everyone looking relaxed and having a great time fun. Pick your favorites, burn them on to a disc and give it to the bride and groom as a thank you for the invitation to their marriage. They will remember you for the sweet and personal touch. And what did it cost you to make one of the most kind offerings they will get during their wedding? - The cost of a blank disc, two pieces of paper and a splash of ink from your Canon Pro9500 MarkII printer. Cool huh?
Use jazzy images and snaps to to design Blu-ray, CD or DVD covers and design disc labels to easily identify your CD's and DVD's.
Have to keep photos cataloged? Put a topical photo on the CD label or DVD box cover.
Memories shared usually last longer - download your photos of a do on to a disc and make a label, cover and insert, then send to all who were there!
Want to stand out from the crowd when anxiously wanting to impress even before you have been offered a job interview? Produce a fantastic looking CD DVD rounded off with printed case cover, printed insert and printed label to make a brilliant memorable impression.
The RonyaSoft DVD Label Designer is excellent for using with your Canon Pro9500 MarkII printer, so there's zero to stop you today from starting your own little print shop!
Blu-ray label printing program is compartible with Microsoft Windows OS, including Windows XP, Windows Vista, Windows 8 and supports a wide range of CD DVD label printers, including: Canon iP4740, Canon iP4920, Canon MG6140, Canon MP810, Epson Artisan 730, Epson PM-980C, Epson Stylus Photo PX650, Epson Stylus Photo R2880, Epson Stylus Photo R360, HP Photosmart C5275, HP Photosmart C5500 series, HP Photosmart D5363, Yurex MantraJet 1050 and similar.
Blu-ray label creation program supports a wide range of CD DVD label papers, including: Americal 313936N, APLI 10329, Avery 8962, CD Stomper 2-up CD DVD with Center Labels, Compulabel 312840, Hisago CJ2847S, Kingdom 2-up, LabelWhiz LW60460, MultiFlip LD001, Printasia, Uline US CD DVD 2-up S-8077, Veriad VH567 JP568, Zweckform L7860 DVD and similar.