Epson Stylus Photo TX800FW printer
Epson Stylus Photo TX800FW printer CD DVD tray layout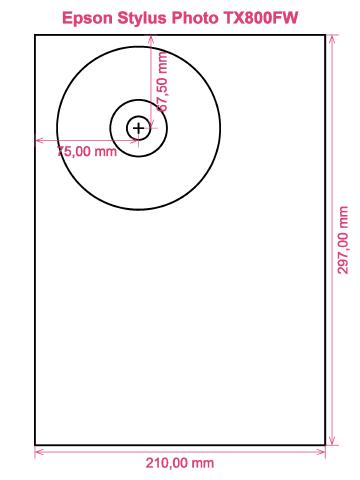 How to print labels on Epson Stylus Photo TX800FW printer
When you have successfully operated the RonyaSoft CD Label Creator, brilliant! will be the word that springs to mind - you'll definitely be amazed at how quick it is to download the labels printing software programme by clicking on the link underneath and within just a couple of minutes you will be running off professional-looking Blu-Ray CD DVD labels on your Epson Stylus Photo TX800FW printer.
Yet that's not all that's available with this brilliant DVD labels making program. RonyaSoft may have made this software as obvious as possible to use, but the prints would suggest differently when you see the standard of printed CD and DVD labels. This CD and DVD labels creator program has options galore for making professional and classy labels! Yet for making CD and DVD labels isn't all when you know you can make CD and DVD case inserts and case covers too and discover RonyaSoft have a load of templates you can use.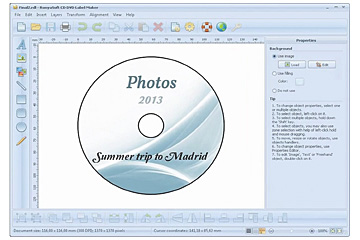 Concerning easy to use, well 'user-friendly' is now even more friendly. Just use the instructions to discover how straightforward, yet effective and professional results will be when you start to create Blu-ray, CD or DVD case covers, CD/DVD/Blu-ray labels and CD DVD case inserts:
To automatically download the CD and DVD labels making program, click on the 'Download' button.
Opt for your favorite design from any of the preloaded CD and DVD label templates.
Add any of your own design ideas to print the CD or DVD labels extremely personal.
Start printing your individual CD and DVD label after clicking the 'Print' button, after selecting your Epson Stylus Photo TX800FW as the right printer being used. Always download the latest free driver updates.
Enjoy!
Everything you need to turn your PC and Epson Stylus Photo TX800FW printer in to a fabulous personal gift factory is a bit of imagination.
Have you ever noticed how a personally made gift really matters to someone you love? Why spend money on expensive presents that anyone can buy, when with the RonyaSoft CD label and cover making program, you can save a fortune on gifts and appear ten times more thoughtful?
How about these fantastic suggestions:
Life is all about memories, and a few of the memorable ones we have are of family days spent together. Everyone has a camera and everyone has their own set of pictures, but what fun to make a collage of the 'best of' photos from everyone and then create a few copies on to a compact disc, make your own special labels and case covers using the RonySoft label printer for CD's, DVD's and Blu-rays and your Epson Stylus Photo TX800FW printer and post them as a memorable gift to each member of the family who was present.
Chose your favourite photos and pics to design Blu-ray, CD or DVD case covers and design CD/DVD/Blu-ray labels.
Want to store photos cataloged? Put a relevant photo on the CD label or DVD box cover.
What occurs if you have your laptop and memory stick destroyed - where are all your photos kept? Make super sure you don't lose all stored memories of those moments in your life - just print off some cool CD and DVD labels, burn your photos on to a disc and store everything sensibly where you can see it.
Are you seeking a novel way to make you stand out when applying for work. Do you want to seem different from the rest of the applicants. Do you want to impress your prospective employers with a presentation of yourself on a DVD with an excellent printed DVD label and printed DVD box made for each application?
The RonyaSoft CD Label Creator is ideal for using with your Epson Stylus Photo TX800FW printer, so there's zero to stop you today from becoming your own brilliant print shop!
Blu-Ray/CD/DVD label making program supports Microsoft Windows System, including Windows XP, Windows Vista, Windows 8 and works with a wide range of CD DVD surface printers, eg: Canon i905D, Canon iP4940, Canon MG6350, Canon MP830, Canon Pro9000, Epson PM-980C, Epson Stylus Photo 1400, Epson Stylus Photo R285, Epson Stylus Photo RX680, Epson Stylus Photo TX810FW, HP Photosmart C5393, Rimage Everest II, Yurex MantraJet 1150-XL and similar.
Blu-Ray/CD/DVD labels making program supports a wide range of CD DVD labels, eg: Anker CD DVD, Armor U11836, Avery L7660, Compulabel 312636, DECAdry OLW-4798, Herma 4471 CD DVD Label, IGEPA EA-CD-ROM2Q, Memorex CD DVD MAX, NCR 904067, Polyline MCD625W, SureThing US CD DVD 2-up, Zweckform L6045, Zweckform L7776 and similar.