Canon MP600 printer
Canon MP600 printer CD DVD tray layout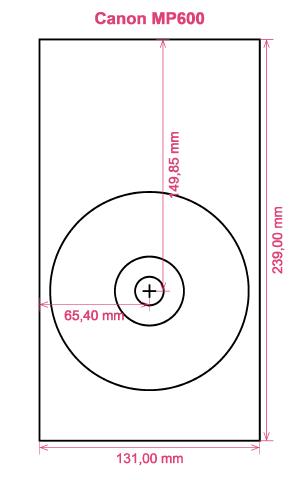 How to print labels on Canon MP600 printer
Only when you have used the RonyaSoft Blu-ray CD DVD Label Designer that you can see how utterly easy it is to operate brilliant prints - no longer need you worry about failing to make the most of modern technology! Within moments of installing our Blu-ray CD DVD label software programme you should be printing CD and DVD labels and covers on the Canon MP600 printer.
Please don't stop there, as you may not see the best picture for this CD DVD labels making software. RonyaSoft haven't gone to such measures simply so you can print off a list of tracks on a CD or a film title on a label. No! This CD DVD labels designer software will give you so many different options for Blu-ray, CD or DVD label design to allow you to create attractive labels and covers. Plus, the CD DVD label design software can also help to print Blu-ray, CD or DVD boxes and case inserts with the help of our Blu-ray, CD or DVD templates.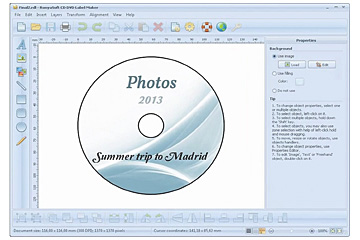 How simple do you want your label making to be? A few clicks of a mouse is enough for you to then be running off your own disc labels, CD/DVD/Blu-Ray box covers and Blu-Ray CD box inserts. You don't have to be a genius to 'click' with this simple to download labels printing software, just use it and see for yourself!
Click on the 'Download' button and installation for the Blu-ray/CD/DVD labeller software is automatic.
Click on your chosen option from a great choice of preinstalled CD label and covers templates.
Print the created label by clicking the 'Print' button. Don't forget to indicate your Canon MP600 printer during the printing process and to install the latest free version of the driver.
Be proud of yourself for what you have produced!
Everything you need to turn your PC and Canon MP600 printer in to a little personal gift factory is a little imagination.
Have you ever noticed how a personally made gift really matters to someone you like? Why spend money on pricey, presents that anyone can buy, when with the RonyaSoft Blu-ray CD DVD label create software, you can save a fortune on gifts and seem ten times more thoughtful?
Think about these for possibilities:
Life is all about memories, and several of the memorable ones we have are of family days spent together. Everyone has a camera and everyone has their own set of pictures, but what joy to make a collage of the 'best of' photos from everyone and then run off a few copies on to a CD-disc, print your own special labels and box covers using the RonySoft label printing software for CD's, DVD's and Blu-rays and your Canon MP600 printer and post them as a surprise gift to each member of the family who was in attendance.
Chose your nicest photos and pics to print CD & DVD box covers or print disc labels.
Do you love being practical? Why not design new images for the CD and DVD covers for your collection?
It's simple to store all your snaps on your computer or a memory stick, but make a fantastic label to put on a CD or create a CD case cover and insert and make a physical library of all your memories.
Make an one-off video for work applications and make an appealing case with a smart CD DVD label to add the final touches.
RonyaSoft Blu-ray CD DVD Label Designer is the best software addition to operate with your Canon MP600 printer so download it instantly and get those stylistic juices flowing!
Blu-ray label printing software runs on Windows Operational System, including latest Windows 7 and Windows 8 versions and works with a wide range of disc surface printers, eg: Aleratec Robojet AutoPrinter 100, Canon iP5300, Canon MG6350, Canon MG8270, Canon Pro9500 MarkII, Epson PM-D750, Epson Stylus Photo 950, Epson Stylus Photo R230, Epson Stylus Photo RX700, HP Photosmart C309c, HP Photosmart C5324, HP Photosmart D5463, Trace Affex CD-Artist and similar.
Blu-ray labels create software supports a wide range of disc label providers, eg: Agipa 119884, Avery 5698, Avery J8760, Canson 987-283, DECAdry DLW-1824, Hisago CJ2847S, Kyso 5511 CD DVD, Memorex 3-in-1, Pelikan 406903 3-up, PressIt, Verbatim CP-3174, Zweckform L6043, Zweckform L7860 DVD and similar.