Canon MG7500 Series printer
Canon MG7500 Series printer CD DVD tray layout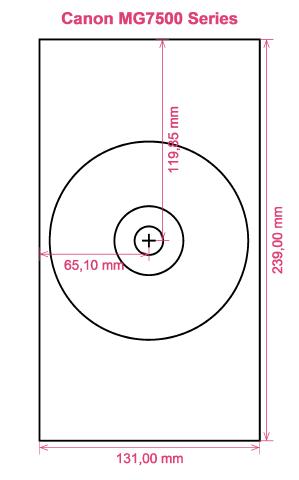 How to print labels on Canon MG7500 Series printer
Only when you have used the RonyaSoft DVD Cover Designer that you will discover how utterly great it is to use great results finishes - no longer need you have any fears of being unable to make the most of modern technology! Within seconds of starting to use the DVD labeling software programme you should be printing CD or DVD labels and covers on your Canon MG7500 Series printer.
Whatever you do don't stop there, as you may be missing the larger picture for your new Blu-ray/CD/DVD label printing software. RonyaSoft haven't gone to such extremes simply so you can print off a list of tracks on a CD or a film title on a label. No! This CD label software will give you so many different options for Blu-ray, CD or DVD label making to allow you to design professional looking labels and covers. Plus, the CD label creation software can also be used to make Blu-ray, CD or DVD covers and inserts using our Blu-ray, CD or DVD templates.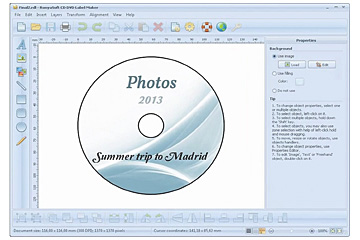 Concerning easy to use, well 'user-friendly' became even more friendly. Just follow the directions to discover how easy, yet effective and professional results will be when you begin to design CD/DVD/Blu-Ray case covers, CD DVD labels and CD DVD case inserts:
Hit the 'Download' button and installation for the CD and DVD label software program is automatic.
Pick out your favorite design from any of the great CD label templates.
Change the design of your label according to your liking.
Click on the 'Print' button to begin your unique CD printed label after you have entered Canon MG7500 Series in to the print settings dialog. Do not forget to inspect that the latest printer driver is used.
Be proud of yourself for what you have printed off!
The RonyaSoft label making software uniquely gives you and your Canon MG7500 Series printer all you could want for personalizing so many great CD or DVD presents.
There is nothing better than being given a gift which demonstrates someone cares enough to make something special for you. Save on costly shop-bought presents and with your first gift to someone special you will have covered the cost of your RonyaSoft CD DVD label software.
Have a go making some of these:
You're at a wedding and you take lots of un-staged photos or video clips of all the guests looking cheerful and having a ball. Pick your finest, burn them on to a disc and post it to the bride and groom as a thank you for the invitation to their wedding. They will remember you for the sweet and personal touch. And what did it cost you to create one of the most individual gifts they will have received during their wedding? - The money for a blank disc, few pieces of paper and a dash of ink from your Canon MG7500 Series printer. Great huh?
Use mood photos to print CD/DVD/Blu-Ray case covers or print CD DVD labels for your compilation CD's - thunder, sunshine, rain, a calm sea, a rainbow...
Do you love being clever? Why not design new images for the CD or DVD covers for your collection?
Memories shared always last longer - download your snaps of a party on to a DVD and design a label, cover and insert, then send to all who were present!
Are you seeking a novel way to make you stand out when applying for jobs. Do you have to seem superior from the rest of the competition. Do you want to wow your future employers with a presentation of yourself on a DVD with an excellent printed DVD label and printed DVD cover specifically for each application?
The RonyaSoft DVD Cover Designer is superb for using with your Canon MG7500 Series printer, so there's nothing to stop you instantly from commencing your own brilliant print shop!
CD labeling software supports Microsoft Windows OS, including popular Windows 7 and Windows 8 versions and supports a wide range of CD DVD label printers, eg: Canon iP4810, Canon iP4840, Canon MG5350, Canon MG8270, Custom Printer, Epson PM-870C, Epson PX-G900, Epson Stylus Photo R280, Epson Stylus Photo TX650, Epson Stylus Photo TX720WD, HP Photosmart D5100 series, HP Photosmart D5463, Yurex MantraJet 1100 and others.
CD label creation software supports a wide range of CD DVD labels, eg: A-One, Avery 5698, Boma LD001, CD Technology, Custom Paper, Herma, HP 3-up, Meritline 3-up US, Neato CD DVD Complete, Polyline CD458G, Sanwa LB-CDR007 CD DVD, Zweckform J8676, Zweckform L7776 and others.