Epson Stylus Photo 950 printer
Epson Stylus Photo 950 printer CD DVD tray layout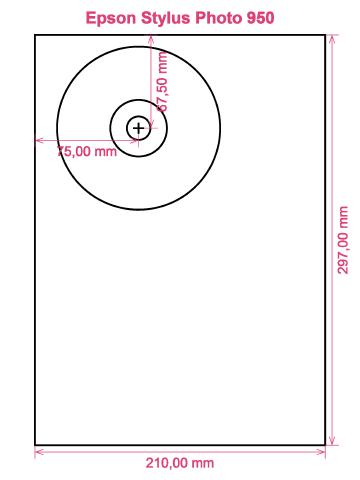 How to print labels on Epson Stylus Photo 950 printer
It is not until you have tried the RonyaSoft CD & DVD Cover Maker that you can discover how utterly simple it is to get fantastic prints - no longer need you worry about failing to make the most of modern technology! Within no time at all of starting to use our CD & DVD labeller software program you should be printing Blu-Ray CD DVD labels and covers on a Epson Stylus Photo 950 printer.
However that's not all that's useful with this brilliant DVD labels making program. RonyaSoft may have made this software as simple as possible to use, but the prints would suggest differently when you see the impressiveness of printed CD and DVD labels. This CD and DVD labels maker program has choices galore for printing impressive labels! However for printing CD and DVD labels and covers isn't all when you know there are CD and DVD case inserts and case covers too and notice RonyaSoft have a batch of templates you can use.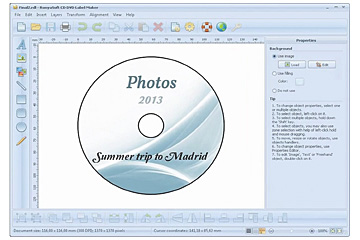 How clever do you want your label making to be? A few clicks of a mouse is enough for you to then be running off your own Blu-ray labels, CD/DVD case covers and Blu-Ray CD case inserts. You don't have to be a tech 'nerd' to 'click' with this simple to download labels design software, just try it and see for yourself!
To automatically receive your CD and DVD labels making software program, click on the 'Download' button.
Opt for your favorite design from any of the preloaded CD label templates.
Add any of your own design ideas to make the CD /DVD/Blu-ray labels even more personal.
Print the new label by clicking the 'Print' button. Do not forget to indicate your Epson Stylus Photo 950 printer during the setup process and to install the latest free version of the driver.
Be proud of yourself for what you have produced!
The RonyaSoft label making software instantly gives you and your Epson Stylus Photo 950 printer everything you could desire for personalizing so many great CD or DVD gifts.
Have you ever noticed how a personally made gift really matters to someone you adore? Why spend money on costly presents that anyone can buy, when with the RonyaSoft CD & DVD labels make program, you can save a fortune on gifts and seem ten times more thoughtful?
What about making some of these:
You're at a wedding and you take lots of un-staged photos or video clips of attendees looking cheerful and having a ball. Select your favorites, burn them on to a disc and send it to the bride and groom as a thank you for the invitation to their special day. They will love you for the thoughtful and personal touch. And what did it cost you to create one of the most kind presents they will be given during their wedding? - The price of a blank disc, few pieces of paper and a dash of ink from your Epson Stylus Photo 950 printer. Fab huh?
Use jazzy images and pics to to design CD/DVD case covers and design Blu-ray labels to easily pick out your CD's and DVD's.
Have to store pics cataloged? Put a relevant photo on the CD label or DVD box cover.
Memories shared always last longer - download your pics of a night out on to a DVD and design a label, cover and insert, then give a copy to all who were there!
Need to stand out from the crowd when keenly trying to impress even before you have been offered a job interview? Create a fantastic looking CD DVD complete with printed case cover, printed insert and printed label to make a brilliant memorable impression.
The RonyaSoft CD & DVD Cover Maker is superb for using with your Epson Stylus Photo 950 printer, so there's nobody to stop you today from commencing your own ideal print shop!
Blu-ray label creation program works on Windows System, including Windows XP, Windows 2003, Windows7 and is compatible with a wide range of CD/DVD/Blu-ray label printers, eg: Canon iP4820, Canon MG5220, Canon MG8140, Canon MP780, Canon MX850, Epson Artisan 837, Epson Stylus Photo 2200, Epson Stylus Photo R280, Epson Stylus Photo R360, HP Photosmart C5275, HP Photosmart C5388, Primera Signature, Yurex MantraJet 1150-XL and others.
Blu-ray labels creator program supports a wide range of CD/DVD/Blu-ray label stocks, eg: Ace 30500 series CD DVD (11x17), Avery 8960, Avery L6117, Boma LS101, CoolBeLa BMS002HI CD DVD, Herma, JP CD DVD 2-up, LabelWhiz LW61260, NCR 904067, Polyline CD458G, Smart Label Model Q , Zweckform J8777, Zweckform L7678 and others.