HP Photosmart C5283 printer
HP Photosmart C5283 printer CD DVD tray layout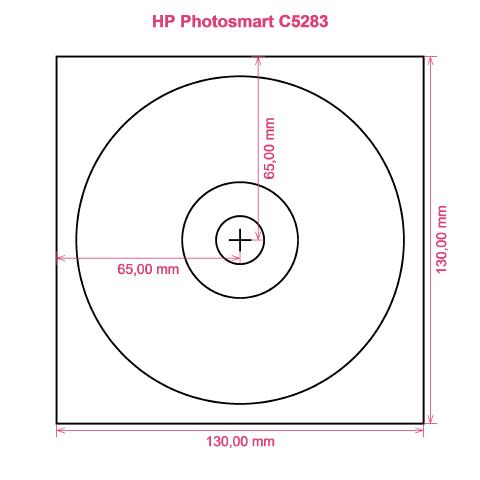 How to print labels on HP Photosmart C5283 printer
It's after you have tried the RonyaSoft Blu-ray CD DVD Label Designer that you will realize how really great it is to get brilliant prints - never again will you have any fears of failing to make the most of modern technology! Within moments of starting to use our Blu-ray CD DVD labelling software program you can be printing CD or DVD labels on the HP Photosmart C5283 printer.
Wait as there's plenty to this Blu-ray, CD or DVD labeler software than first meets the eye. Simple and easy to use doesn't create simple results, but more professional appearing Blu-ray, CD or DVD labels than you would expect. This disk label software gives you loads of choices and has loads of Blu-ray, CD or DVD label and cover templates already installed, not just for making CD and DVD labels, but also Blu-ray, CD or DVD covers and inserts to round off the professional look.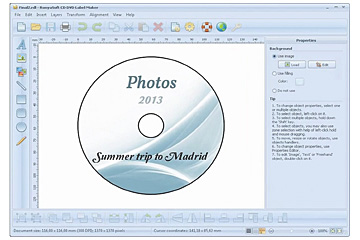 Regarding simple to use, well 'user-friendly' became even more friendly. Just use the directions to realize how straightforward, yet clean and professional results will be when you begin to create CD and DVD covers, Blu-ray labels and CD inserts:
Download and install CD & DVD Label and Cover Designer software for free to try.
Click on your chosen option from a fantastic choice of predesigned CD label and covers templates.
Edit the design of the label according to your wishes.
Start printing your individual CD and DVD label after clicking the 'Print' button, after identifying your HP Photosmart C5283 as the proper printer being used. Try to use the latest free driver updates.
Smile!
All you need to turn your PC and HP Photosmart C5283 printer in to a little personal gift factory is a bit of imagination.
There is nothing sweeter than receiving a gift which demonstrates someone cares enough to make something unique for you. Save on costly shop-bought presents and with your first gift to someone special you will have covered the cost of your RonyaSoft CD & DVD labeler software.
Have a go doing some of these:
Life is all about memories, and a few of the best ones we have are of family days spent together. Everyone has a camera and everyone has their own set of pictures, but what excitement to make a assembly of the 'best of' photos from everyone and then create a few copies on to a CD-disc, design your own special labels and covers using the RonySoft label printer for CD's, DVD's and Blu-rays and your HP Photosmart C5283 printer and send them as a unique gift to each member of the family who was there.
Use emotive photos to make CD and DVD covers and make Blu-ray labels for your compilation CD's - thunder, sunshine, rain, a calm sea, a rainbow...
Have to keep snaps cataloged? Put a appropriate photo on the compact disc label or DVD box cover.
It's simple to store all your snaps on your computer or a memory stick, but make a picturesque label to put on a CD or create a CD cover and insert and establish a physical library of all your memories.
Need to stand out from the crowd when anxiously trying to impress even before you have been offered a job interview? Make a professional looking DVD complete with printed box cover, printed insert and printed label to make a brilliant memorable impression.
RonyaSoft Blu-ray CD DVD Label Designer is the perfect software addition to use with your HP Photosmart C5283 printer so download it today and get those imaginative creative juices flowing!
Blu-ray label create software supports Microsoft Windows Operational System, including Windows XP, Windows 2003, Windows7 and is compatible with a wide range of disc label printers, including: Aleratec Robojet AutoPrinter 100, Canon iP4850, Canon MG8140, Canon MP810, DisqueMate M5000, Epson Expression XP-605, Epson Stylus Photo 950, Epson Stylus Photo R3000, Epson Stylus Photo R800, EZ CD Print 6500, HP Photosmart D5100 series, HP Photosmart D5168, Yurex MantraJet 1100 and others.
Blu-ray labels creation software supports a wide range of disc labels, including: Ace 30500 series, APLI 10292, Avery Maxell 41S, CD LabelCorp CD DVD (5x10 sheet), Datasafe, De'Smat A4ST-2CD, Kyso 5511CPM CD DVD, Lorenz Bell LB6654, Pimaco, Pro CD DVD 2-up CD DVD Label, Sanwa LB-CDRJP, Zweckform 6044, Zweckform L6117 and others.