Epson PM-900C printer
Epson PM-900C printer CD DVD tray layout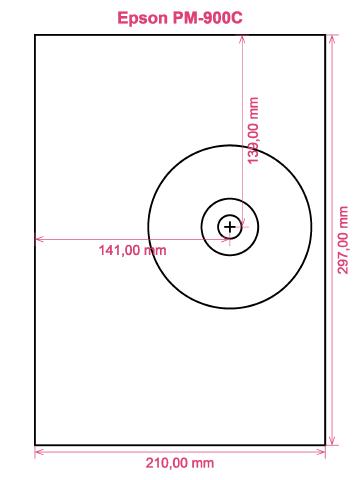 How to print labels on Epson PM-900C printer
Only when you have tried the RonyaSoft CD DVD Label Creator that you will see how incredibly simple it is to get great prints - gone are the days when you worry about failing to make the most of modern technology! Within no time at all of installing your CD DVD labels software programme you can be printing CD and DVD labels on your Epson PM-900C printer.
However that's not all that's available with this fantastic DVD label making software. RonyaSoft may have made this software as obvious as possible to use, but the outcome would suggest differently when you see the impressiveness of printed CD or DVD labels. This CD and DVD label software has options galore for making impressive labels! However for making CD and DVD labels isn't all when you know there are CD and DVD case inserts and case covers too and discover RonyaSoft have a batch of templates you can use.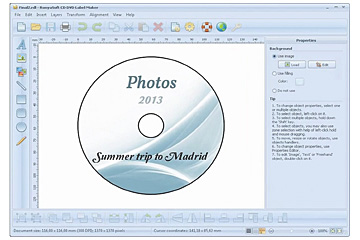 How easy do you want your label making to be? A few clicks of a mouse is enough for you to then be printing your own CD/DVD/Blu-ray labels, CD and DVD case covers and Blu-Ray case inserts. You don't require to be a boffin to 'click' with this simple to download label design software, just have a go and see for yourself!
Download and install CD DVD Label & Cover Creator software program for free to try.
Try out one of the designed CD DVD label and covers templates.
Alter the design of your label according to your wishes.
Print the created label by clicking the 'Print' button. Never forget to specify your Epson PM-900C printer during the setup process and to use the latest free version of the driver.
Have Fun!
The RonyaSoft label making software immediately gives you and your Epson PM-900C printer so much you could need for personalizing so many great CD or DVD gifts.
Anyone will tell you that a surprise with an unique touch, something nice, will normally be appreciated far more than something bought, so you will have more than paid for your CD DVD label and cover create software, when you give someone a present.
Think about these for ideas:
Life is all about memories, and some of the greatest ones we have are of family days spent together. Everyone has a camera and everyone has their own set of pictures, but what joy to make a collection of the 'best of' photos from everyone and then print a few copies on to a CD-disc, create your own special labels and case covers using the RonySoft label printing program for CD's, DVD's and Blu-rays and your Epson PM-900C printer and post them as a unique gift to each member of the family who was present.
Chose your favourite photos and pics to create CD and DVD case covers or create CD/DVD/Blu-ray labels.
Opt for a pic of your pooch or cat on the cover and CD & DVD label so you can easily identify which CD your pet's photos are all kept on.
Memories shared can last longer - download your snaps of a do on to a DVD and make a label, cover and insert, then give a copy to all who were attending!
Need to stand out from the crowd when keenly wanting to impress even before you have been offered a job interview? Produce a superb looking CD finished off with printed box cover, printed insert and printed label to make a brilliant memorable impression.
RonyaSoft CD DVD Label Creator is the ideal software extra to employ with your Epson PM-900C printer so download it today and get those stylistic juices flowing!
Blu-ray label creation software works on Microsoft Windows Platform, including latest Windows 7 and Windows 8 versions and is compatible with a wide range of disc label printers, including: Canon iP3000, Canon iP6700, Canon MG5450, Canon MP610, Canon Pro9500, Epson PM-D750, Epson Stylus Photo 950, Epson Stylus Photo R265, Epson Stylus Photo TX700W, EZ CD Print C60, HP Photosmart C5290, Primera Bravo, Yurex MantraJet 1150-XL and others.
Blu-ray label creator software supports a wide range of disc label providers, including: APLI 10039, Avery 5931, Avery Maxell C95361, Boma LS001HI, CoolBeLa LD002-CL, De'Smat A4ST-2CD, HP CDR3000A 3-up, LabelWhiz LW60300, Online Labels O5075, Polyline NCD465, Sanwa LB-CDR003 CD DVD, Zweckform L6046, Zweckform L7860 DVD and others.