Epson PM-D750 printer
Epson PM-D750 printer CD DVD tray layout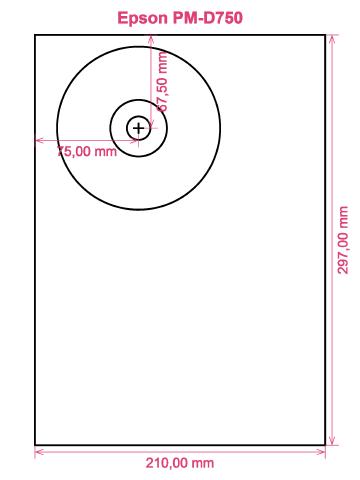 How to print labels on Epson PM-D750 printer
After you have tried the RonyaSoft Blu-ray CD DVD Label Maker, easy will be the word that springs to mind - you'll be guaranteed to be thrilled at how simple it is to download the label design software programme by clicking on the link on this page and within just a couple of ticks you will be printing fantastic CD or DVD labels on your Epson PM-D750 printer.
Hold on as there's loads to this Blu-ray, CD or DVD label software than first meets the eye. Simple and easy to use doesn't create simple results, but more professional style Blu-ray, CD or DVD labels than you would expect. This disk label program gives you masses of choices and has plenty of Blu-ray, CD or DVD label and cover templates already installed, not just for printing CD DVD labels, but also Blu-ray, CD or DVD case covers and case inserts to produce the professional look.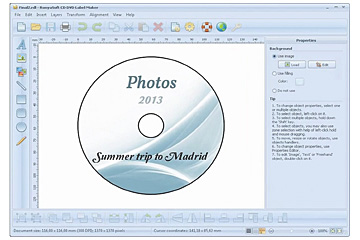 How simple do you want your label creation to be? A few clicks of a mouse is enough for you to then be printing your own CD labels, CD and DVD case covers and Blu-Ray/CD/DVD case inserts. You don't have to be a genius to 'click' with this simple to download label printing software, just have a go and see for yourself!
Download and install CD DVD Label and Cover Maker software program for free to try.
Click on your chosen option from a fantastic choice of brilliant Blu-ray/CD/DVD label templates.
Add any of your own design ideas to print the CD /DVD/Blu-ray label really personal.
Start printing your unique DVD or CD label after clicking the 'Print' button, after inputting your Epson PM-D750 as the proper printer being used. Try to use the latest free driver updates.
Smile!
All you need to turn your PC and Epson PM-D750 printer in to a busy personal gift factory is a touch of imagination.
Anyone will tell you that a present with an unique touch, something sweet, will always be appreciated far more than something bought, so you will have more than paid for your Blu-ray CD DVD labels design program, as soon as you give someone a present.
What about these for possibilities:
You are at your brother or sister's eighteenth. It is an incredibly special moment in their life and one they will forever think about when they get older. What smarter way to aid them reminisce about their special event than for you to take loads of pictures and video clips of the event, from start to finish, insert them all on a CD, DVD or Blu-ray and offer it to them as your own way of demonstrating how proud you are of them. It will enhance the day for them and it will have cost you next to nothing, save for two bits of paper, a blank CD, DVD or Blu-ray and a drop of ink from your Epson PM-D750 printer.
Chose your best photos and pics to make CD, DVD and Blu-ray case covers and make CD labels.
Have to have pics cataloged? Put a appropriate photo on the compact disc label or DVD box cover.
It's easy to store all your snaps on your computer or a memory stick, but create a fantastic label to put on a CD or create a CD box cover and insert and make a physical library of all your memories.
Make an unique video for job applications and create a professional looking case with a smart CD DVD label to add the perfect touches.
How many blank CD's have you created with pictures on them, though you can't remember what? These days are now over as you utilise the RonyaSoft Blu-ray CD DVD label make software program to rapidly and easily run off a few labels with your Epson PM-D750 printer.
Blu-ray labeling program works on Microsoft Windows Platform, including Windows XP, Windows Vista, Windows 7 and works with a wide range of CD/DVD/Blu-ray surface printers, eg: Canon iP4740, Canon MG5250, Canon MG5350, Canon MP600R, DisqueMate M5000, Epson PM-870C, Epson Stylus Photo PX650, Epson Stylus Photo R1900, Epson Stylus Photo T50, EZ CD Print C60, HP Photosmart C5380, HP Photosmart D7560, Trace Affex CD-Artist and similar.
Blu-ray label make program supports a wide range of CD/DVD/Blu-ray label stocks, eg: Americal 313751, Avery 5691, Avery 8962, Compulabel 312636, CoolBeLa LS001HI, Dummy CD Insert, HP CDR6000A 3-up, LabelWhiz LW61300, Mirage CD DVD, Printer Creations, TDK, Zweckform 6043, Zweckform L7760 and similar.