Canon MG6270 printer
Canon MG6270 printer CD DVD tray layout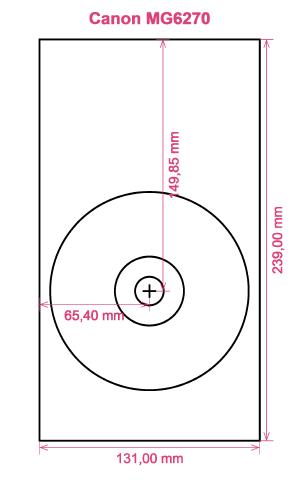 How to print labels on Canon MG6270 printer
Once you have successfully operated the RonyaSoft CD Label Creator, simplicity will be the word that comes to mind - you can definitely be blown away at how uncomplicated it is to download the label design software by clicking on the link on this page and within just a couple of ticks you will be printing fantastic CD and DVD labels and covers on your Canon MG6270 printer.
Whatever you do don't switch off there, as you may miss the best reason behind your new CD/DVD label printing software. RonyaSoft haven't gone to such measures simply so you can print off a list of tracks on a CD or a film title on a label. No! This CD labels creator software will offer you so many choices for Blu-ray, CD or DVD label creation to allow you to create professional looking labels and covers. In addition, the CD label printing software can also be used to create Blu-ray, CD or DVD boxes and box inserts utilising our Blu-ray, CD or DVD templates.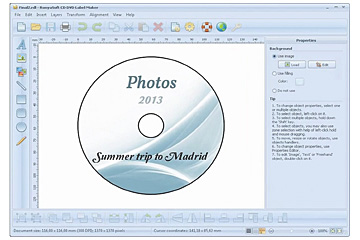 Regarding straightforward to use, well 'user-friendly' is now even more friendly. Just read the directions to understand how easy, yet sharp and professional results will be when you start to create CD, DVD and Blu-ray covers, Blu-ray labels and Blu-Ray inserts:
Download and install CD DVD Label and Cover Creator software program for free to try.
Click on your chosen option from a great choice of preinstalled CD DVD label and cover templates.
Edit the design of the label according to your wishes.
Start printing your specially designed CD label after clicking the 'Print' button, after selecting your Canon MG6270 as the proper printer being used. Always download the latest free driver updates.
Have Fun!
Everything you need to turn your PC and Canon MG6270 printer in to a fabulous personal gift factory is a bit of imagination.
There is nothing sweeter than being given a gift which shows someone cares enough to make something individual for you. Save on costly shop-bought presents and with your first gift to someone special you will have covered the cost of your RonyaSoft CD DVD and Blu-ray labeling software.
Think about these for possibilities:
Life is all about memories, and some of the best ones we have are of family days spent together. Everyone has a camera and everyone has their own set of pictures, but what fun to make a assembly of the 'best of' photos from everyone and then create a few copies on to a CD-disc, make your own special labels and covers using the RonySoft label printing program for CD's and DVD's and your Canon MG6270 printer and give them as a memorable gift to each member of the family who was present.
Use funky images and photos to to make CD, DVD and Blu-ray covers and make Blu-ray labels to easily spot your CD's and DVD's.
Do you enjoy being practical? Why not design new images for the CD or DVD covers for your collection?
Memories shared usually last longer - download your photos of a night out on to a DVD and print a label, cover and insert, then give a copy to all who were attending!
Are you searching an individual way to make you stand out when applying for employment. Do you have to seem better from the rest of the them. Do you want to shock your potential employers with a showcase of yourself on a DVD with a classy printed DVD label and printed DVD box designed for each application?
RonyaSoft CD Label Creator is the perfect software addition to use with your Canon MG6270 printer so download it instantly and get those imaginative creative juices flowing!
CD DVD label making software supports Microsoft Windows Platform, including Windows XP, Windows 2003, Windows7 and is compatible with a wide range of CD/DVD/Blu-ray surface printers, including: Canon i9950, Canon iP5300, Canon MG6240, Canon MP610, Epson Artisan 710, Epson Expression XP-605, Epson Stylus Photo PX700W, Epson Stylus Photo R290, Epson Stylus Photo RX595, HP Photosmart C309 series, HP Photosmart C5280, HP Photosmart D5155, Trace Affex CD-Artist and others.
CD DVD label create software supports a wide range of CD/DVD/Blu-ray label stocks, including: Anker CD DVD, Avery 8696 CD DVD Jewel Case, Boma LD001-HI, Boma LS301-HI CD DVD, DECAdry DLW-1744, DECAdry OLW-4900, Hisago LP844S, Lorenz Bell LB6654, Neato CD DVD Complete, ProLabel CDGW458, SureThing US CD DVD 2-up, Zweckform 6045, Zweckform L7760 and others.