Canon iP4840 printer
Canon iP4840 printer CD DVD tray layout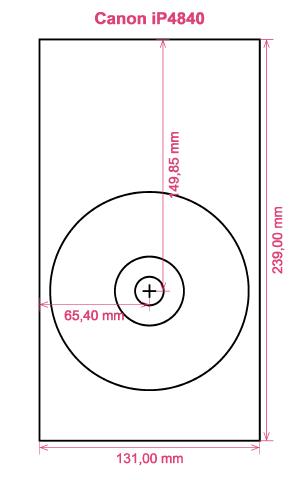 How to print labels on Canon iP4840 printer
Only when you have used the RonyaSoft CD Label Maker that you will discover how incredibly easy it is to use great results finishes - never again will you have any fears of failing to make the most of modern technology! Within no time at all of installing the CD label software you will be printing CD and DVD labels on a Canon iP4840 printer.
Don't stop there though as there's much more to this CD and DVD label software than first meets the eye. Simple and easy to use doesn't create simple prints, but more professional looking CD and DVD labels than you would expect. This CD labels creator software gives you loads of choices and has loads of CD and DVD label and cover templates already installed, not just for creating CD/DVD/Blu-ray labels, but also Blu-ray, CD or DVD case covers and case inserts to round off the professional look.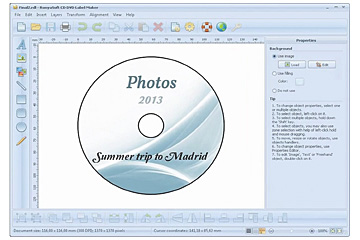 We also indicated this software was fantastic to work with. Well, we know that if you feel you are not 'tech-aware', after you have used the RonyaSoft CD & DVD labels maker software, you will feel as confident as any professional graphic artist when you commence design loads of CD/DVD/Blu-Ray case covers, CD labels and Blu-Ray/CD/DVD case inserts:
Highlight the 'Download' button and installation for the CD DVD label software is automatic.
Choose your favorite design from any of the predesigned CD label templates.
Alter the design of a label according to your liking.
Click on the 'Print' button to begin your unique CD printed label after you have entered Canon iP4840 in to the print settings dialog. Never forget to inspect that the latest printer driver is installed.
Smile!
Everything you need to turn your PC and Canon iP4840 printer in to a fabulous personal gift factory is a little imagination.
Have you ever noticed how a personally made gift really matters to someone you like? Why spend money on expensive presents that anyone can buy, when with the RonyaSoft CD label and cover making software, you can save a fortune on gifts and become ten times more thoughtful?
Think about these for ideas:
You are at your brother or sister's eighteenth. It is an incredibly special day in their life and one they will always think about when they become older. What better way to help them reminisce about their special day than for you to take hundreds of pictures and video clips of the day, from start to finish, insert them all on a CD DVD and offer it to them as an individual way of showing how proud you are of them. It will enhance the day for them and it will have cost you next to nothing, save for a few bits of paper, a blank CD DVD and a dash of ink from your Canon iP4840 printer.
Use scenic photos to design CD/DVD/Blu-Ray case covers and design CD labels for your compilation CD's - thunder, sunshine, rain, a calm sea, a rainbow...
Do you love being clever? Why not create new styles for the CD and DVD covers for your collection?
Memories shared always last longer - download your pics of a night out on to a disc and create a label, cover and insert, then give a copy to all who were there!
Are you seeking a new way to make you stand out when applying for work. Do you want to seem better from the rest of the competition. Do you need to shock your potential employers with a showcase of yourself on a DVD with a classy printed DVD insert and printed DVD case made for each application?
The RonyaSoft CD Label Maker is superb for using with your Canon iP4840 printer, so there's nobody to stop you instantly from starting your own brilliant print shop!
CD DVD label maker software is compartible with Windows Platform, including popular Windows 7 and Windows 8 versions and supports a wide range of disc label printers, eg: Canon iP4500, Canon iP5000, Canon MG8120, Canon MP610, Epson Artisan 730, Epson PM920C, Epson Stylus Photo 900, Epson Stylus Photo R265, Epson Stylus Photo RX585, HP Photosmart C309a, HP Photosmart C5393, HP Photosmart D5168, Yurex MantraJet 1100 and similar.
CD DVD labels creator software supports a wide range of disc labels, eg: Ace 30800 series CD DVD (11x17), Avery 8696 CD DVD Jewel Case, Avery L6045, Compulabel 312715, Data Becker XXL, Ferrania Otijet Etiquettes, JP CD DVD FullFace 2-up, LabelWhiz LW60300, Neato 3-up US, Polyline MCD450W, Sanwa LB-CDR005 CD DVD, Xerox 3R6330, Zweckform L7860 DVD and similar.