Epson PM-870C printer
Epson PM-870C printer CD DVD tray layout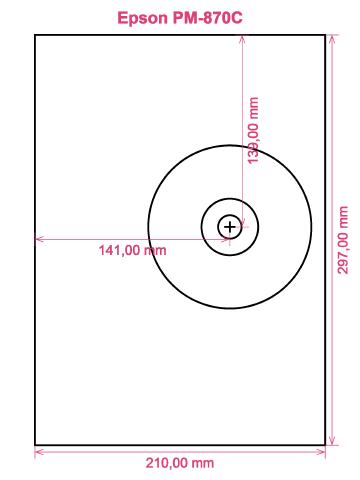 How to print labels on Epson PM-870C printer
After you have tried the RonyaSoft CD Label Maker, easy will be the word that comes to mind - you can surely be blown away at how uncomplicated it is to download the label design software programme by clicking on the link below and within just a couple of minutes you will be producing fantastic CD or DVD labels and covers on your Epson PM-870C printer.
Whatever you do don't stop there, as you may not see the bigger reason behind your new DVD label making program. RonyaSoft haven't gone to such extremes just so you can print off a list of tracks on a CD or a film title on a label. No! This CD label maker program will provide you so many different options for Blu-ray, CD or DVD label making to enable you to print professional looking labels and covers. In addition, the CD label making software can also help to print Blu-ray, CD or DVD cases and inserts with the help of our Blu-ray, CD or DVD templates.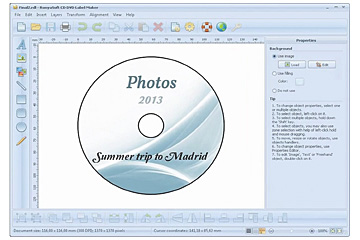 Concerning simple to use, well 'user-friendly' became even more friendly. Just use the text to realize how straightforward, yet effective and professional results will be when you commence to print CD & DVD box covers, Blu-ray labels and DVD box inserts:
Download and install CD & DVD Label Maker program for free to try.
Try out one of the installed CD & DVD label templates.
Add any of your own design ideas to create the CD or DVD label really personal.
Print the designed label by clicking the 'Print' button. Don't forget to specify your Epson PM-870C printer during the design process and to download and use the latest free version of the driver.
Be proud of yourself for what you have created!
All you need to turn your PC and Epson PM-870C printer in to a little personal gift factory is a bit of imagination.
There is nothing nicer than being given a gift which indicates someone cares enough to make something individual for you. Save on costly shop-bought presents and with your first gift to someone special you will have covered the cost of your RonyaSoft CD & DVD labeling program.
How about these for suggestions:
You are at your brother or sister's eighteenth. It is an incredibly special occasion in their life and one they will forever remember when they get older. What more clever way to aid them reminisce about their special day than for you to take lots of pictures and video clips of the day, from start to finish, put them all on a CD, DVD or Blu-ray and offer it to them as a unique way of saying how proud you are of them. It will complete the day for them and it will have cost you next to nothing, save for a few bits of paper, a blank CD, DVD or Blu-ray and a drop of ink from your Epson PM-870C printer.
Chose your best photos and snaps to print CD/DVD/Blu-Ray box covers and print Blu-ray labels.
Opt for a pic of your dog or cat on the cover and CD & DVD label so you can easily spot which CD your pet's photos are all stored.
Memories shared can last longer - download your pics of a party on to a CD and make a label, cover and insert, then present to all who were there!
Keen to stand out from the crowd when anxiously wanting to impress even before you have been offered a job interview? Produce a superb looking CD DVD complete with printed box cover, printed insert and printed label to make a brilliant memorable impression.
RonyaSoft CD Label Maker is the perfect software addition to use with your Epson PM-870C printer so download it today and get those stylistic juices flowing!
CD DVD label making program runs on Microsoft Windows System, including Windows XP, Windows 2003, Windows7 and supports a wide range of CD/DVD/Blu-ray surface printers, including: Canon i965, Canon iP5200, Canon MG6150, Canon MP600, DisqueMate M5000, Epson PM-870C, Epson PX-G900, Epson Stylus Photo R285, Epson Stylus Photo R800, EZ CD Print 4200, HP Photosmart C5283, HP Photosmart D5468, Yurex MantraJet 1050 and similar.
CD DVD label design program supports a wide range of CD/DVD/Blu-ray label providers, including: Ace 61100 series, Avery 8931, Avery J8777, Canson 987-283, CoolBeLa LD002-HIG, Global ProBiz CD DVD (5x9 sheet), HP Tattoo, Merax, Online Labels O5625, ProLabel FFJGCD, Sanwa LB-CDR007 CD DVD, Zweckform C9660, Zweckform L7760 and similar.