Epson PM-980C printer
Epson PM-980C printer CD DVD tray layout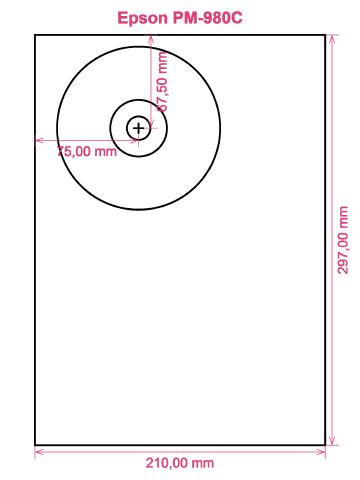 How to print labels on Epson PM-980C printer
After you have actually used the RonyaSoft CD DVD Label Maker you will willyou discover how simple and wonderful it is - 'user convenient' takes on a totally new meaning! Within just a couple of minutes of swiftly downloading the CD DVD labeling software by clicking on the link, you can be making CD or DVD labels with your Epson PM-980C printer.
Yet that's not all that's available with this brilliant CD DVD label print software. RonyaSoft may have made this software as obvious as possible to use, but the prints would suggest differently when you see the quality of printed CD and DVD labels. This CD and DVD label printer software has ideas galore for printing professional and classy labels! Yet for printing CD and DVD labels isn't all when you know you can make CD and DVD inserts and covers too and realize RonyaSoft have a selection of templates you can use.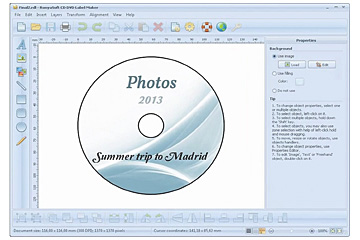 How clever do you need label creation to be? A few clicks of a mouse is enough for you to then be running off your own CD/DVD/Blu-ray labels, CD/DVD/Blu-Ray covers and Blu-Ray DVD inserts. You don't need to be a genius to 'click' with this simple to download label design software, just try it and see for yourself!
Download and install Blu-ray/CD/DVD Label & Cover Maker software program for free to try.
Choose one of the predesigned Blu-ray/CD/DVD label and cover templates.
Print the designed label by clicking the 'Print' button. Don't forget to specify your Epson PM-980C printer during the design process and to download and use the latest free version of the driver.
Smile!
The RonyaSoft label making software instantly gives you and your Epson PM-980C printer so much you could desire for personalizing so many great CD or DVD gifts.
Anyone will tell you that a present with a personal touch, something thoughtful, will always be appreciated far more than something purchased, so you will have more than paid for your CD DVD label and cover create software, the first time you give someone a present.
How about these fantastic suggestions:
You're at a wedding and you take plenty of un-staged photos or video clips of attendees looking relaxed and having a great time fun. Choose your finest, burn them on to a disc and send it to the bride and groom as a thank you for the invitation to their wedding. They will remember you for the kind and personal touch. And what did it cost you to create one of the most kind offerings they will have received during their wedding? - The price of a blank disc, two pieces of paper and a splash of ink from your Epson PM-980C printer. Cool huh?
Chose your nicest photos and pictures to create CD & DVD covers and create CD/DVD/Blu-ray labels.
Do you love being clever? Why not create new styles for the CD and DVD covers for your collection?
Memories shared usually last longer - download your photos of a party on to a disc and make a label, cover and insert, then give a copy to all who were present!
Make an unique video for employment applications and make a professional looking case with a smart CD DVD label to add the perfect touches.
RonyaSoft CD DVD Label Maker is the perfect software extra to operate with your Epson PM-980C printer so download it today and get those stylistic juices flowing!
CD DVD label make software runs on Microsoft Windows OS, including Windows XP, Windows Vista, Windows 7 and works with a wide range of disc surface printers, eg: Canon iP4700, Canon iP4970, Canon MG5340, Canon MG8220, Canon MP950, Epson PM-870C, Epson PX-G900, Epson Stylus Photo R2000, Epson Stylus Photo RX595, HP Photosmart C309c, HP Photosmart C5580, HP Photosmart D5445, Yurex MantraJet 1150-XL and similar.
CD DVD label creator software supports a wide range of disc label providers, eg: Ace 60100 series, Avery 8832, Avery J8760, CD LabelCorp CD DVD (5x10 sheet), CoolBeLa BMS003HIG CD DVD, Hisago CJ2846S CD DVD (A5), HP 3-up, Lorenz Bell LB6080, Online Labels OL1200, ProLabel CDGW458, Verbatim 2-up, Worldlabel WL-OL5050, Zweckform L6117 and similar.