Canon MG8120 printer
Canon MG8120 printer CD DVD tray layout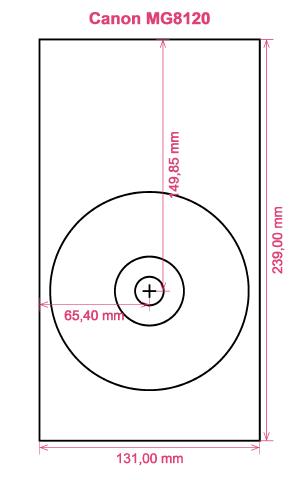 How to print labels on Canon MG8120 printer
Once you have used the RonyaSoft CD & DVD Label Maker, brilliant! will be the word that comes to mind - you will surely be blown away at how simple it is to download the label design software program by clicking on the link underneath and within just a couple of moments you will be producing fantastic CD or DVD labels on your Canon MG8120 printer.
Don't stop there though as there's much more to this CD, DVD and Blu-ray labeler software than first meets the eye. Simple and easy to use doesn't create simple prints, but more professional looking CD, DVD and Blu-ray labels than you would expect. This CD label maker program gives you a multitude of choices and has loads of CD, DVD and Blu-ray label and cover templates already installed, not just for printing CD and DVD labels, but also CD, DVD & Blu-ray case covers and case inserts to complete the professional look.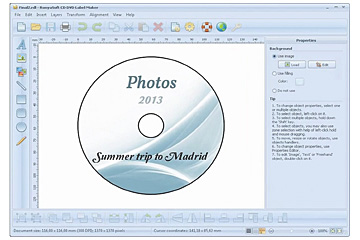 How simple do you like label creation to be? A few clicks of a mouse is enough for you to then be producing your own CD labels, CD and DVD case covers and CD & DVD case inserts. You don't require to be a boffin to 'click' with this simple to download label creation software, just use it and see for yourself!
Hit the 'Download' button and installation for the Blu-ray/CD/DVD labeler software is automatic.
Choose one of the installed Blu-ray/CD/DVD label templates.
Print the new label by clicking the 'Print' button. Don't forget to specify your Canon MG8120 printer during the design process and to download and use the latest free version of the driver.
Be proud of yourself for what you have produced!
The RonyaSoft label making software immediately gives you and your Canon MG8120 printer everything you could want for personalizing so many great CD or DVD gifts.
There is nothing nicer than being given a gift which demonstrates someone cares enough to make something unique for you. Save on costly shop-bought presents and with your first gift to someone special you will have covered the cost of your RonyaSoft CD & DVD labeler program.
What about these fantastic options:
You are at your brother or sister's twenty-first birthday. It is an incredibly special occasion in their life and one they will forever remember when they are older. What smarter way to assist them reminisce about their special event than for you to take hundreds of pictures and video clips of the event, from start to finish, insert them all on a CD, DVD or Blu-ray and offer it to them as a unique way of demonstrating how proud you are of them. It will make the day for them and it will have cost you next to nothing, save for two bits of paper, a blank CD, DVD or Blu-ray and a dash of ink from your Canon MG8120 printer.
Use vibrant images and snaps to to make CD and DVD case covers and make CD labels to easily pick out your CD's and DVD's.
Opt for a photo of your dog or cat on the cover and CD & DVD label so you can easily see which CD your pet's photos are all stored.
What happens if you have your laptop and memory stick destroyed - where are all your photos stored? Make super safe you don't lose all recorded memories of those great days in your life - just print off some cool CD labels, burn your pics on to a disc and put everything safely where you can see it.
Are you looking for a new way to make you stand out when applying for employment. Do you want to seem better from the rest of the them. Do you need to impress your future employers with a demonstration of yourself on a DVD with a professionally printed DVD insert and printed DVD box specifically for each application?
RonyaSoft CD & DVD Label Maker is the perfect software extra to use with your Canon MG8120 printer so download it instantly and get those stylistic juices flowing!
Blu-ray labelling program runs on Microsoft Windows Operational System, including Windows XP, Windows 2003, Windows7 and is compatible with a wide range of CD/DVD/Blu-ray surface printers, eg: Canon iP4810, Canon iP5200, Canon MG5450, Canon MG8220, Epson Artisan 730, Epson PM-950C, Epson Stylus Photo PX720WD, Epson Stylus Photo R2000, Epson Stylus Photo RX560, Epson Tray Type 1, HP Photosmart C5283, HP Photosmart D5460, Trace Affex CD-Artist and others.
Blu-ray label making program supports a wide range of CD/DVD/Blu-ray label providers, eg: Americal 313900 3-up, Avery 7225 CD DVD Label, Avery L7676, Compulabel 312715, Compulabel 312750, Great Gizmos, Kingdom 3-up, LabelWhiz LW61400, Online Labels O5000, Printec AnyLabel V3771S V3773S, SureThing A4, Zweckform 6074, Zweckform L7760 and others.