Canon iP4820 printer
Canon iP4820 printer CD DVD tray layout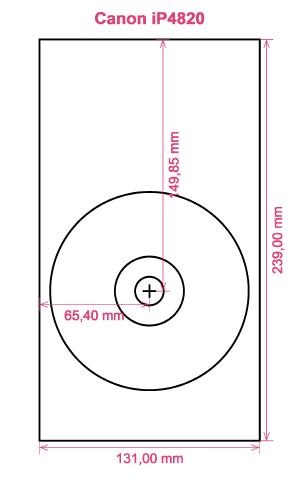 How to print labels on Canon iP4820 printer
Only when you have used the RonyaSoft DVD Label Designer that you should realize how incredibly easy it is to get fantastic prints - no longer shall you be afraid of being unable to make the most of modern technology! Within moments of installing your DVD labeler software programme you will be printing CD or DVD labels on the Canon iP4820 printer.
However don't switch off there, as you may not see the best picture for your new DVD labels making software. RonyaSoft haven't gone to such efforts purely so you can print off a list of tracks on a CD or a film title on a label. No! This CD DVD labels maker software will give you so many alternatives for CD and DVD label creation to assist you to make professional looking labels. Plus, the CD DVD label making software can also be used to create CD and DVD boxes and inserts with the help of the brilliant CD and DVD templates.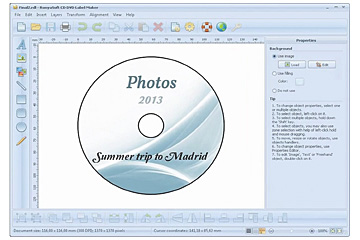 How clever do you need label creation to be? A few clicks of a mouse is enough for you to then be running off your own CD DVD labels, CD/DVD/Blu-Ray box covers and CD DVD box inserts. You don't have to be a boffin to 'click' with this simple to download labels making software, just try it and see for yourself!
To automatically download the CD & DVD labels making program, click on the 'Download' button.
Click on your chosen option from a wide choice of predesigned CD and DVD label and covers templates.
Add any of your own design ideas to print the CD /DVD/Blu-ray labels really personal.
Click on the 'Print' button to commence your unique CD and DVD printed label after you have entered Canon iP4820 in to the print settings dialog. Do not forget to inspect that the latest printer driver is used.
Have Fun!
Maximize the potential of your computer and Canon iP4820 printer where you can now print a fantastic array of CD & DVD labels, box inserts and box covers, to make lovely gifts.
There is nothing better than receiving a gift which indicates someone cares enough to make something special for you. Save on costly shop-bought presents and with your first gift to someone special you will have covered the cost of your RonyaSoft CD & DVD labeler software.
What about these fantastic suggestions:
You are at your brother or sister's twenty-first birthday. It is an incredibly special occasion in their life and one they will always remember when they get older. What smarter way to help them reminisce about their special day than for you to take loads of pictures and video clips of the day, from start to finish, set them all on a CD DVD and give it to them as an individual way of demonstrating how proud you are of them. It will enhance the day for them and it will have cost you next to nothing, save for a few bits of paper, a blank CD DVD and a drop of ink from your Canon iP4820 printer.
Chose your nicest photos and snaps to make CD/DVD/Blu-Ray box covers or make CD DVD labels.
Want to keep snaps cataloged? Put a appropriate photo on the compact disc label or DVD case cover.
Memories shared usually last longer - download your snaps of a party on to a DVD and print a label, cover and insert, then send to all who were present!
Are you searching a novel way to make you stand out when applying for employment. Do you have to seem better from the rest of the them. Do you have to wow your prospective employers with a demonstration of yourself on a DVD with a classy printed DVD insert and printed DVD box designed for each application?
RonyaSoft DVD Label Designer is the best software extra to operate with your Canon iP4820 printer so download it instantly and get those imaginative creative juices flowing!
Blu-ray labeling software runs on Microsoft Windows Operational System, including Windows XP, Windows 2003, Windows7 and works with a wide range of CD/DVD/Blu-ray surface printers, eg: Canon i9950, Canon iP6700, Canon MG6170, Canon MP640, Epson Artisan 725, Epson PM-G700, Epson Stylus Photo 950, Epson Stylus Photo R220, Epson Stylus Photo RX700, HP Photosmart C309 series, HP Photosmart C5540, HP Photosmart D7500 series, Yurex MantraJet 1050 and similar.
Blu-ray labels maker software supports a wide range of CD/DVD/Blu-ray label suppliers, eg: Ace 61200 series, APLI 10293, Avery C9660, CD Stomper CD DVD Label Insert Combo, CoolBeLa LS001, DeskTop Labels 6602-CD CD DVD Labels, Label+ 3-up, Lorenz Bell LB6681, Online Labels O5025, ProLabel N4520, Telliton, Worldlabel WL-OL5050, Zweckform L6047 and similar.