Canon MG8170 printer
Canon MG8170 printer CD DVD tray layout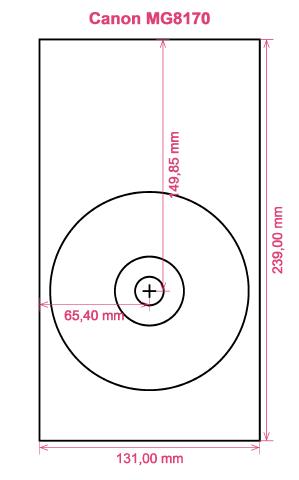 How to print labels on Canon MG8170 printer
When you have correctly used the RonyaSoft CD Label Maker you will understand how simple and easy it is - 'user friendly' takes on a totally new understanding! Within seconds of installing the CD labels software programme after using the download link, you can be producing CD and DVD labels using your Canon MG8170 printer.
Don't stop there though as there's much more to this CD and DVD labeling software than initially meets the eye. Simple and easy to use doesn't create simple results, but more professional looking CD and DVD labels than you would expect. This CD label maker software gives you loads of choices and has plenty of CD and DVD label and cover templates already installed, not just for making CD DVD labels, but also CD, DVD & Blu-ray box covers and box inserts to complete the professional look.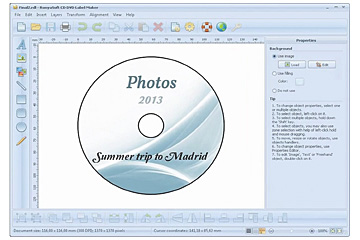 Regarding simple to use, well 'user-friendly' became even more friendly. Just read the instructions to realize how straightforward, yet effective and professional results will be when you begin to print Blu-ray, CD or DVD box covers, CD DVD labels and DVD box inserts:
Download and install CD & DVD Label and Cover Maker software program for free to try.
Click on your chosen option from a great choice of preinstalled CD label templates.
Add any of your own design ideas to print the CD or DVD label really personal.
Click on the 'Print' button to begin your unique DVD or CD printed label after you have entered Canon MG8170 in to the print settings dialog. Do not forget to check that the latest printer driver is installed.
Have Fun!
The RonyaSoft label making software immediately gives you and your Canon MG8170 printer all you could desire for personalizing so many great CD or DVD surprises.
There is nothing nicer than getting a gift which indicates someone cares enough to make something individual for you. Save on costly shop-bought presents and with your first gift to someone special you will have covered the cost of your RonyaSoft CD DVD and Blu-ray labeling software.
Think about these great suggestions:
You are at your brother or sister's twenty-first birthday. It is an incredibly special moment in their life and one they will fondly remember when they are older. What more clever way to aid them reminisce about their special occasion than for you to take loads of pictures and video clips of the occasion, from start to finish, insert them all on a CD, DVD or Blu-ray and present it to them as a unique way of demonstrating how proud you are of them. It will complete the day for them and it will have cost you next to nothing, save for a couple bits of paper, a blank CD, DVD or Blu-ray and a splash of ink from your Canon MG8170 printer.
Use emotive photos to design CD and DVD box covers and design CD DVD labels for your compilation CD's - thunder, sunshine, rain, a calm sea, a rainbow...
Have to store photos cataloged? Put a relevant photo on the CD label or DVD box cover.
What a disaster if you have your laptop and memory stick damaged - where are all your photos put? Make doubly certain you don't lose all treasured memories of those moments in your life - just print off some cool CD DVD labels, burn your photos on to a disc and put everything safely where you can see it.
Make an one-off video for work applications and design an attractive case with a smart CD DVD label to add the finishing touches.
RonyaSoft CD Label Maker is the ideal software addition to operate with your Canon MG8170 printer so download it now and get those imaginative creative juices flowing!
CD DVD label print software works on Windows Operational System, including popular Windows 7 and Windows 8 versions and supports a wide range of CD/DVD/Blu-ray label printers, eg: Canon iP4740, Canon iP4920, Canon MG5350, Canon MP750, Canon Pro9000 MarkII, Epson PM-D750, Epson Stylus Photo PX650, Epson Stylus Photo R320, Epson Stylus Photo T60, HP Photosmart C5270, HP Photosmart C5280, Systor PrintMaster Plus, Yurex MantraJet 1100 and similar.
CD DVD label making software supports a wide range of CD/DVD/Blu-ray labels, eg: Anker CD DVD, APLI 10400, Avery 98124 98149 STOMP, Boma LS101HIG, DECAdry DLW-1900, Executive Choice, HP 3-up, LabelWhiz LW61260, MicroApplication 5040 A4, PrintWorks 00495 CD DVD Label, ProLabel SGW4525, Zweckform 6047, Zweckform L7678 and similar.