Blu-ray Double Insert
Blu-ray Double Insert template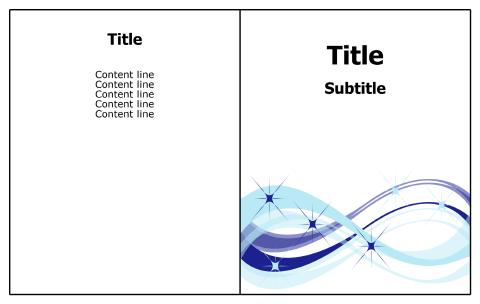 How to make Blu-ray Double Inserts
RonyaSoft Blu-ray cover maker is a perfect solution for those who burn Blu-ray discs on their own to get the best films, music albums and home movies in the collection. It is the cheapest way to organize, label and store disc collection. With this simple software you will be able to create and customize:
Blu-ray cover - create custom cases in a few clicks.
Blu-ray insert - add all necessary data on the Blu-ray insert template: list film or album titles, songs, artists, software, etc so that you will easily find anything.
Blu-ray size - create and print covers, inserts or envelopes for Blu-ray discs of different formats fitting most popular sizes and forms of Blu-ray disc cases. Editing Blu-ray cover size enables you to accurately store your disc collection, keeping all of the discs (CDs, DVDs, Blu-Rays) in the same size covers and cases added with unified Blu-ray covers or DVD inserts.
The software allows you to change fonts, colors, backgrounds, images, layouts to create really custom CD DVD cover, label or insert.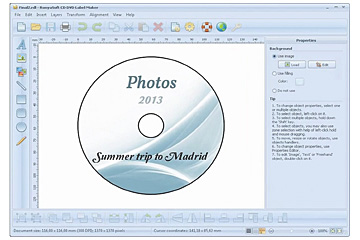 You can try this Blu-ray cover application absolutely free. It is simple to use thus even kids will easily create a desired label, insert or cover. Download RonyaSoft Blu-ray insert maker to your PC and follow the installation. It takes up to 5 minutes to complete. The software is ready and does not need any additional settings.
To create Blu-ray cover follow the next steps:
Start the Blu-ray cover maker and choose a proper template to edit.
Edit a proposed layout, changing the elements in any order you like.
Add as much information to the cover as you need. The Blu-ray cover editor allows you to upload pictures you like to add to and customize titles. The editor offers a set of features for fast editing and customization of a Blu-ray insert template.
Click to save a project to get this copy as a template for further usage.
Print a customized cover to get a Blu-ray cover on paper.
Blu-ray double insert creator is a perfect tool to add to your software kit to edit and manage your disc collection. This simple Blu-ray cover maker can be installed as on the latest OS Windows releases so on prior versions of this operating system. The application easily detects the most popular types of printers and does not need any additional settings to get covers, custom inserts and templates printed.
This RonyaSoft tool offers a complete set of templates for all types of discs from your collection. A single application lets you design and customize unique covers, personalized inserts, beautiful cases and envelopes and even origami cases for your massive disc collection. Personalized Blu-ray double inserts and covers allow to organize ever growing collection. You will find a necessary disc faster and easier. Besides, it is the cheapest and the fastest way to get Blu-ray covers, inserts and labels. Try it now and generate amazing CD labels, DVD covers and cases, Blu-ray double inserts in few clicks!
CD DVD covering software supports a wide range of CD DVD label printers, eg: Canon iP4200, Canon MG5220, Canon MG6150, Canon MP610, DYMO DiscPainter, Epson PM-900C, Epson Stylus Photo PX800FW, Epson Stylus Photo R320, Epson Stylus Photo RX585, Epson Tray Type 1, HP Photosmart C5540, Microboards Print Factory, Yurex MantraJet 1150-XL and others.
CD DVD labels printing software supports a wide range of CD DVD label stocks, eg: Ace 60400 series, APLI 10328, Avery J8770, CD Stomper 2-up CD DVD with Center Labels, Data Becker 0502, Herma 4471 CD DVD Label, Indie, Maxell J8761, Pimaco, Polyline UZCD458IG, Sanwa LB-CDR010 CD DVD, Zweckform C9660, Zweckform L7776 and others.