Epson Stylus Photo PX800FW printer
Epson Stylus Photo PX800FW printer CD DVD tray layout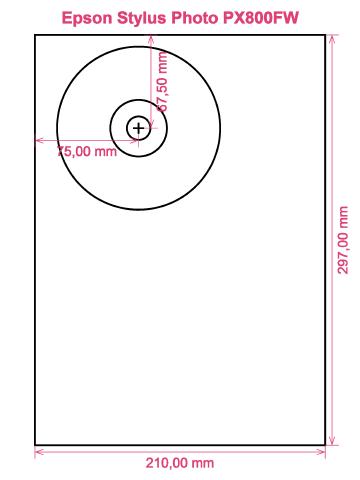 How to print labels on Epson Stylus Photo PX800FW printer
When you have used the RonyaSoft Blu-ray CD DVD Cover Maker, simplicity will be the word that springs to mind - you will be guaranteed to be blown away at how uncomplicated it is to download the label making software programme by clicking on the link underneath and within just a couple of minutes you will be printing brilliant CD or DVD labels on your Epson Stylus Photo PX800FW printer.
Don't stop there though as there's much more to this CD and DVD labels software than initially meets the eye. Simple and easy to use doesn't create simple prints, but more professional style CD and DVD labels than you would expect. This disk labels maker software gives you masses of choices and has loads of CD and DVD label and cover templates already installed, not just for creating CD and DVD labels, but also CD, DVD & Blu-ray case covers and case inserts to round off the professional look.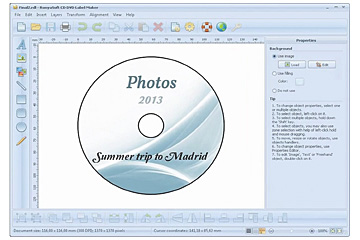 Concerning simple to use, well 'user-friendly' just got even more friendly. Just use the text to discover how simple, yet sharp and professional results will be when you start to design CD, DVD and Blu-ray case covers, Blu-ray labels and Blu-Ray case inserts:
To automatically get your CD and DVD label making software program, click on the 'Download' button.
Opt for your favorite design from any of the great Blu-ray/CD/DVD label and covers templates.
Add any of your own design ideas to create the CD /DVD/Blu-ray label really personal.
Start printing your specially designed DVD or CD label after clicking the 'Print' button, after selecting your Epson Stylus Photo PX800FW as the correct printer being used. Try to download the latest free driver updates.
Be proud of yourself for what you have created!
All it needs to turn your PC and Epson Stylus Photo PX800FW printer in to a little personal gift factory is a touch of imagination.
There is nothing sweeter than getting a gift which indicates someone cares enough to make something unique for you. Save on costly shop-bought presents and with your first gift to someone special you will have covered the cost of your RonyaSoft CD & DVD labels software.
Try making some of these:
You are at your brother or sister's twenty-first birthday. It is an incredibly special moment in their life and one they will fondly think about when they get older. What smarter way to aid them reminisce about their special event than for you to take lots of pictures and video clips of the event, from start to finish, insert them all on a CD DVD and offer it to them as your own way of demonstrating how proud you are of them. It will enhance the day for them and it will have cost you next to nothing, save for a few bits of paper, a blank CD DVD and a dash of ink from your Epson Stylus Photo PX800FW printer.
Use funky images and photos to to create CD, DVD and Blu-ray case covers and create Blu-ray labels to easily spot your CD's and DVD's.
Do you like being practical? Why not create new styles for the CD and DVD covers for your collection?
Memories shared usually last longer - download your pics of a do on to a CD and design a label, cover and insert, then send to all who were present!
Are you seeking an individual way to make you stand out when applying for jobs. Do you need to seem superior from the rest of the applicants. Do you need to impress your prospective employers with a presentation of yourself on a DVD with a classy printed DVD label and printed DVD cover specifically for each application?
How many blank CD's have you got with pictures on them, though you can't remember what? These days are now over when you utilise the RonyaSoft Blu-ray CD DVD labeling software to quickly and easily run off a few labels with your Epson Stylus Photo PX800FW printer.
CD DVD label printing software is compartible with Windows OS, including Windows XP, Windows 2003, Windows7 and works with a wide range of disc label printers, eg: Canon i865, Canon iP4870, Canon MG6340, Canon MG8220, Epson Artisan 1430, Epson PM-G700, Epson Stylus Photo PX700W, Epson Stylus Photo R3000, Epson Stylus Photo T60, HP Photosmart C309c, HP Photosmart C5293, HP Photosmart D5155, Yurex MantraJet 1150-XL and similar.
CD DVD label printing software supports a wide range of disc label providers, eg: After Burner, APLI 11704, Avery Maxell M87361, CD Stomper 2-up Slim Sheet CD DVD, CoolBeLa LS101HI, D-Tech CD DVD, JP CD DVD 2-up, LabelGear Bulk CD DVD 81312, Online Labels O5075, Polyline MCD450W, Tower, Zweckform 6118, Zweckform L7760 and similar.