Epson Stylus Photo R300 printer
Epson Stylus Photo R300 printer CD DVD tray layout
How to print labels on Epson Stylus Photo R300 printer
When you have used the RonyaSoft Blu-ray CD DVD Label Maker, easy will be the word that comes to mind - you will be guaranteed to be amazed at how simple it is to download the labels making software programme by clicking on the link underneath and within just a couple of ticks you will be printing fantastic CD and DVD labels and covers on your Epson Stylus Photo R300 printer.
Hold on as there's loads to this Blu-ray, CD or DVD label software than instantly meets the eye. Simple and easy to use doesn't mean simple results, but more professional looking Blu-ray, CD or DVD labels than you would expect. This disk label designer program gives you masses of choices and has plenty of Blu-ray, CD or DVD label and cover templates already installed, not just for making CD DVD labels, but also CD and DVD covers and inserts to round off the professional look.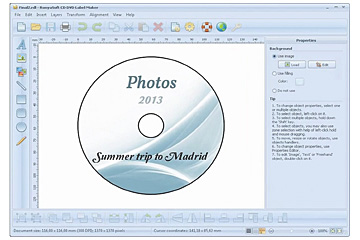 We also mentioned this software was great to employ. Well, we know that if you sense you are not 'tech-aware', when you have tried the RonyaSoft CD/DVD labels designer program, you will feel as clever as any professional graphic artist as you commence making plenty of CD, DVD and Blu-ray covers, disc labels and Blu-Ray DVD inserts:
Download and install CD & DVD Label & Cover Maker software program for free to try.
Click on your chosen option from a fantastic choice of predesigned CD label and cover templates.
Start printing your specially designed DVD or CD label after clicking the 'Print' button, after identifying your Epson Stylus Photo R300 as the proper printer being used. Try to use the latest free driver updates.
Be proud of yourself for what you have printed off!
The RonyaSoft label making software immediately gives you and your Epson Stylus Photo R300 printer all you could desire for personalizing so many great CD or DVD presents.
Anyone will tell you that a present with a personal touch, something sweet, will always be appreciated far more than something costly, so you will have more than paid for your Blu-ray CD DVD label create program, when you give someone a present.
Try doing some of these:
You are at your brother or sister's graduation. It is an incredibly special moment in their life and one they will always think about when they become older. What better way to help them reminisce about their special occasion than for you to take hundreds of pictures and video clips of the occasion, from start to finish, insert them all on a CD or DVD and offer it to them as your own way of demonstrating how proud you are of them. It will make the day for them and it will have cost you next to nothing, save for a couple bits of paper, a blank CD or DVD and a dash of ink from your Epson Stylus Photo R300 printer.
Use vibrant images and pics to to create CD and DVD covers and create disc labels to easily spot your CD's and DVD's.
Have to have pics cataloged? Put a appropriate photo on the CD label or DVD box cover.
What occurs if you have your laptop and memory stick damaged - where are all your photos kept? Make doubly sure you don't lose all stored memories of those occasions in your life - just print off some cool CD and DVD labels, burn your pics on to a disc and keep everything safely where you can see it.
Are you searching an individual way to make you stand out when applying for work. Do you have to seem different from the rest of the them. Do you want to wow your prospective employers with a showcase of yourself on a DVD with an excellent printed DVD insert and printed DVD cover specifically for each application?
The RonyaSoft Blu-ray CD DVD Label Maker is excellent for using with your Epson Stylus Photo R300 printer, so there's nothing to stop you now from becoming your own little print shop!
Blu-Ray/CD/DVD label creator program runs on Windows Platform, including Windows XP, Windows Vista, Windows 8 and is compatible with a wide range of CD/DVD/Blu-ray label printers, including: Canon i905D, Canon MG5220, Canon MG5450, Canon MP800R, Canon MP980, Epson PM-900C, Epson Stylus Photo 1400, Epson Stylus Photo R220, Epson Stylus Photo R380, HP Photosmart C309c, HP Photosmart C5370, Systor PrintMaster Plus, Yurex MantraJet 1100 and similar.
Blu-Ray/CD/DVD labels creation program supports a wide range of CD/DVD/Blu-ray label papers, including: APLI 10043, APLI 10328, Avery L7660, Compulabel 312693, CoolBeLa BMS001-CLR CD DVD, Etiform, Kyso US, LabelGear Bulk CD DVD 81312, Online Labels O9985, Polyline MCD450IG, SureThing A4, Zweckform 6047, Zweckform L6047 and similar.