Epson PM920C printer
Epson PM920C printer CD DVD tray layout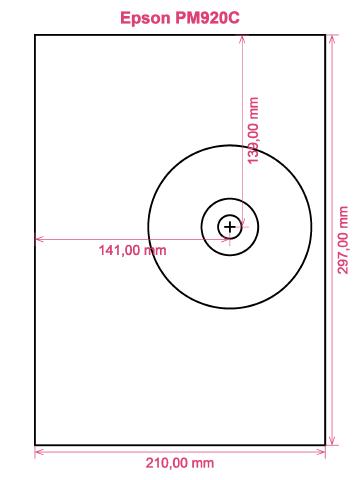 How to print labels on Epson PM920C printer
Once you have used the RonyaSoft DVD Label Maker, brilliant! will be the word that comes to mind - you'll be guaranteed to be blown away at how uncomplicated it is to download the label creation software program by clicking on the link on this page and within just a couple of ticks you will be running off brilliant CD and DVD labels on your Epson PM920C printer.
Wait as there's plenty to this Blu-ray, CD or DVD labels software than instantly meets the eye. Simple and easy to use doesn't create simple results, but more professional appearing Blu-ray, CD or DVD labels than you would expect. This compact disc label printer software gives you masses of choices and has so many choices of Blu-ray, CD or DVD label and cover templates already installed, not just for making CD/DVD/Blu-ray labels, but also Blu-ray, CD or DVD covers and inserts to produce the professional look.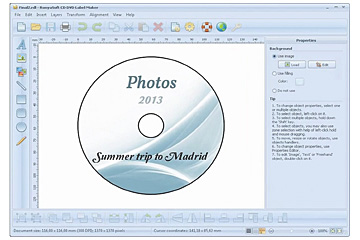 And as for straightforward to use, well 'user-friendly' became even more friendly. Just read the instructions to realize how simple, yet sharp and professional results will be when you begin to make CD, DVD and Blu-ray covers, CD labels and DVD inserts:
To automatically get your Blu-ray/CD/DVD label printing software, click on the 'Download' button.
Choose your favorite design from any of the predesigned CD label and cover templates.
Change the design of the label according to your liking.
Print the created label by clicking the 'Print' button. Never forget to put in your Epson PM920C printer during the setup process and to install the latest free version of the driver.
Smile!
The RonyaSoft label making software instantly gives you and your Epson PM920C printer everything you could need for personalizing so many great CD or DVD surprises.
Anyone will tell you that a surprise with an unique touch, something nice, will normally be appreciated far more than something bought, so you will have more than paid for your DVD label print software, when you give someone a present.
What about these for possibilities:
You're at a wedding and you take plenty of un-staged photos or video clips of attendees looking happy and having a ball. Select your favorites, burn them on to a disc and send it to the bride and groom as a thank you for the invitation to their marriage. They will love you for the kind and personal touch. And what did it cost you to produce one of the most kind presents they will get during their wedding? - The price of a blank disc, a couple of pieces of paper and a dash of ink from your Epson PM920C printer. Fab huh?
Chose your favourite photos and pics to make CD, DVD and Blu-ray covers or make CD labels.
Choose a pic of your dog or cat on the cover and CD and DVD label so you can easily see which CD your pet's photos are all compiled.
Memories shared always last longer - download your snaps of a do on to a CD and design a label, cover and insert, then send to all who were there!
Need to stand out from the crowd when keenly attempting to impress even before you have been offered a job interview? Create a superb looking CD rounded off with printed case cover, printed insert and printed label to make a brilliant memorable impression.
RonyaSoft DVD Label Maker is the best software add-on to operate with your Epson PM920C printer so download it now and get those stylistic juices flowing!
CD DVD label printing software runs on Windows OS, including Windows XP, Windows 2003, Windows7 and works with a wide range of CD DVD surface printers, including: Brother MFC J835DW, Canon MG5250, Canon MG6170, Canon MG8240, Epson Artisan 725, Epson PM890C, Epson Stylus Photo 2100, Epson Stylus Photo R230, Epson Stylus Photo RX585, EZ CD Print Plus, HP Photosmart C5293, HP Photosmart D5155, Yurex MantraJet 1150-XL and others.
CD DVD label printing software supports a wide range of CD DVD label suppliers, including: Anker CD DVD, Avery 5694, Boma BMS003HIG CD DVD, Compulabel 312737 3-up, CoolBeLa LS001, Emerald 5511 650 TC CD DVD, HP CDR6000A 3-up, Lorenz Bell LB6043, Online Labels O5000, Plain Paper, UBL SP0028 CD DVD, WHSmith, Zweckform L6047 and others.