Avery L7676 CD DVD (A4) CD DVD labels
Avery L7676 CD DVD (A4) label template layout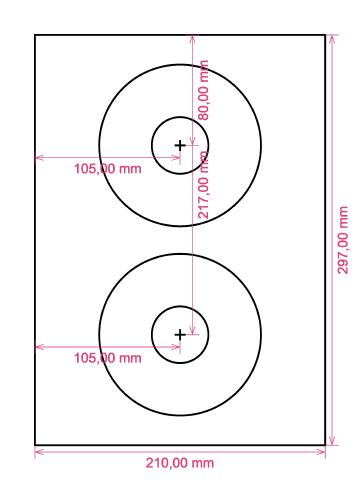 How to print on Avery L7676 CD DVD (A4) CD DVD labels
Avery label templates are awesome design sticking pieces you can print on your own at home creating marvelous CD DVD labels using RonyaSoft CD label creator. It is simple to set and use. Moreover RonyaSoft templates are perfectly designed to fit certain type of self-stick paper for CD DVD labels. So, let us find out how to print Avery labels and get perfect results without wasting time and labels.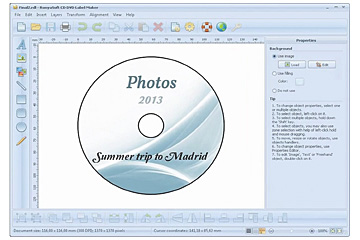 How to print Avery labels?
Great, you have Avery paper for printing CD DVD labels. Sure, you can make a hand drawn lettering on the label and stick it to the disk, but will it be great and effective? Of course, not. We offer you to print professionally looking CD DVD labels at home applying your own custom design to each one with no efforts.
To print an Avery label for your disk you will need CD label maker from RonyaSoft. You can download it right from this page. It is free demo to download and install. Once you buy the software, it will not require any further in-app purchases.
Start the CD DVD label creator and choose label template the one which best fits your needs.
The software will open the template in the editing workspace where you will be able to change background, colors, add new, delete blank text fields, edit font styles and size. RonyaSoft offers the simplest editor, which does not require any additional skills or knowledge.
Save the edited Avery label template and print it, using standard print icon on the tool panel or File menu. This will open a print setting window where you need to specify the type of CD DVD label paper you are going to print the label on. You are done!
Why to use DVD CD label printing software from RonyaSoft?
Any label producer offers its native printing tool to ease the process of creating perfect CD and DVD labels.
We have researched all the negative feedbacks of people who have used native Avery design and print software and have considered all the aspects when creating our CD DVD label software from RonyaSoft.
Your editing of DVD, CD or blu ray label content does not affect the design size of the printed label. You can be sure every element will be at right place when printed.
RonyaSoft guarantees very accurate printing of CD DVD labels made on Avery label paper.
You always have access to the Avery label templates you have edited and saved.
RonyaSoft has made the process of CD DVD label creation just a fun. The software is simple to install and understand. You see intuitive interface which is clear from the first glance. It is easy for kids to make labels for their CDs and for pro users, who need to create high quality labels from Avery label without wasting time and efforts on setting printer, inserting label paper and getting unsatisfactory result. Keep calm and print CD labels with RonyaSoft CD DVD label printer!
RonyaSoft CD & DVD Label Maker allows to design not only Blu-ray labels, Blu-ray, CD or DVD case covers and Blu-Ray DVD case inserts from a ready-to-use designs or from scratch.
Blu-Ray/CD/DVD label print program supports a wide range of CD/DVD/Blu-ray label printers, eg: Canon i865, Canon iP8500, Canon MG5350, Canon MP760, Canon Pro9000 MarkII, Epson EP-704A, Epson Stylus Photo 950, Epson Stylus Photo R2880, Epson Stylus Photo RX640, Epson Tray Type #2, HP Photosmart C5390, HP Photosmart D5300 series, Trace Affex CD-Artist and similar.
Blu-Ray/CD/DVD labels print program supports a wide range of CD/DVD/Blu-ray label providers, eg: Americal 313758, APLI 10292, Boma LD002-CL, CD Stomper Pro 2-up CD DVD Core, DECAdry OLW-4824 CD DVD (old format), Ferrania Otijet Etiquettes, Hovat, Meritline, Neato CD DVD Plus, Polyline MCD450IG, SureThing A4, Zweckform 6117, Zweckform L7860 DVD and similar.