Epson Stylus Photo RX640 printer
Epson Stylus Photo RX640 printer CD DVD tray layout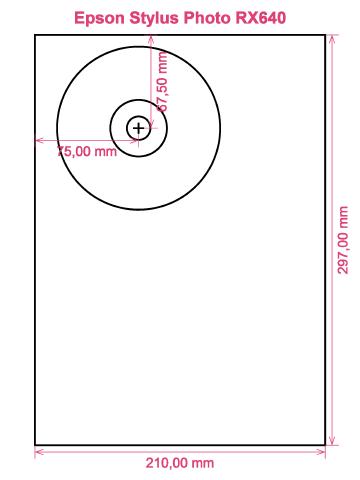 How to print labels on Epson Stylus Photo RX640 printer
It is not until you have used the RonyaSoft CD & DVD Label Maker that you can discover how utterly great it is to use great prints - never again will you worry about failing to make the most of modern technology! Within no time at all of downloading the CD & DVD labeling software programme you will be printing Blu-Ray CD DVD labels on a Epson Stylus Photo RX640 printer.
However that's not all that's useful with this exceptional Blu-ray/CD/DVD label making software. RonyaSoft may have made it all as simple as possible to use, but the prints would suggest differently when you see the impressiveness of printed CD and DVD labels. This Blu-ray, CD or DVD label software has ideas galore for printing professional and classy labels! However for printing Blu-ray, CD or DVD labels and covers isn't all when you know you can make Blu-ray, CD or DVD inserts and covers too and notice RonyaSoft have a selection of templates you can use.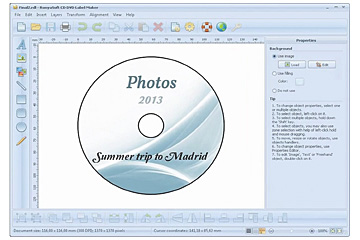 And as for easy to use, well 'user-friendly' is now even more friendly. Just read the text to understand how simple, yet clean and professional results will be when you commence to make CD/DVD/Blu-Ray covers, Blu-ray labels and Blu-Ray DVD inserts:
Download and install CD DVD Label Maker software for free to try.
Choose your favorite design from any of the great Blu-ray/CD/DVD label templates.
Add any of your own design ideas to make the CD or DVD label even more personal.
Start printing your unique CD and DVD label after clicking the 'Print' button, after selecting your Epson Stylus Photo RX640 as the correct printer being used. Always download the latest free driver updates.
Be proud of yourself for what you have produced!
The RonyaSoft label making software uniquely gives you and your Epson Stylus Photo RX640 printer so much you could need for personalizing so many great CD or DVD gifts.
Have you ever noticed how a personally made gift really matters to someone you love? Why spend money on expensive presents that anyone can buy, when with the RonyaSoft CD & DVD label create software, you can save a fortune on gifts and seem ten times more thoughtful?
How about these great ideas:
Life is all about memories, and some of the best ones we have are of family days spent together. Everyone has a camera and everyone has their own set of pictures, but what fun to make a assembly of the 'best of' photos from everyone and then run off a few copies on to a compact disc, print your own special labels and covers using the RonySoft label printing software for CD's and DVD's and your Epson Stylus Photo RX640 printer and post them as a memorable gift to each member of the family who was there.
Use emotive photos to design CD/DVD/Blu-Ray covers and design Blu-ray labels for your compilation CD's - thunder, sunshine, rain, a calm sea, a rainbow...
Do you like being clever? Why not design new styles for the CD and DVD covers for your collection?
Memories shared always last longer - download your pics of a night out on to a DVD and create a label, cover and insert, then give a copy to all who were attending!
Make an one-off video for employment applications and create a professional looking box with a smart CD & DVD label to add the final touches.
The RonyaSoft CD & DVD Label Maker is excellent for using with your Epson Stylus Photo RX640 printer, so there's nothing to stop you now from commencing your own ideal print shop!
CD label creation software works on Microsoft Windows Operational System, including latest Windows 7 and Windows 8 versions and is compatible with a wide range of CD/DVD/Blu-ray label printers, eg: Canon iP4600, Canon iP5000, Canon MG6240, Canon MG8150, Epson Artisan 730, Epson Artisan 800, Epson Stylus Photo 2100, Epson Stylus Photo R220, Epson Stylus Photo RX640, EZ CD Print 6500, HP Photosmart C5293, HP Photosmart D5168, Trace Affex CD-Artist and others.
CD label making software supports a wide range of CD/DVD/Blu-ray label providers, eg: A1Pro 3-up, APLI 2001, Avery J8770, Chenbro, DECAdry DLW-1824 CD DVD (old format), Herma 5086 CD DVD Label, Label Angel LB-A400, LabelGear Trimmed CD DVD 5511, Plain Paper, ProLabel CDJG458, SureThing US CD DVD 2-up, Z-Lable 05773, Zweckform L7760 and others.