Canon iP7250 printer
Canon iP7250 printer CD DVD tray layout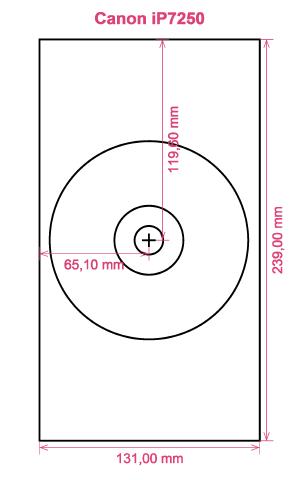 How to print labels on Canon iP7250 printer
It is not until you have tried the RonyaSoft CD Label Maker that you should realize how really easy it is to operate fantastic prints - never again will you worry about not being able to make the most of modern technology! Within seconds of starting to use the CD labeling software programme you will be printing CD and DVD labels on a Canon iP7250 printer.
However that's not all that's available with this exceptional CD DVD labels designing software. RonyaSoft may have made this software as easy as possible to use, but the prints would suggest differently when you see the quality of printed CD and DVD labels. This CD and DVD label creator software has options galore for creating impressive labels! However for creating CD and DVD labels and covers isn't all when you know you'll need CD and DVD inserts and covers too and discover RonyaSoft have a selection of templates you can use.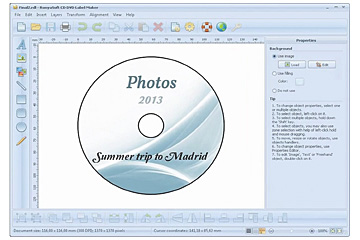 We also mentioned this software was fantastic to use. Well, we realize that if you sense you are not 'tech-smart', after you have employed the RonyaSoft CD/DVD labels designer software, you will feel as confident as any professional graphic artist as you begin making plenty of CD & DVD covers, disc labels and CD/DVD inserts:
Highlight the 'Download' button and installation for the Blu-ray/CD/DVD labeller software is automatic.
Click on your chosen option from a great choice of brilliant CD DVD label templates.
Add any of your own design ideas to create the CD or DVD labels really personal.
Print the designed label by clicking the 'Print' button. Don't forget to specify your Canon iP7250 printer during the printing process and to install the latest free version of the driver.
Be proud of yourself for what you have created!
Maximize the potential of your computer and Canon iP7250 printer where you can now produce a fantastic array of Blu-ray/CD/DVD labels, inserts and covers, to create lovely surprises.
There is nothing better than being given a gift which shows someone cares enough to make something unique for you. Save on costly shop-bought presents and with your first gift to someone special you will have covered the cost of your RonyaSoft CD & DVD labeller software.
Try creating some of these:
You are at your brother or sister's twenty-first birthday. It is an incredibly special occasion in their life and one they will always look back on when they get older. What better way to aid them reminisce about their special day than for you to take hundreds of pictures and video clips of the day, from start to finish, set them all on a CD, DVD or Blu-ray and present it to them as a unique way of demonstrating how proud you are of them. It will make the day for them and it will have cost you next to nothing, save for two bits of paper, a blank CD, DVD or Blu-ray and a dash of ink from your Canon iP7250 printer.
Use scenic photos to design CD & DVD covers and design disc labels for your compilation CD's - thunder, sunshine, rain, a calm sea, a rainbow...
Use a photo of your canine or cat on the cover and CD or DVD label so you can easily see which CD your pet's photos are all kept on.
Memories shared always last longer - download your photos of a party on to a DVD and print a label, cover and insert, then give a copy to all who were attending!
Are you searching an individual way to make you stand out when applying for jobs. Do you need to seem superior from the rest of the competition. Do you need to impress your prospective employers with a presentation of yourself on a DVD with an excellent printed DVD insert and printed DVD box made for each application?
RonyaSoft CD Label Maker is the best software addition to operate with your Canon iP7250 printer so download it instantly and get those imaginative creative juices flowing!
DVD label making software supports Microsoft Windows OS, including Windows XP, Windows Vista, Windows 7 and is compatible with a wide range of disc label printers, eg: Canon iP3000, Canon iP4920, Canon MG5340, Canon MG8170, Canon Pro9500, Epson PM-4000PX, Epson Stylus Photo 2100, Epson Stylus Photo R340, Epson Stylus Photo RX560, HP Photosmart C5250, HP Photosmart C5540, Systor PrintMaster Plus, Yurex MantraJet 1150-XL and similar.
DVD labels printing software supports a wide range of disc label providers, eg: Agipa 118946, Avery 5691, Avery Maxell MJ-CD17S-5, Champion CD DVD, Compulabel 375052, Dummy CD Insert, Kyso US, Memorex 1 sided, PC Line, Print Fit 2-up, Telliton, Veriad VH585 587, Zweckform L6117 and similar.