Canon Pro9000 printer
Canon Pro9000 printer CD DVD tray layout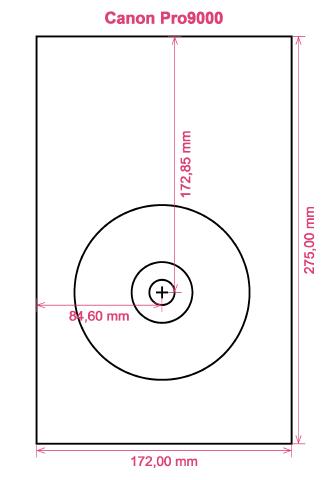 How to print labels on Canon Pro9000 printer
When you have actually used the RonyaSoft Blu-ray CD DVD Cover Maker you will understand how simple and straightforward it is - 'user convenient' takes on a totally new meaning! Within a few moments of downloading the Blu-ray CD DVD labeler software from the link below, you will be running off fantastic Blu-Ray CD DVD labels and covers using your Canon Pro9000 printer.
Please don't turn off there, as you may not see the best reason behind this CD/DVD labels creation program. RonyaSoft haven't gone to such extremes purely so you can print off a list of tracks on a CD or a film title on a label. No! This CD DVD labels maker program will offer you so many different options for CD and DVD label creation to enable you to create professional looking labels and covers. Plus, the CD DVD label design software can also help to make CD and DVD cases and inserts using the brilliant CD and DVD templates.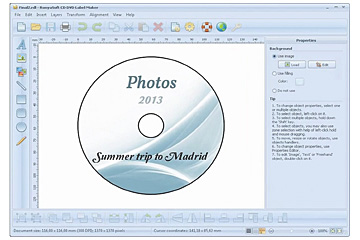 We also indicated this software was fantastic to work with. Well, we know that if you feel you are not 'tech-aware', after you have employed the RonyaSoft CD & DVD labels creator program, you will feel as clever as any professional graphic artist after you start design lots of CD & DVD case covers, CD labels and Blu-Ray/CD/DVD case inserts:
To automatically get your CD DVD labels design program, click on the 'Download' button.
Opt for your favorite design from any of the great CD label and cover templates.
Change the design of the label according to your needs.
Start printing your unique CD label after clicking the 'Print' button, after selecting your Canon Pro9000 as the right printer being used. Always download the latest free driver updates.
Have Fun!
Enhance the potential of your computer and Canon Pro9000 printer where you can now print a fantastic array of CD DVD labels, case inserts and case covers, to create lovely presents.
Have you ever noticed how a personally made gift really matters to someone you adore? Why spend money on costly presents that anyone can buy, when with the RonyaSoft Blu-ray CD DVD label make program, you can save a fortune on gifts and seem ten times more thoughtful?
What about creating some of these:
You're at a wedding and you take lots of un-staged photos or video clips of everyone looking happy and having a great time fun. Pick your best, burn them on to a disc and give it to the bride and groom as a thank you for the invitation to their special day. They will remember you for the thoughtful and personal touch. And what did it cost you to produce one of the most kind presents they will have received during their wedding? - The price of a blank disc, a couple of pieces of paper and a dash of ink from your Canon Pro9000 printer. Cool huh?
Use vibrant images and pics to to create CD/DVD/Blu-Ray case covers or create CD labels to easily identify your CD's and DVD's.
Want to store pics cataloged? Put a appropriate photo on the compact disc label or DVD case cover.
It's safer to store all your snaps on your computer or a memory stick, but design a fantastic label to put on a CD or create a CD case cover and insert and establish a physical library of all your memories.
Make a personal video for work applications and design an attractive box with a smart CD DVD label to add the final touches.
RonyaSoft Blu-ray CD DVD Cover Maker is the ideal software addition to use with your Canon Pro9000 printer so download it now and get those stylistic juices flowing!
Blu-Ray/CD/DVD label maker program supports Microsoft Windows Platform, including Windows XP, Windows Vista, Windows 8 and works with a wide range of disc surface printers, including: Canon iP4200, Canon MG5220, Canon MG5340, Canon MP530, Canon MP990, Epson PM-900C, Epson PX-G900, Epson Stylus Photo R1800, Epson Stylus Photo R390, Epson Stylus Photo TX710W, HP Photosmart C5383, HP Photosmart D5168, Yurex MantraJet 1150-XL and others.
Blu-Ray/CD/DVD labels making program supports a wide range of disc label providers, including: Ace 30700 series, APLI 11704, Avery Maxell C96361, Compulabel 312715, DECAdry DLW-1824, Herlitz A4, Indie, Memorex CD DVD MAX, MultiFlip LD101, Polyline MCD462W, Sanwa LB-CDR003 CD DVD, WHSmith, Zweckform L6117 and others.