Epson Stylus Photo PX810FW printer
Epson Stylus Photo PX810FW printer CD DVD tray layout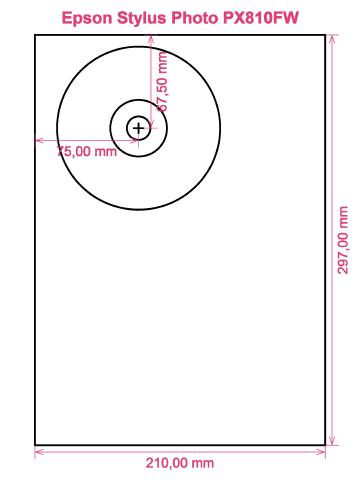 How to print labels on Epson Stylus Photo PX810FW printer
After you have actually used the RonyaSoft CD Label Creator you will understand how effective and easy it is - 'user friendly' takes on a completely new understanding! Within just a couple of minutes of swiftly downloading the CD label software programme from the link below, you will be printing off brilliant Blu-Ray CD DVD labels on your Epson Stylus Photo PX810FW printer.
However don't switch off there, as you may not see the bigger point of your new CD/DVD label making program. RonyaSoft haven't gone to such extremes purely so you can print off a list of tracks on a CD or a film title on a label. No! This CD DVD label program will provide you so many choices for Blu-ray, CD or DVD label making to enable you to make attractive labels. Plus, the CD DVD label making software can also be used to make Blu-ray, CD or DVD covers and case inserts utilising our Blu-ray, CD or DVD templates.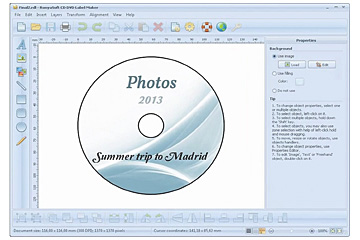 We also mentioned this software was great to use. Well, we understand that if you feel you are not 'tech-smart', when you have tried the RonyaSoft CD and DVD label designer program, you will feel as clever as any professional graphic artist as you begin making lots of CD/DVD/Blu-Ray covers, Blu-ray labels and CD/DVD inserts:
Download and install CD DVD Label and Cover Creator software for free to try.
Try out one of the installed CD DVD label and covers templates.
Start printing your unique CD and DVD label after clicking the 'Print' button, after inputting your Epson Stylus Photo PX810FW as the proper printer being used. Try to download the latest free driver updates.
Have Fun!
Maximize the potential of your computer and Epson Stylus Photo PX810FW printer where you can now produce a fantastic array of CD DVD labels, inserts and covers, to make lovely gifts.
Have you ever noticed how a personally made gift really matters to someone you like? Why spend money on expensive presents that anyone can buy, when with the RonyaSoft CD label making program, you can save a fortune on gifts and appear ten times more thoughtful?
How about these fantastic options:
You're at a wedding and you take lots of un-staged photos or video clips of all the guests looking relaxed and having a ball. Select your best, burn them on to a disc and give it to the bride and groom as a thank you for the invitation to their special day. They will adore you for the kind and personal touch. And what did it cost you to make one of the most kind gifts they will have received during their wedding? - The money for a blank disc, few pieces of paper and a drop of ink from your Epson Stylus Photo PX810FW printer. Great huh?
Chose your nicest photos and pictures to print CD/DVD/Blu-Ray covers and print Blu-ray labels.
Opt for a pic of your pooch or cat on the cover and CD or DVD label so you can easily see which CD your pet's photos are all stored.
It's safer to store all your photos on your computer or a memory stick, but make a picturesque label to put on a CD or create a CD cover and insert and make a physical library of all your memories.
Are you seeking a novel way to make you stand out when applying for employment. Do you want to seem better from the rest of the applicants. Do you want to wow your potential employers with a demonstration of yourself on a DVD with a professionally printed DVD insert and printed DVD cover specifically for each application?
The RonyaSoft CD Label Creator is excellent for using with your Epson Stylus Photo PX810FW printer, so there's nothing to stop you instantly from commencing your own little print shop!
CD DVD labelling program supports Windows Platform, including Windows XP, Windows Vista, Windows 7 and is compatible with a wide range of CD DVD label printers, including: Brother MFC-J825DW, Canon iP5300, Canon MG6240, Canon MG8240, Canon MX850, Epson Artisan 835, Epson Stylus Photo 950, Epson Stylus Photo R2000, Epson Stylus Photo R390, EZ CD Print 4200, HP Photosmart C5293, HP Photosmart D5168, Yurex MantraJet 1150-XL and others.
CD DVD label create program supports a wide range of CD DVD label stocks, including: Americal 313901 3-up, Avery 8941, Avery L6046, CD Stomper 2-up Slim Sheet CD DVD, CoolBeLa LD001-HI, Great Gizmos, Hisago CJ3843S CD DVD (A5), LabelWhiz LW60300, Neato Full Coverage CD DVD 2-up, Polyline CD458G, Unistat CD DVD 2-up, Worldlabel WL-OL5050, Zweckform L7678 and others.