HP Photosmart C5273 printer
HP Photosmart C5273 printer CD DVD tray layout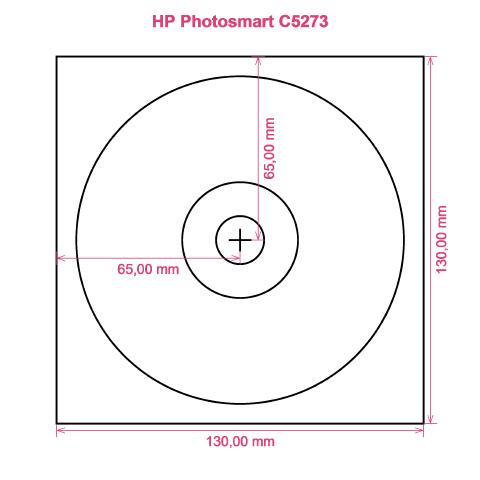 How to print labels on HP Photosmart C5273 printer
Once you have tried the RonyaSoft CD Cover Designer, easy will be the word that comes to mind - you'll be guaranteed to be amazed at how simple it is to download the labels printing software by clicking on the link below and within just a couple of moments you will be printing brilliant CD and DVD labels on your HP Photosmart C5273 printer.
But that's not all that's available with this fantastic CD DVD labels printing program. RonyaSoft may have made this software as easy as possible to use, but the outcome would suggest differently when you see the standard of printed CD or DVD labels. This Blu-ray, CD or DVD label printer program has options galore for making top quality labels! But for making Blu-ray, CD or DVD labels isn't all when you know you'll need Blu-ray, CD or DVD box inserts and box covers too and notice RonyaSoft have a load of templates you can use.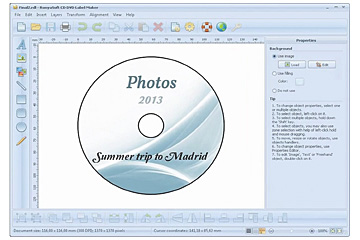 And as for straightforward to use, well 'user-friendly' became even more friendly. Just read the instructions to discover how simple, yet sharp and professional results will be when you begin to design CD/DVD/Blu-Ray box covers, CD/DVD/Blu-ray labels and CD & DVD box inserts:
To automatically receive your CD and DVD labels printing software program, click on the 'Download' button.
Click on your chosen option from a fantastic choice of brilliant CD DVD label and covers templates.
Print the new label by clicking the 'Print' button. Do not forget to specify your HP Photosmart C5273 printer during the printing process and to download and use the latest free version of the driver.
Smile!
Everything you need to turn your PC and HP Photosmart C5273 printer in to a fabulous personal gift factory is a bit of imagination.
Anyone will tell you that a gift with an unique touch, something thoughtful, will always be appreciated far more than something bought, so you will have more than paid for your CD label and cover make program, the first time you give someone a present.
What about these for possibilities:
You're at a wedding and you take loads of un-staged photos or video clips of everyone looking relaxed and having a ball. Pick your favorites, burn them on to a disc and post it to the bride and groom as a thank you for the invitation to their marriage. They will adore you for the sweet and personal touch. And what did it cost you to produce one of the most individual presents they will get during their wedding? - The price of a blank disc, a couple of pieces of paper and a drop of ink from your HP Photosmart C5273 printer. Fab huh?
Use funky images and photos to to print CD and DVD box covers or print CD/DVD/Blu-ray labels to easily identify your CD's and DVD's.
Do you love being practical? Why not make new images for the CD & DVD covers for your collection?
Memories shared usually last longer - download your pics of a night out on to a DVD and create a label, cover and insert, then present to all who were there!
Need to stand out from the throng when keenly wanting to impress even before you have been offered a job interview? Produce a fantastic looking CD complete with printed box cover, printed insert and printed label to make a brilliant memorable impression.
RonyaSoft CD Cover Designer is the best software extra to operate with your HP Photosmart C5273 printer so download it today and get those stylistic juices flowing!
CD label creation program works on Windows Platform, including Windows XP, Windows Vista, Windows 7 and supports a wide range of CD DVD label printers, eg: Brother MFC-J825DW, Canon iP4940, Canon MG6140, Canon MP530, Custom Printer, Epson PM-900C, Epson PM-G800, Epson Stylus Photo R290, Epson Stylus Photo RX590, EZ CD Print 5700, HP Photosmart C5290, HP Photosmart D7560, Yurex MantraJet 1050 and similar.
CD labels making program supports a wide range of CD DVD label stocks, eg: Agipa 119884, Avery 5691, Big W, Boma LD007 CD DVD, DECAdry DLW-1824 CD DVD (old format), D-Tech CD DVD, IBM, Lorenz Bell, Online Labels O9985, Polyline UZCD458IG, Veriad JP579 580 VH580-582, Zweckform J8570, Zweckform L7678 and similar.