Epson EP-704A printer
Epson EP-704A printer CD DVD tray layout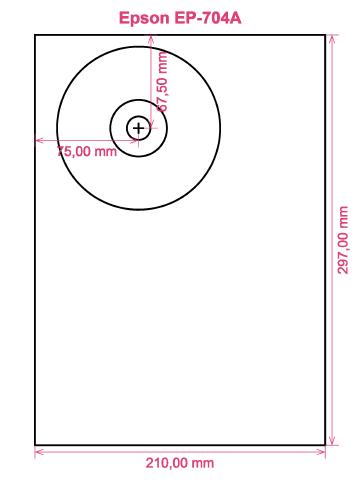 How to print labels on Epson EP-704A printer
After you have successfully operated the RonyaSoft CD DVD Label Designer, brilliant! will be the word that springs to mind - you will surely be amazed at how uncomplicated it is to download the label making software by clicking on the link on this page and within just a couple of ticks you will be producing brilliant CD and DVD labels on your Epson EP-704A printer.
Don't stop there though as there's plenty to this Blu-ray, CD or DVD labels software than instantly meets the eye. Simple and easy to use doesn't mean simple results, but more professional style Blu-ray, CD or DVD labels than you would expect. This disk labels printer program gives you a multitude of choices and has huge amounts of of Blu-ray, CD or DVD label and cover templates already installed, not just for making CD/DVD/Blu-ray labels, but also CD, DVD & Blu-ray covers and inserts to complete the professional look.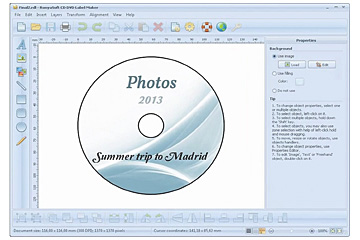 We also said this software was great to work with. Well, we know that if you sense you are not 'tech-aware', after you have used the RonyaSoft CD & DVD label designer program, you will feel as clever as any professional graphic artist as you commence making plenty of CD & DVD covers, CD/DVD/Blu-ray labels and CD inserts:
Download and install Blu-ray/CD/DVD Label Designer program for free to try.
Click on your chosen option from a fantastic choice of preinstalled Blu-ray/CD/DVD label and cover templates.
Alter the design of the label according to your wishes.
Click on the 'Print' button to commence your unique CD printed label after you have entered Epson EP-704A in to the print settings dialog. Don't forget to ensure that the latest printer driver is installed.
Be proud of yourself for what you have printed off!
Improve the potential of your computer and Epson EP-704A printer where you can now print a fantastic array of Blu-ray/CD/DVD labels, inserts and covers, to make lovely presents.
Have you ever noticed how a personally made gift really matters to someone you like? Why spend money on expensive presents that anyone can buy, when with the RonyaSoft CD DVD labels printing program, you can save a fortune on gifts and become ten times more thoughtful?
How about these for possibilities:
Life is all about memories, and several of the memorable ones we have are of family days spent together. Everyone has a camera and everyone has their own set of pictures, but what fun to make a collection of the 'best of' photos from everyone and then run off a few copies on to a compact disc, print your own special labels and covers using the RonySoft label printer for CD's, DVD's and Blu-rays and your Epson EP-704A printer and give them as a unique gift to each member of the family who was there.
Use funky images and pics to to make CD & DVD covers and make CD/DVD/Blu-ray labels to easily pick out your CD's and DVD's.
Use a photo of your dog or cat on the cover and CD and DVD label so you can easily identify which CD your pet's photos are all kept on.
What happens if you have your laptop and memory stick damaged - where are all your photos stored? Make extra safe you don't lose all recorded memories of those great days in your life - just print off some cool CD labels, burn your snaps on to a disc and store everything sensibly where you can see it.
Are you looking for a new way to make you stand out when applying for jobs. Do you need to seem better from the rest of the them. Do you want to shock your potential employers with a demonstration of yourself on a DVD with a classy printed DVD label and printed DVD box made for each application?
The RonyaSoft CD DVD Label Designer is superb for using with your Epson EP-704A printer, so there's zero to stop you instantly from becoming your own ideal print shop!
CD DVD label creation program works on Windows System, including latest Windows 7 and Windows 8 versions and supports a wide range of CD/DVD/Blu-ray label printers, including: Aleratec Robojet AutoPrinter 100, Canon iP5200R, Canon MG5450, Canon MP750, Canon MP950, Epson PM-970C, Epson Stylus Photo 2100, Epson Stylus Photo PX830FWD, Epson Stylus Photo RX680, HP Photosmart C309c, HP Photosmart C5388, Systor PrintMaster Plus, Yurex MantraJet 1050 and others.
CD DVD label design program supports a wide range of CD/DVD/Blu-ray labels, including: APLI 10041, APLI 2899, Big W, CD Stomper Pro CD DVD 2-up, Data Becker, DeskTop Labels 6602-CD CD DVD Labels, HP 3-up, LabelWhiz 62000, Neato CD DVD 2-up with core spine, PressIt, Sanwa LB-CDR003 CD DVD, Zweckform J8777, Zweckform L6047 and others.