Canon iP4500 printer
Canon iP4500 printer CD DVD tray layout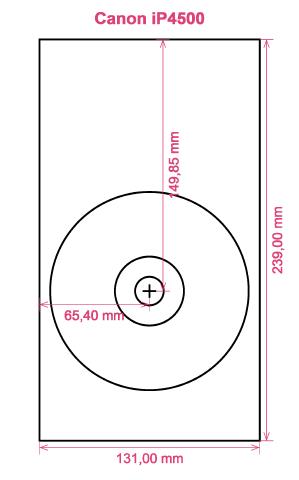 How to print labels on Canon iP4500 printer
After you have successfully operated the RonyaSoft CD & DVD Label Designer, simplicity will be the word that comes to mind - you will definitely be blown away at how quick it is to download the label printing software by clicking on the link underneath and within just a couple of minutes you will be printing professional-looking CD or DVD labels on your Canon iP4500 printer.
Hold on as there's much more to this CD and DVD labeling software than instantly meets the eye. Simple and easy to use doesn't mean simple results, but more professional style CD and DVD labels than you would expect. This compact disc label creator software gives you masses of choices and has plenty of CD and DVD label and cover templates already installed, not just for making CD DVD labels, but also CD, DVD & Blu-ray box covers and box inserts to produce the professional look.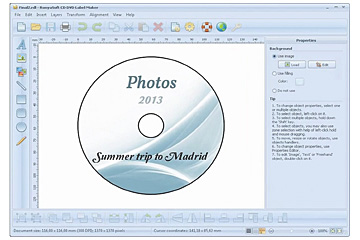 We also indicated this software was great to employ. Well, we know that if you sense you are not 'tech-aware', once you have tried the RonyaSoft CD/DVD label designer software, you will feel as confident as any professional graphic artist as you commence making loads of CD, DVD and Blu-ray box covers, DVD labels and Blu-Ray CD box inserts:
Download and install CD DVD Label Designer software for free to try.
Pick out your favorite design from any of the preloaded CD DVD label and cover templates.
Edit the design of the label according to your needs.
Click on the 'Print' button to start running off your unique CD and DVD printed labels after you have entered Canon iP4500 in to the print settings dialog. Never forget to inspect that the latest printer driver is used.
Smile!
The RonyaSoft label making software immediately gives you and your Canon iP4500 printer everything you could need for personalizing so many great CD or DVD presents.
Have you ever noticed how a personally made gift really matters to someone you adore? Why spend money on pricey, presents that anyone can buy, when with the RonyaSoft CD & DVD label and cover printing software, you can save a fortune on gifts and appear ten times more thoughtful?
How about these for ideas:
Life is all about memories, and some of the greatest ones we have are of family days spent together. Everyone has a camera and everyone has their own set of pictures, but what excitement to make a assembly of the 'best of' photos from everyone and then create a few copies on to a CD, design your own special labels and box covers using the RonySoft label printer for CD's, DVD's and Blu-rays and your Canon iP4500 printer and post them as a surprise gift to each member of the family who was there.
Use emotive photos to make CD, DVD and Blu-ray box covers or make DVD labels for your compilation CD's - thunder, sunshine, rain, a calm sea, a rainbow...
Have to keep snaps cataloged? Put a relevant photo on the compact disc label or DVD case cover.
What occurs if you have your laptop and memory stick stolen - where are all your photos put? Make doubly certain you don't lose all recorded memories of those great days in your life - just print off some cool CD and DVD labels, burn your snaps on to a disc and store everything safely where you can see it.
Make a personal video for job applications and design an attractive case with a smart CD DVD label to add the finishing touches.
RonyaSoft CD & DVD Label Designer is the best software extra to employ with your Canon iP4500 printer so download it today and get those imaginative creative juices flowing!
CD labeling software supports Microsoft Windows Operational System, including Windows XP, Windows Vista, Windows 8 and is compatible with a wide range of CD/DVD/Blu-ray surface printers, eg: Canon i905D, Canon iP4910, Canon MG6120, Canon MP800R, Epson Artisan 1430, Epson PM-D750, Epson PM-G800, Epson Stylus Photo R210, Epson Stylus Photo RX595, HP Photosmart C5273, HP Photosmart C5370, HP Photosmart D5155, Yurex MantraJet 1100 and similar.
CD label creation software supports a wide range of CD/DVD/Blu-ray label stocks, eg: Anker CD DVD, Avery 5698, Avery J8676, CD Stomper Pro CD DVD 2-up, DECAdry OLW-4824 CD DVD (old format), Herlitz A4, Hisago LP844S, Memorex 1 sided, Plain Paper, PressIt, Telliton, Zweckform 6118, Zweckform L7860 DVD and similar.