Epson Stylus Photo 1400 printer
Epson Stylus Photo 1400 printer CD DVD tray layout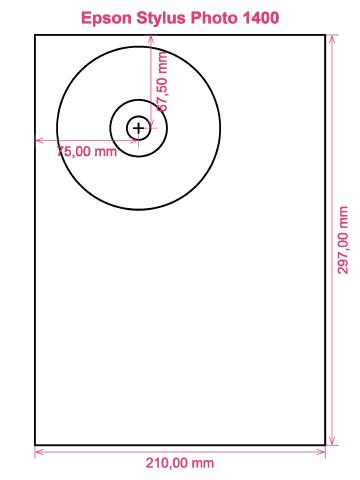 How to print labels on Epson Stylus Photo 1400 printer
Only when you have had a go with the RonyaSoft DVD Label Maker that you can realize how incredibly simple it is to get great prints - never again will you worry about not being able to make the most of modern technology! Within no time at all of installing our DVD labels software programme you can be printing CD and DVD labels and covers on your Epson Stylus Photo 1400 printer.
Yet that's not all that's useful with this fantastic CD/DVD labels creation software. RonyaSoft may have made this software as obvious as possible to use, but the results would suggest differently when you see the standard of printed CD and DVD labels. This CD and DVD label maker software has ideas galore for creating impressive labels! Yet for creating CD and DVD labels isn't all when you know you can make CD and DVD inserts and covers too and realize RonyaSoft have a batch of templates you can use.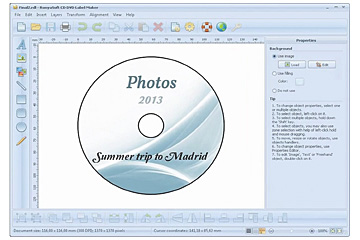 We also mentioned this software was great to employ. Well, we know that if you worry you are not 'tech-aware', after you have used the RonyaSoft CD and DVD labels creator software, you will feel as confident as any professional graphic artist when you begin printing loads of CD/DVD/Blu-Ray covers, DVD labels and Blu-Ray DVD inserts:
To automatically receive your CD and DVD labels printing software program, click on the 'Download' button.
Choose one of the installed CD and DVD label and covers templates.
Click on the 'Print' button to commence your unique DVD or CD printed label after you have entered Epson Stylus Photo 1400 in to the print settings dialog. Do not forget to check that the latest printer driver is installed.
Be proud of yourself for what you have produced!
The RonyaSoft label making software instantly gives you and your Epson Stylus Photo 1400 printer everything you could need for personalizing so many great CD or DVD gifts.
Anyone will tell you that a gift with a personal touch, something nice, will forever be appreciated far more than something bought, so you will have more than paid for your DVD label and cover print software, as soon as you give someone a present.
Have a go creating some of these:
Life is all about memories, and several of the best ones we have are of family days spent together. Everyone has a camera and everyone has their own set of pictures, but what fun to make a collage of the 'best of' photos from everyone and then print a few copies on to a compact disc, print your own special labels and covers using the RonySoft label printing program for CD's and DVD's and your Epson Stylus Photo 1400 printer and post them as a memorable gift to each member of the family who was in attendance.
Use funky images and pics to to make CD/DVD covers and make DVD labels to easily pick out your CD's and DVD's.
Want to have snaps cataloged? Put a topical photo on the compact disc label or DVD case cover.
Memories shared can last longer - download your snaps of a do on to a CD and print a label, cover and insert, then send to all who were present!
Want to stand out from the masses when anxiously attempting to impress even before you have been offered a job interview? Create a superb looking CD DVD complete with printed case cover, printed insert and printed label to make a great impression.
RonyaSoft DVD Label Maker is the perfect software extra to use with your Epson Stylus Photo 1400 printer so download it today and get those imaginative creative juices flowing!
DVD label creator software runs on Microsoft Windows System, including popular Windows 7 and Windows 8 versions and supports a wide range of disc label printers, including: Canon iP4810, Canon iP5200, Canon MG6270, Canon MG8150, Epson Artisan 50, Epson Artisan 835, Epson PM-G800, Epson Stylus Photo R1900, Epson Stylus Photo RX680, Epson Tray Type 1, HP Photosmart D5145, HP Photosmart D5363, Yurex MantraJet 1050 and similar.
DVD labels maker software supports a wide range of disc label suppliers, including: A1Pro 3-up, Avery 7225 CD DVD Label, Avery Maxell C95361, CD Stomper A4 matt white CD DVD Labels, CoolBeLa LS001HI, Emerald 5511 650 TC CD DVD, Kyso A4, Meritline US CD DVD 2-up with Spines, Mirage CD DVD, Printasia, ProLabel SJG4525, Zweckform 6047, Zweckform L7678 and similar.