Epson Stylus Photo PX720WD printer
Epson Stylus Photo PX720WD printer CD DVD tray layout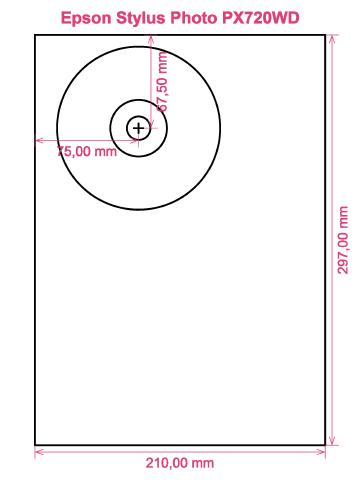 How to print labels on Epson Stylus Photo PX720WD printer
When you have tried the RonyaSoft CD DVD Cover Maker, simplicity will be the word that springs to mind - you'll surely be thrilled at how simple it is to download the labels making software program by clicking on the link below and within just a couple of minutes you will be running off brilliant CD and DVD labels and covers on your Epson Stylus Photo PX720WD printer.
Please don't switch off there, as you may not see the best reason behind this CD/DVD labels making software. RonyaSoft haven't gone to such efforts purely so you can print off a list of tracks on a CD or a film title on a label. No! This CD labels designer software will offer you so many choices for Blu-ray, CD or DVD label creation to assist you to print attractive labels and covers. Plus, the CD label making software can also be used to print Blu-ray, CD or DVD cases and inserts utilising predesigned Blu-ray, CD or DVD templates.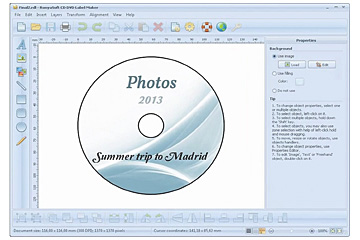 How simple do you need labeling to be? A few clicks of a mouse is enough for you to then be running off your own Blu-ray labels, CD/DVD/Blu-Ray box covers and DVD box inserts. You don't require to be a boffin to 'click' with this simple to download labels printing software, just have a go and see for yourself!
Download and install Blu-ray/CD/DVD Label Maker program for free to try.
Opt for one of the designed Blu-ray/CD/DVD label and covers templates.
Add any of your own design ideas to print the CD or DVD labels really personal.
Print the created label by clicking the 'Print' button. Do not forget to specify your Epson Stylus Photo PX720WD printer during the design process and to download and use the latest free version of the driver.
Be proud of yourself for what you have printed off!
The RonyaSoft label making software immediately gives you and your Epson Stylus Photo PX720WD printer everything you could want for personalizing so many great CD or DVD presents.
There is nothing better than being given a gift which indicates someone cares enough to make something individual for you. Save on costly shop-bought presents and with your first gift to someone special you will have covered the cost of your RonyaSoft CD DVD and Blu-ray labels software.
Think about these for suggestions:
You're at a wedding and you take lots of un-staged photos or video clips of all the guests looking relaxed and having a ball. Select your finest, burn them on to a disc and give it to the bride and groom as a thank you for the invitation to their wedding. They will love you for the kind and personal touch. And what did it cost you to create one of the most unique presents they will be given during their wedding? - The cost of a blank disc, a couple of pieces of paper and a splash of ink from your Epson Stylus Photo PX720WD printer. Cool huh?
Chose your best photos and pics to make CD/DVD/Blu-Ray box covers and make Blu-ray labels.
Opt for a photo of your canine or cat on the cover and CD and DVD label so you can easily spot which CD your pet's photos are all compiled.
It's safer to store all your photos on your computer or a memory stick, but print a fantastic label to put on a CD or create a CD case cover and insert and establish a physical library of all your memories.
Make an one-off video for job applications and print a professional looking box with a smart CD and DVD label to add the perfect touches.
How many blank CD's have you created with pictures on them, yet you can't remember what? These days are now long gone if you utilise the RonyaSoft CD DVD label print software program to swiftly and effectively run off a few labels with your Epson Stylus Photo PX720WD printer.
DVD label making software works on Microsoft Windows System, including Windows XP, Windows Vista, Windows 7 and works with a wide range of disc label printers, including: Canon iP4700, Canon iP5200, Canon MG5450, Canon MP600R, Canon Pro9500, Epson PM890C, Epson Stylus Photo 2200, Epson Stylus Photo R270, Epson Stylus Photo RX560, HP Photosmart C5273, HP Photosmart C5580, HP Photosmart D5368, Yurex MantraJet 1050 and similar.
DVD labels maker software supports a wide range of disc label stocks, including: Ace 60300 series, APLI 10294, Avery L6047, Chenbro, CoolBeLa LD002-HIG, Ferrania Otijet Etiquettes, HP CDX-8040A, LabelWhiz 62000, MultiFlip LD101, Prism CD DVD Labels, Sanwa LB-CDR010 CD DVD, Zweckform L6044, Zweckform L6117 and similar.