Canon MG6170 printer
Canon MG6170 printer CD DVD tray layout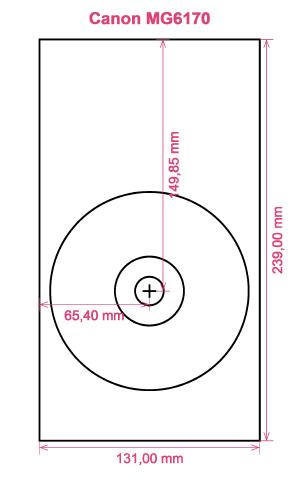 How to print labels on Canon MG6170 printer
After you have tried the RonyaSoft CD Label Creator, simplicity will be the word that springs to mind - you will surely be thrilled at how simple it is to download the labels creation software by clicking on the link underneath and within just a couple of moments you will be producing fantastic CD and DVD labels on your Canon MG6170 printer.
Don't stop there though as there's much more to this Blu-ray, CD or DVD labeller software than instantly meets the eye. Simple and easy to use doesn't produce simple prints, but more professional appearing Blu-ray, CD or DVD labels than you would expect. This disk labels maker software gives you loads of choices and has huge amounts of of Blu-ray, CD or DVD label and cover templates already installed, not just for printing CD DVD labels, but also Blu-ray, CD or DVD covers and inserts to produce the professional look.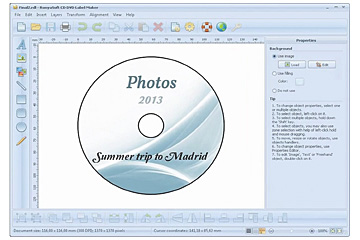 Concerning simple to use, well 'user-friendly' is now even more friendly. Just use the text to understand how easy, yet effective and professional results will be when you commence to create CD/DVD/Blu-Ray covers, Blu-ray labels and Blu-Ray DVD inserts:
Hit the 'Download' button and installation for the CD and DVD labeller software is automatic.
Try out one of the designed CD and DVD label templates.
Click on the 'Print' button to start running off your unique CD printed label after you have entered Canon MG6170 in to the print settings dialog. Don't forget to ensure that the latest printer driver is downloaded.
Smile!
All it needs to turn your PC and Canon MG6170 printer in to a busy personal gift factory is a touch of imagination.
Anyone will tell you that a gift with a personal touch, something nice, will forever be appreciated far more than something costly, so you will have more than paid for your CD label and cover create software, as soon as you give someone a present.
Try making some of these:
Life is all about memories, and some of the memorable ones we have are of family days spent together. Everyone has a camera and everyone has their own set of pictures, but what fun to make a collection of the 'best of' photos from everyone and then create a few copies on to a CD-disc, make your own special labels and covers using the RonySoft label printing software for CD's and DVD's and your Canon MG6170 printer and send them as a memorable gift to each member of the family who was there.
Use vibrant images and photos to to print CD & DVD covers and print Blu-ray labels to easily identify your CD's and DVD's.
Opt for a snap of your canine or cat on the cover and CD and DVD label so you can easily identify which CD your pet's photos are all compiled.
It's safer to store all your pics on your computer or a memory stick, but create a memorable label to put on a CD or create a CD case cover and insert and make a physical library of all your memories.
Keen to stand out from the masses when desperately wanting to impress even before you have been offered a job interview? Create a professional looking CD complete with printed case cover, printed insert and printed label to make a great impression.
RonyaSoft CD Label Creator is the ideal software add-on to use with your Canon MG6170 printer so download it today and get those imaginative creative juices flowing!
Blu-Ray/CD/DVD label design software is compartible with Windows Platform, including latest Windows 7 and Windows 8 versions and works with a wide range of disc label printers, including: Aleratec Robojet AutoPrinter 100, Canon iP4850, Canon MG5350, Canon MG8250, Canon MX850, Epson EP-704A, Epson PX-G900, Epson Stylus Photo R320, Epson Stylus Photo RX560, HP Photosmart C5275, HP Photosmart C5290, HP Photosmart D5468, Trace Affex CD-Artist and others.
Blu-Ray/CD/DVD labels creator software supports a wide range of disc labels, including: Ace 30500 series, Avery 8942, Avery L6047, Champion CD DVD, Data Becker, DeskTop Labels 3302CD-SLV CD DVD Labels, IBM, Lorenz Bell LB6082, MultiFlip LD001, PressIt, SureThing A4, Zweckform L6015, Zweckform L7776 and others.