Canon MG6240 printer
Canon MG6240 printer CD DVD tray layout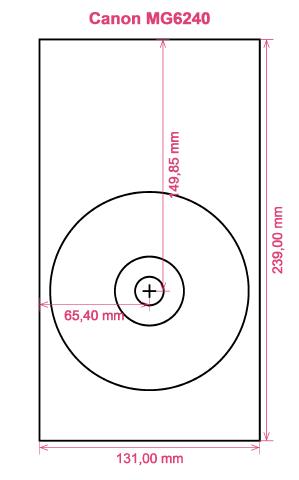 How to print labels on Canon MG6240 printer
After you have tried the RonyaSoft Blu-ray CD DVD Label Designer, simplicity will be the word that springs to mind - you'll surely be amazed at how uncomplicated it is to download the labels creation software programme by clicking on the link on this page and within just a couple of ticks you will be producing fantastic Blu-Ray CD DVD labels on your Canon MG6240 printer.
Yet that's not all that's useful with this fantastic CD/DVD labels design software. RonyaSoft may have made everything as easy as possible to use, but the outcome would suggest differently when you see the impressiveness of printed CD and DVD labels. This CD and DVD label creator software has options galore for printing impressive labels! Yet for printing CD and DVD labels and covers isn't all when you know you can make CD and DVD case inserts and case covers too and discover RonyaSoft have a selection of templates you can use.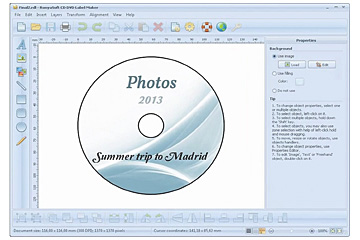 How simple do you want your label making to be? A few clicks of a mouse is enough for you to then be producing your own CD/DVD/Blu-ray labels, CD/DVD/Blu-Ray case covers and DVD case inserts. You don't have to be a boffin to 'click' with this simple to download label making software, just have a go and see for yourself!
Download and install CD and DVD Label Designer software for free to try.
Click on your chosen option from a wide choice of predesigned CD DVD label and covers templates.
Add any of your own design ideas to print the CD or DVD labels even more personal.
Start printing your specially designed DVD or CD label after clicking the 'Print' button, after selecting your Canon MG6240 as the proper printer being used. Try to download the latest free driver updates.
Smile!
All it needs to turn your PC and Canon MG6240 printer in to a busy personal gift factory is a touch of imagination.
Have you ever noticed how a personally made gift really matters to someone you love? Why spend money on costly presents that anyone can buy, when with the RonyaSoft Blu-ray CD DVD label and cover design software, you can save a fortune on gifts and become ten times more thoughtful?
How about these great ideas:
You're at a wedding and you take plenty of un-staged photos or video clips of everyone looking cheerful and having a ball. Select your favorites, burn them on to a disc and give it to the bride and groom as a thank you for the invitation to their marriage. They will love you for the kind and personal touch. And what did it cost you to produce one of the most unique gifts they will be given during their wedding? - The price of a blank disc, a couple of pieces of paper and a splash of ink from your Canon MG6240 printer. Fab huh?
Chose your nicest photos and pictures to make CD/DVD/Blu-Ray case covers and make CD/DVD/Blu-ray labels.
Do you enjoy being practical? Why not make new styles for the CD and DVD covers for your collection?
Memories shared can last longer - download your photos of a night out on to a disc and create a label, cover and insert, then give a copy to all who were present!
Want to stand out from the throng when desperately wanting to impress even before you have been offered a job interview? Create a fantastic looking DVD complete with printed box cover, printed insert and printed label to make a great impression.
The RonyaSoft Blu-ray CD DVD Label Designer is ideal for using with your Canon MG6240 printer, so there's nobody to stop you instantly from becoming your own ideal print shop!
Blu-ray labeller software works on Microsoft Windows Operational System, including Windows XP, Windows 2003, Windows7 and is compatible with a wide range of CD DVD label printers, eg: Canon iP4600, Canon iP6000D, Canon MG5370, Canon MG8240, Canon MP990, Epson Expression XP-605, Epson Stylus Photo 960, Epson Stylus Photo R260, Epson Stylus Photo RX580, EZ CD Print 4200, HP Photosmart C5373, HP Photosmart D5300 series, Yurex MantraJet 1050 and similar.
Blu-ray labels creation software supports a wide range of CD DVD label papers, eg: Agipa 118946, APLI 10213, Boma BMS001-CLR CD DVD, CD Stomper 2-up Slim Sheet CD DVD, DECAdry DLW-1796, Herma 5086 CD DVD Label, Label+ 3-up, LabelWhiz LW60360, Online Labels O5000, Polyline CLCDW, Sanwa LB-CDR005 CD DVD, Veriad VH585 587, Zweckform L7676 and similar.