Canon MG6140 printer
Canon MG6140 printer CD DVD tray layout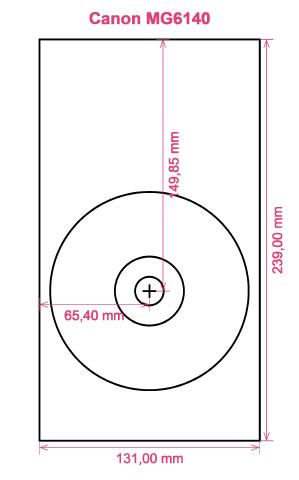 How to print labels on Canon MG6140 printer
When you have successfully operated the RonyaSoft Blu-ray CD DVD Label Maker, simplicity will be the word that comes to mind - you'll definitely be amazed at how quick it is to download the labels creation software by clicking on the link underneath and within just a couple of moments you will be printing fantastic CD or DVD labels and covers on your Canon MG6140 printer.
Whatever you do don't switch off there, as you may miss the larger reason behind your new CD DVD labels designing program. RonyaSoft haven't gone to such measures just so you can print off a list of tracks on a CD or a film title on a label. No! This CD & DVD label printer program will offer you so many alternatives for CD and DVD label making to assist you to make professional looking labels and covers. Plus, the CD & DVD label printing software can also help to print CD and DVD boxes and case inserts with the help of our CD and DVD templates.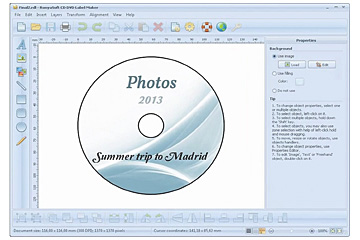 How simple do you need label creation to be? A few clicks of a mouse is enough for you to then be printing your own CD DVD labels, CD and DVD box covers and CD DVD box inserts. You don't need to be a tech 'nerd' to 'click' with this simple to download label creation software, just use it and see for yourself!
Download and install CD DVD Label & Cover Maker program for free to try.
Click on your chosen option from a wide choice of preinstalled CD and DVD label templates.
Add any of your own design ideas to make the CD /DVD/Blu-ray labels extremely personal.
Start printing your unique CD label after clicking the 'Print' button, after selecting your Canon MG6140 as the right printer being used. Always download the latest free driver updates.
Enjoy!
Everything you need to turn your PC and Canon MG6140 printer in to a fabulous personal gift factory is a little imagination.
There is nothing sweeter than receiving a gift which indicates someone cares enough to make something individual for you. Save on costly shop-bought presents and with your first gift to someone special you will have covered the cost of your RonyaSoft CD DVD and Blu-ray labeler program.
What about these for suggestions:
You are at your brother or sister's graduation. It is an incredibly special occasion in their life and one they will fondly look back on when they become older. What better way to assist them reminisce about their special event than for you to take loads of pictures and video clips of the event, from start to finish, set them all on a CD, DVD or Blu-ray and offer it to them as an individual way of saying how proud you are of them. It will enhance the day for them and it will have cost you next to nothing, save for two bits of paper, a blank CD, DVD or Blu-ray and a dash of ink from your Canon MG6140 printer.
Use emotive photos to design CD, DVD and Blu-ray box covers or design CD DVD labels for your compilation CD's - thunder, sunshine, rain, a calm sea, a rainbow...
Use a snap of your canine or cat on the cover and CD & DVD label so you can easily identify which CD your pet's photos are all stored.
It's simple to store all your snaps on your computer or a memory stick, but make a picturesque label to put on a CD or create a CD box cover and insert and make a physical library of all your memories.
Are you looking for a new way to make you stand out when applying for employment. Do you want to seem better from the rest of the competition. Do you want to wow your future employers with a showcase of yourself on a DVD with a classy printed DVD insert and printed DVD box made for each application?
RonyaSoft Blu-ray CD DVD Label Maker is the perfect software addition to operate with your Canon MG6140 printer so download it now and get those stylistic juices flowing!
Blu-Ray/CD/DVD labeling program supports Windows Platform, including popular Windows 7 and Windows 8 versions and works with a wide range of disc label printers, eg: Canon i905D, Canon iP4870, Canon MG5370, Canon MP640, Canon MP970, Epson PM920C, Epson PX-G900, Epson Stylus Photo R270, Epson Stylus Photo R350, EZ CD Print 5700, HP Photosmart C5540, HP Photosmart D5468, Yurex MantraJet 1050 and others.
Blu-Ray/CD/DVD labels design program supports a wide range of disc label suppliers, eg: Ace 30800 series CD DVD (11x17), Avery 8832, Avery Maxell C95361, CD Stomper CD DVD Label Insert Combo, DECAdry OLW-4798, DECAdry OLW-4900, Label+ 3-up, Memorex 3-in-1, Online Labels O9985, Pro CD DVD 2-up CD DVD Label, SureThing A4, Versatile CD DVD Label LD101, Zweckform L7776 and others.