Canon iP4300 printer
Canon iP4300 printer CD DVD tray layout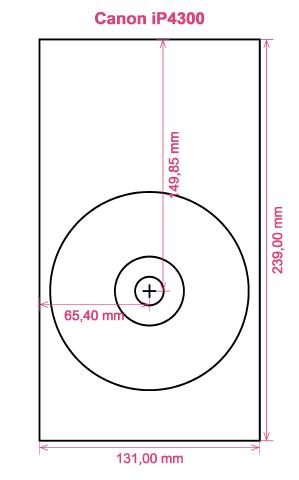 How to print labels on Canon iP4300 printer
Only when you have tried the RonyaSoft CD DVD Label Designer that you can realize how utterly simple it is to operate great results finishes - gone are the days when you worry about not being able to make the most of modern technology! Within moments of installing your CD DVD labeling software programme you will be printing CD and DVD labels on a Canon iP4300 printer.
Yet that's not all that's useful with this fantastic CD DVD label making program. RonyaSoft may have made everything as easy as possible to use, but the prints would suggest differently when you see the impressiveness of printed CD or DVD labels. This Blu-ray, CD or DVD label creator program has choices galore for creating impressive labels! Yet for creating Blu-ray, CD or DVD labels and covers isn't all when you know you can make Blu-ray, CD or DVD box inserts and box covers too and discover RonyaSoft have a selection of templates you can use.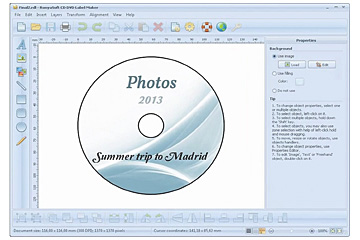 We also mentioned this software was fantastic to work with. Well, we realize that if you feel you are not 'tech-smart', after you have tried the RonyaSoft CD & DVD label designer program, you will feel as smart as any professional graphic artist when you commence making plenty of CD & DVD box covers, disc labels and Blu-Ray box inserts:
Download and install CD & DVD Label & Cover Designer software program for free to try.
Try out one of the predesigned CD & DVD label templates.
Edit the design of a label according to your liking.
Start printing your individual CD and DVD label after clicking the 'Print' button, after inputting your Canon iP4300 as the correct printer being used. Always use the latest free driver updates.
Be proud of yourself for what you have produced!
The RonyaSoft label making software instantly gives you and your Canon iP4300 printer so much you could desire for personalizing so many great CD or DVD surprises.
There is nothing sweeter than getting a gift which indicates someone cares enough to make something individual for you. Save on costly shop-bought presents and with your first gift to someone special you will have covered the cost of your RonyaSoft CD DVD and Blu-ray labeller program.
How about these fantastic suggestions:
You are at your brother or sister's eighteenth. It is an incredibly special occasion in their life and one they will forever remember when they get older. What smarter way to aid them reminisce about their special day than for you to take loads of pictures and video clips of the day, from start to finish, insert them all on a CD or DVD and present it to them as an individual way of demonstrating how proud you are of them. It will complete the day for them and it will have cost you next to nothing, save for two bits of paper, a blank CD or DVD and a splash of ink from your Canon iP4300 printer.
Use vibrant images and snaps to to design Blu-ray, CD or DVD box covers or design disc labels to easily identify your CD's and DVD's.
Choose a snap of your dog or cat on the cover and CD or DVD label so you can easily identify which CD your pet's photos are all stored.
What a disaster if you have your laptop and memory stick damaged - where are all your photos stored? Make doubly certain you don't lose all recorded memories of those great days in your life - just print off some cool CD DVD labels, burn your pics on to a disc and put everything safely where you can see it.
Are you seeking a novel way to make you stand out when applying for employment. Do you want to seem different from the rest of the applicants. Do you have to impress your potential employers with a presentation of yourself on a DVD with an excellent printed DVD label and printed DVD cover specifically for each application?
RonyaSoft CD DVD Label Designer is the best software extra to employ with your Canon iP4300 printer so download it now and get those imaginative creative juices flowing!
Blu-ray labeller program works on Microsoft Windows Operational System, including Windows XP, Windows 2003, Windows7 and supports a wide range of disc surface printers, including: Aleratec Robojet AutoPrinter 100, Canon MG5220, Canon MG5320, Canon MP610, Canon Pro9000, Epson PM890C, Epson Stylus Photo PX730WD, Epson Stylus Photo R1800, Epson Stylus Photo TX700W, HP Photosmart C5240, HP Photosmart D5100 series, HP Photosmart D5360, Yurex MantraJet 1100 and similar.
Blu-ray label printing program supports a wide range of disc labels, including: Ace 30500 series CD DVD (11x17), Avery 5691, Avery Maxell MJ-CD17S-5, Cassette House, Data Becker A4 0559 CD DVD 3-up, DiscWasher Interact, HP CDX-8040A, LabelWhiz LW61300, Online Labels O5025, Polyline NCD465W, US Digital Media L4503M, Worldlabel WL-OL5025, Zweckform L7860 DVD and similar.