Epson Stylus Photo 900 printer
Epson Stylus Photo 900 printer CD DVD tray layout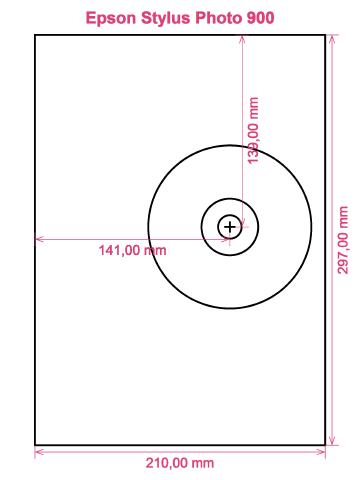 How to print labels on Epson Stylus Photo 900 printer
Only when you have used the RonyaSoft DVD Label Maker that you can realize how incredibly great it is to operate brilliant results finishes - no longer need you worry about not being able to make the most of modern technology! Within no time at all of downloading our DVD labeler software program you will be printing CD or DVD labels and covers on your Epson Stylus Photo 900 printer.
Don't stop there though as there's loads to this CD and DVD labeling software than first meets the eye. Simple and easy to use doesn't create simple copy, but more professional style CD and DVD labels than you would expect. This disk labels creator software gives you masses of choices and has loads of CD and DVD label and cover templates already installed, not just for making CD/DVD/Blu-ray labels, but also CD and DVD box covers and box inserts to complete the professional look.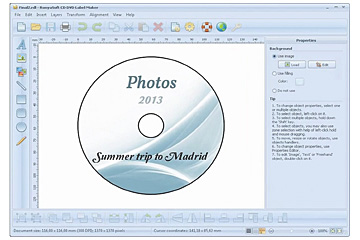 How clever do you need label making to be? A few clicks of a mouse is enough for you to then be printing your own CD labels, CD & DVD box covers and Blu-Ray CD box inserts. You don't require to be a genius to 'click' with this simple to download labels design software, just try it and see for yourself!
Download and install Blu-ray/CD/DVD Label Maker software for free to try.
Try out one of the designed Blu-ray/CD/DVD label templates.
Add any of your own design ideas to make the CD /DVD/Blu-ray labels extremely personal.
Start printing your specially designed CD and DVD label after clicking the 'Print' button, after inputting your Epson Stylus Photo 900 as the correct printer being used. Try to use the latest free driver updates.
Be proud of yourself for what you have produced!
Maximize the potential of your computer and Epson Stylus Photo 900 printer where you can now run off a fantastic array of Blu-ray/CD/DVD labels, box inserts and box covers, to create lovely presents.
There is nothing sweeter than receiving a gift which shows someone cares enough to make something unique for you. Save on costly shop-bought presents and with your first gift to someone special you will have covered the cost of your RonyaSoft CD DVD and Blu-ray labeling software.
Have a go doing some of these:
You're at a wedding and you take loads of un-staged photos or video clips of everyone looking cheerful and having a ball. Pick your favorites, burn them on to a disc and post it to the bride and groom as a thank you for the invitation to their marriage. They will love you for the thoughtful and personal touch. And what did it cost you to create one of the most kind offerings they will get during their wedding? - The cost of a blank disc, few pieces of paper and a splash of ink from your Epson Stylus Photo 900 printer. Cool huh?
Chose your best photos and snaps to print Blu-ray, CD or DVD box covers or print CD labels.
Need to keep photos cataloged? Put a relevant photo on the compact disc label or DVD box cover.
What occurs if you have your laptop and memory stick damaged - where are all your photos stored? Make extra sure you don't lose all treasured memories of those occasions in your life - just print off some cool CD and DVD labels, burn your photos on to a disc and store everything sensibly where you can see it.
Keen to stand out from the crowd when keenly trying to impress even before you have been offered a job interview? Produce a fantastic looking CD complete with printed box cover, printed insert and printed label to make a brilliant memorable impression.
How many blank CD's have you lying around with music on them, yet you can't remember what? These days are now in the past when you utilise the RonyaSoft DVD labeling software to rapidly and effectively run off a few labels on your Epson Stylus Photo 900 printer.
CD DVD label making software runs on Windows Platform, including Windows XP, Windows Vista, Windows 7 and is compatible with a wide range of CD DVD label printers, including: Brother MFC-J825DW, Canon iP4950, Canon MG5330, Canon MP610, Epson Artisan 50, Epson Expression XP-600, Epson Stylus Photo 1500W, Epson Stylus Photo R1800, Epson Stylus Photo TX650, HP Photosmart C309 series, HP Photosmart C5290, HP Photosmart D5445, Yurex MantraJet 1150-XL and similar.
CD DVD labels making software supports a wide range of CD DVD label stocks, including: Agipa 119624, APLI 10209, Avery L7660, Chenbro, CoolBeLa LS001HIG, Emerald 5511 650 TC CD DVD, HP CDX-8040E, Meritline US CD DVD 2-up with Spines, Pimaco, Polyline CLCDW, UBL CD DVD 2-up, Zweckform L6046, Zweckform L6117 and similar.