HP Photosmart C5280 printer
HP Photosmart C5280 printer CD DVD tray layout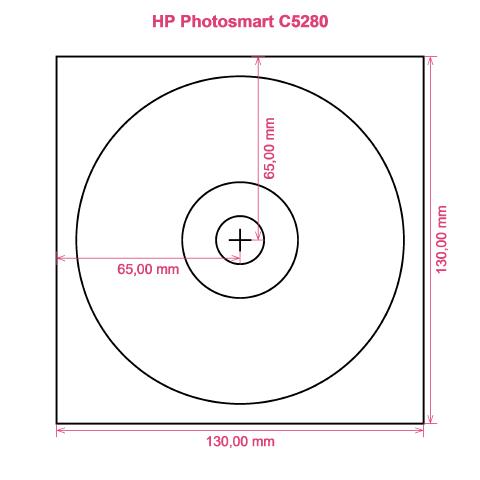 How to print labels on HP Photosmart C5280 printer
Once you have successfully operated the RonyaSoft CD & DVD Label Maker, simplicity will be the word that comes to mind - you'll definitely be blown away at how uncomplicated it is to download the label printing software program by clicking on the link underneath and within just a couple of moments you will be printing fantastic CD and DVD labels on your HP Photosmart C5280 printer.
However that's not all that's useful with this brilliant CD/DVD label print software. RonyaSoft may have made it all as simple as possible to use, but the results would suggest differently when you see the standard of printed CD or DVD labels. This CD and DVD labels creator software has choices galore for making top quality labels! However for making CD and DVD labels and covers isn't all when you know you can make CD and DVD case inserts and case covers too and realize RonyaSoft have a selection of templates you can use.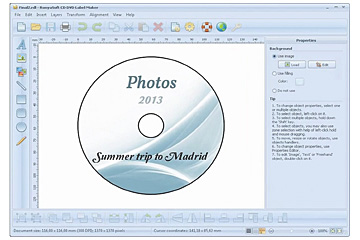 Regarding straightforward to use, well 'user-friendly' became even more friendly. Just read the text to understand how simple, yet clean and professional results will be when you begin to design CD & DVD case covers, disc labels and CD/DVD case inserts:
To automatically receive your Blu-ray/CD/DVD label design software, click on the 'Download' button.
Click on your chosen option from a great choice of preinstalled CD and DVD label and cover templates.
Add any of your own design ideas to make the CD or DVD label even more personal.
Print the designed label by clicking the 'Print' button. Do not forget to indicate your HP Photosmart C5280 printer during the setup process and to use the latest free version of the driver.
Smile!
All you need to turn your PC and HP Photosmart C5280 printer in to a busy personal gift factory is a little imagination.
Have you ever noticed how a personally made gift really matters to someone you adore? Why spend money on pricey, presents that anyone can buy, when with the RonyaSoft CD & DVD label printing software, you can save a fortune on gifts and appear ten times more thoughtful?
Think about these for ideas:
Life is all about memories, and several of the greatest ones we have are of family days spent together. Everyone has a camera and everyone has their own set of pictures, but what joy to make a assembly of the 'best of' photos from everyone and then create a few copies on to a CD, print your own special labels and case covers using the RonySoft label printer for CD's and DVD's and your HP Photosmart C5280 printer and give them as a unique gift to each member of the family who was there.
Use emotive photos to create CD & DVD case covers or create disc labels for your compilation CD's - thunder, sunshine, rain, a calm sea, a rainbow...
Choose a photo of your canine or cat on the cover and CD & DVD label so you can easily spot which CD your pet's photos are all kept on.
Memories shared can last longer - download your snaps of a party on to a CD and make a label, cover and insert, then send to all who were there!
Make a personal video for job applications and make an attractive box with a smart CD & DVD label to add the finishing touches.
The RonyaSoft CD & DVD Label Maker is superb for using with your HP Photosmart C5280 printer, so there's nothing to stop you today from commencing your own brilliant print shop!
DVD labeling software is compartible with Windows Platform, including Windows XP, Windows Vista, Windows 8 and works with a wide range of disc surface printers, eg: Canon iP4750, Canon iP5200R, Canon MG6140, Canon MP830, DisqueMate M5000, Epson Expression XP-600, Epson Stylus Photo 960, Epson Stylus Photo R340, Epson Stylus Photo T50, Epson Tray Type 1, HP Photosmart C5300 series, HP Photosmart D5155, Yurex MantraJet 1100 and similar.
DVD label design software supports a wide range of disc labels, eg: A-One, Avery 5824, Boma BMS003HIG CD DVD, CD Stomper, CoolBeLa LS101HI, DeskTop Labels 9902L-CD CD DVD Labels, IGEPA EA-CD-ROM2Q, Meritline 3-up US, Neato CD DVD Plus, ProLabel CDGW458, Sanwa LB-CDR003 CD DVD, Zweckform C6074, Zweckform L6117 and similar.