Canon iP3000 printer
Canon iP3000 printer CD DVD tray layout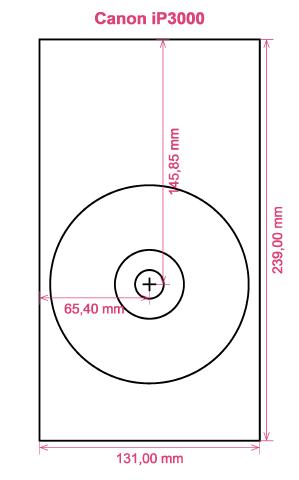 How to print labels on Canon iP3000 printer
When you have tried the RonyaSoft CD & DVD Cover Designer, simplicity will be the word that springs to mind - you will be guaranteed to be blown away at how simple it is to download the labels design software by clicking on the link underneath and within just a couple of minutes you will be producing fantastic CD and DVD labels and covers on your Canon iP3000 printer.
Please don't turn off there, as you may miss the best reason behind this CD DVD labels design program. RonyaSoft haven't gone to such efforts purely so you can print off a list of tracks on a CD or a film title on a label. No! This CD label creator program will provide you so many choices for Blu-ray, CD or DVD label design to allow you to make attractive labels and covers. In addition, the CD label design software can also help to create Blu-ray, CD or DVD cases and inserts with the help of predesigned Blu-ray, CD or DVD templates.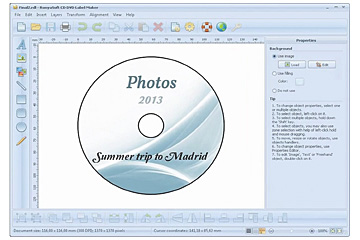 How easy do you need label making to be? A few clicks of a mouse is enough for you to then be producing your own Blu-ray labels, CD and DVD case covers and CD case inserts. You don't need to be a boffin to 'click' with this simple to download label design software, just try it and see for yourself!
Download and install CD DVD Label and Cover Designer software for free to try.
Opt for your favorite design from any of the predesigned CD DVD label and covers templates.
Edit the design of the label according to your needs.
Print the designed label by clicking the 'Print' button. Do not forget to indicate your Canon iP3000 printer during the setup process and to download and use the latest free version of the driver.
Smile!
Maximize the potential of your computer and Canon iP3000 printer where you can now run off a fantastic array of CD DVD labels, case inserts and case covers, to make lovely presents.
There is nothing better than getting a gift which demonstrates someone cares enough to make something unique for you. Save on costly shop-bought presents and with your first gift to someone special you will have covered the cost of your RonyaSoft CD DVD labeling program.
What about these for suggestions:
You're at a wedding and you take plenty of un-staged photos or video clips of all the guests looking cheerful and having a great time fun. Choose your favorites, burn them on to a disc and send it to the bride and groom as a thank you for the invitation to their marriage. They will adore you for the kind and personal touch. And what did it cost you to create one of the most unique gifts they will be given during their wedding? - The money for a blank disc, few pieces of paper and a dash of ink from your Canon iP3000 printer. Great huh?
Chose your best photos and snaps to make CD and DVD case covers and make Blu-ray labels.
Do you like being practical? Why not make new styles for the CD and DVD covers for your collection?
It's simple to store all your snaps on your computer or a memory stick, but design a picturesque label to put on a CD or create a CD cover and insert and create a physical library of all your memories.
Are you looking for a new way to make you stand out when applying for work. Do you have to seem superior from the rest of the competition. Do you have to wow your potential employers with a demonstration of yourself on a DVD with a classy printed DVD label and printed DVD box made for each application?
The RonyaSoft CD & DVD Cover Designer is excellent for using with your Canon iP3000 printer, so there's nothing to stop you now from becoming your own little print shop!
CD DVD label printing program runs on Windows Platform, including popular Windows 7 and Windows 8 versions and works with a wide range of CD/DVD/Blu-ray label printers, eg: Canon iP4000, Canon iP4850, Canon MG6120, Canon MP640, Epson Artisan 710, Epson Expression XP-800, Epson Stylus Photo PX800FW, Epson Stylus Photo R260, Epson Stylus Photo RX585, EZ CD Print 6500, HP Photosmart C5390, HP Photosmart D7500 series, Yurex MantraJet 1100 and others.
CD DVD labels maker program supports a wide range of CD/DVD/Blu-ray label papers, eg: Ace 30700 series, Avery 7225 CD DVD Label, Boma LD002-CLR, Compulabel 312748, Data Becker A4 Maxi Label, DiscWasher Interact, Label+ Inline, LabelGear Trimmed CD DVD 5511, Plain Paper, Polyline NCD465, Sanwa LB-CDR005 CD DVD, Zweckform 6115, Zweckform L7678 and others.