Canon MG6350 printer
Canon MG6350 printer CD DVD tray layout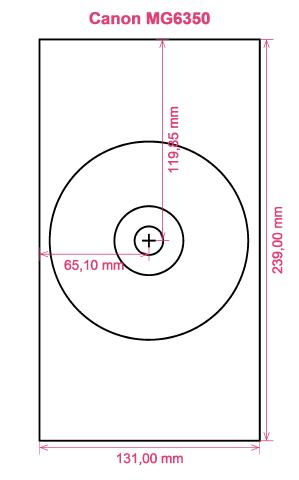 How to print labels on Canon MG6350 printer
Once you have only used the RonyaSoft CD Cover Designer you can canyou discover how simple and easy it is - 'user friendly' takes on a whole new meaning! Within seconds of installing the CD labeller software after using the download link, you can be producing CD and DVD labels with your Canon MG6350 printer.
Don't stop there though as there's loads to this CD, DVD and Blu-ray labels software than initially meets the eye. Simple and easy to use doesn't produce simple prints, but more professional looking CD, DVD and Blu-ray labels than you would expect. This disk label creator software gives you masses of choices and has huge amounts of of CD, DVD and Blu-ray label and cover templates already installed, not just for making CD DVD labels, but also CD and DVD box covers and box inserts to round off the professional look.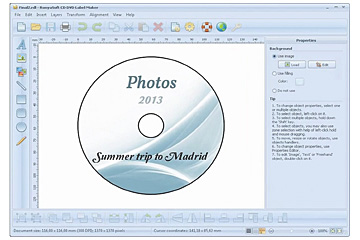 Regarding straightforward to use, well 'user-friendly' just got even more friendly. Just use the text to understand how easy, yet clean and professional results will be when you commence to print CD/DVD box covers, CD/DVD/Blu-ray labels and Blu-Ray DVD box inserts:
Download and install CD and DVD Label & Cover Designer software for free to try.
Pick out your favorite design from any of the preloaded CD DVD label and covers templates.
Change the design of a label according to your needs.
Start printing your specially designed CD and DVD label after clicking the 'Print' button, after inputting your Canon MG6350 as the right printer being used. Always use the latest free driver updates.
Smile!
The RonyaSoft label making software immediately gives you and your Canon MG6350 printer all you could need for personalizing so many great CD or DVD gifts.
Anyone will tell you that a gift with a personal touch, something thoughtful, will forever be appreciated far more than something purchased, so you will have more than paid for your CD labels create software, the first time you give someone a present.
How about these for ideas:
You're at a wedding and you take plenty of un-staged photos or video clips of attendees looking relaxed and having a ball. Pick your best, burn them on to a disc and give it to the bride and groom as a thank you for the invitation to their special day. They will remember you for the sweet and personal touch. And what did it cost you to produce one of the most individual offerings they will be given during their wedding? - The money for a blank disc, few pieces of paper and a splash of ink from your Canon MG6350 printer. Great huh?
Use mood photos to create CD/DVD box covers and create CD/DVD/Blu-ray labels for your compilation CD's - thunder, sunshine, rain, a calm sea, a rainbow...
Do you like being clever? Why not design new photos for the CD and DVD covers for your collection?
It's simple to store all your snaps on your computer or a memory stick, but make a fantastic label to put on a CD or create a CD box cover and insert and establish a physical library of all your memories.
Are you searching a novel way to make you stand out when applying for work. Do you have to seem different from the rest of the competition. Do you have to impress your potential employers with a presentation of yourself on a DVD with a professionally printed DVD label and printed DVD cover designed for each application?
The RonyaSoft CD Cover Designer is ideal for using with your Canon MG6350 printer, so there's zero to stop you now from becoming your own ideal print shop!
Blu-Ray/CD/DVD label maker software is compartible with Microsoft Windows System, including popular Windows 7 and Windows 8 versions and is compatible with a wide range of disc label printers, including: Canon iP4500, Canon MG5240, Canon MG5340, Canon MP750, Epson Artisan 700, Epson L800, Epson Stylus Photo P50, Epson Stylus Photo R2880, Epson Stylus Photo RX685, HP Photosmart C5200 series, HP Photosmart D5145, HP Photosmart D5468, Yurex MantraJet 1100 and similar.
Blu-Ray/CD/DVD label make software supports a wide range of disc label papers, including: Americal 313901 3-up, Avery 7225 CD DVD Label, Avery Maxell C96361, Cassette House, DECAdry OLW-4899, DECAdry OLW-4902, Label+ 2-up CD DVD & ZIP, Lorenz Bell LB6681, Online Labels O5025, ProLabel FFCD, Sanwa LB-CDRJP, Zweckform 6074, Zweckform L7860 DVD and similar.