Canon iP7240 printer
Canon iP7240 printer CD DVD tray layout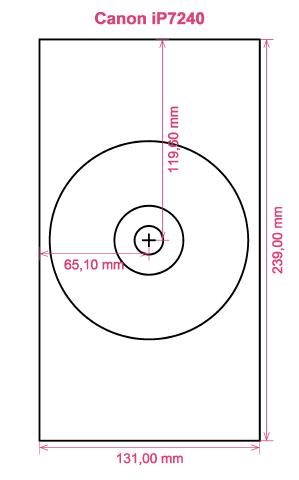 How to print labels on Canon iP7240 printer
Once you have successfully operated the RonyaSoft CD Label Designer, simplicity will be the word that comes to mind - you'll be guaranteed to be amazed at how simple it is to download the labels creation software program by clicking on the link underneath and within just a couple of minutes you will be running off brilliant CD or DVD labels on your Canon iP7240 printer.
Don't stop there though as there's much more to this CD and DVD labels software than first meets the eye. Simple and easy to use doesn't produce simple prints, but more professional appearing CD and DVD labels than you would expect. This CD labels maker program gives you loads of choices and has so many choices of CD and DVD label and cover templates already installed, not just for creating CD and DVD labels, but also Blu-ray, CD or DVD box covers and box inserts to complete the professional look.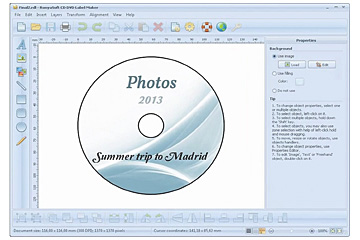 We also mentioned this software was fantastic to use. Well, we realize that if you feel you are not 'tech-smart', when you have employed the RonyaSoft CD and DVD labels creator program, you will feel as smart as any professional graphic artist when you commence design plenty of CD/DVD/Blu-Ray box covers, CD/DVD/Blu-ray labels and Blu-Ray/CD/DVD box inserts:
To automatically receive your CD DVD labels design software, click on the 'Download' button.
Opt for one of the designed CD DVD label templates.
Edit the design of the label according to your wishes.
Start printing your specially designed CD label after clicking the 'Print' button, after identifying your Canon iP7240 as the correct printer being used. Always use the latest free driver updates.
Smile!
The RonyaSoft label making software immediately gives you and your Canon iP7240 printer so much you could need for personalizing so many great CD or DVD presents.
Anyone will tell you that a surprise with an unique touch, something sweet, will forever be appreciated far more than something purchased, so you will have more than paid for your CD labels create program, as soon as you give someone a present.
What about these for ideas:
You're at a wedding and you take plenty of un-staged photos or video clips of all the guests looking cheerful and having a great time fun. Choose your finest, burn them on to a disc and send it to the bride and groom as a thank you for the invitation to their special day. They will adore you for the kind and personal touch. And what did it cost you to make one of the most individual gifts they will be given during their wedding? - The money for a blank disc, two pieces of paper and a drop of ink from your Canon iP7240 printer. Fab huh?
Use mood photos to make CD/DVD/Blu-Ray box covers and make CD/DVD/Blu-ray labels for your compilation CD's - thunder, sunshine, rain, a calm sea, a rainbow...
Opt for a pic of your dog or cat on the cover and CD and DVD label so you can easily identify which CD your pet's photos are all stored.
Memories shared usually last longer - download your photos of a party on to a CD and design a label, cover and insert, then present to all who were there!
Need to stand out from the throng when anxiously attempting to impress even before you have been offered a job interview? Produce a superb looking CD finished off with printed case cover, printed insert and printed label to make a brilliant memorable impression.
The RonyaSoft CD Label Designer is superb for using with your Canon iP7240 printer, so there's zero to stop you today from starting your own brilliant print shop!
DVD label making program runs on Microsoft Windows Operational System, including popular Windows 7 and Windows 8 versions and supports a wide range of disc surface printers, including: Canon iP4740, Canon iP4940, Canon MG5450, Canon MP760, Canon MP980, Epson PM-870C, Epson Stylus Photo PX700W, Epson Stylus Photo R2880, Epson Stylus Photo RX585, HP Photosmart C5200 series, HP Photosmart C5283, HP Photosmart D7560, Trace Affex CD-Artist and others.
DVD labels creator program supports a wide range of disc label providers, including: A1Pro 3-up, Avery 8931, Avery C9660, CDROM2GO.COM L4503M, CoolBeLa BMS001-CLR CD DVD, Esyink CD DVD, Kyso A4, Memorex 1 sided, Online Labels O9325, PressIt, Uline SP0028, Xerox 3R6330, Zweckform L6117 and others.