Epson Stylus Photo R350 printer
Epson Stylus Photo R350 printer CD DVD tray layout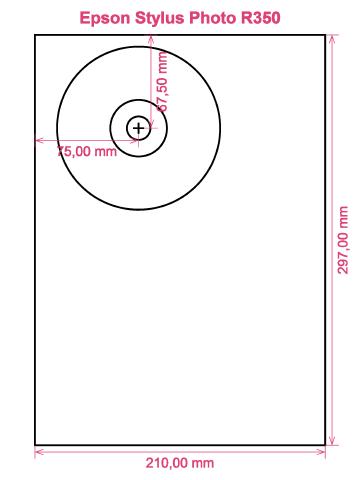 How to print labels on Epson Stylus Photo R350 printer
After you have tried the RonyaSoft CD DVD Label Creator, brilliant! will be the word that comes to mind - you will definitely be amazed at how uncomplicated it is to download the label creation software program by clicking on the link below and within just a couple of ticks you will be producing professional-looking CD or DVD labels on your Epson Stylus Photo R350 printer.
But that's not all that's useful with this brilliant CD DVD label making software. RonyaSoft may have made everything as easy as possible to use, but the results would suggest differently when you see the standard of printed CD or DVD labels. This Blu-ray, CD or DVD label maker software has ideas galore for printing professional and classy labels! But for printing Blu-ray, CD or DVD labels and covers isn't all when you know you can make Blu-ray, CD or DVD inserts and covers too and notice RonyaSoft have a batch of templates you can use.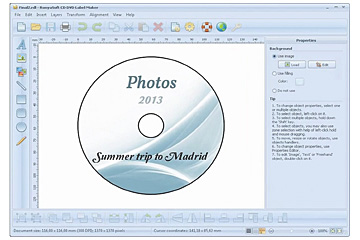 How clever do you need label creation to be? A few clicks of a mouse is enough for you to then be producing your own Blu-ray labels, CD/DVD/Blu-Ray covers and CD/DVD inserts. You don't need to be a boffin to 'click' with this simple to download label making software, just use it and see for yourself!
Download and install CD & DVD Label and Cover Creator program for free to try.
Try out one of the predesigned CD & DVD label templates.
Print the created label by clicking the 'Print' button. Don't forget to indicate your Epson Stylus Photo R350 printer during the printing process and to install the latest free version of the driver.
Be proud of yourself for what you have produced!
All it needs to turn your PC and Epson Stylus Photo R350 printer in to a busy personal gift factory is a little imagination.
Anyone will tell you that a present with a personal touch, something sweet, will always be appreciated far more than something costly, so you will have more than paid for your CD DVD label and cover make software, the first time you give someone a present.
Try doing some of these:
You are at your brother or sister's graduation. It is an incredibly special moment in their life and one they will fondly remember when they get older. What more clever way to assist them reminisce about their special day than for you to take lots of pictures and video clips of the day, from start to finish, insert them all on a CD DVD and present it to them as a unique way of saying how proud you are of them. It will enhance the day for them and it will have cost you next to nothing, save for two bits of paper, a blank CD DVD and a drop of ink from your Epson Stylus Photo R350 printer.
Use mood photos to design CD/DVD/Blu-Ray covers or design Blu-ray labels for your compilation CD's - thunder, sunshine, rain, a calm sea, a rainbow...
Do you love being clever? Why not create new photos for the CD and DVD covers for your collection?
What a disaster if you have your laptop and memory stick stolen - where are all your photos put? Make extra safe you don't lose all recorded memories of those occasions in your life - just print off some cool CD DVD labels, burn your photos on to a disc and put everything sensibly where you can see it.
Make a personal video for job applications and make an attractive box with a smart CD and DVD label to add the perfect touches.
The RonyaSoft CD DVD Label Creator is ideal for using with your Epson Stylus Photo R350 printer, so there's zero to stop you today from commencing your own brilliant print shop!
CD DVD label design software works on Windows System, including Windows XP, Windows 2003, Windows7 and supports a wide range of CD DVD surface printers, eg: Canon iP4000, Canon iP6700, Canon MG6350, Canon MP630, Canon MP970, Epson Expression XP-600, Epson Stylus Photo PX660, Epson Stylus Photo R260, Epson Stylus Photo RX590, HP Photosmart C309 series, HP Photosmart C5540, HP Photosmart D5368, Yurex MantraJet 1150-XL and similar.
CD DVD label design software supports a wide range of CD DVD label providers, eg: Americal 313758, Avery 8944, Avery Maxell C95361, Boma LS101HI, Compulabel 375085, Global ProBiz CD DVD (5x9 sheet), IBM, LabelWhiz LW60460, Plain Paper 2-up, Polyline MCD450IG, Unistat CD DVD 2-up, Zweckform C6074, Zweckform L7860 DVD and similar.