Canon MG6370 printer
Canon MG6370 printer CD DVD tray layout
How to print labels on Canon MG6370 printer
It is not until you have used the RonyaSoft CD DVD Label Creator that you can realize how incredibly great it is to use great results finishes - gone are the days when you have any fears of not being able to make the most of modern technology! Within no time at all of starting to use our CD DVD label software programme you should be printing CD and DVD labels on a Canon MG6370 printer.
Please don't turn off there, as you may be missing the larger reason behind our Blu-ray/CD/DVD labels making program. RonyaSoft haven't gone to such extremes purely so you can print off a list of tracks on a CD or a film title on a label. No! This CD label maker program will provide you so many choices for CD and DVD label making to assist you to design attractive labels. In addition, the CD label creation software can also help to print CD and DVD boxes and case inserts utilising predesigned CD and DVD templates.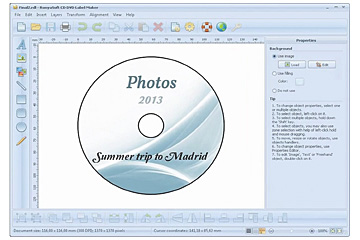 We also said this software was simple to work with. Well, we realize that if you feel you are not 'tech-smart', after you have used the RonyaSoft CD & DVD labels maker program, you will feel as confident as any professional graphic artist when you commence creation lots of CD/DVD case covers, disc labels and DVD case inserts:
To automatically receive your CD & DVD labels creation program, click on the 'Download' button.
Click on your chosen option from a wide choice of preinstalled Blu-ray/CD/DVD label and cover templates.
Click on the 'Print' button to begin your unique DVD or CD printed labels after you have entered Canon MG6370 in to the print settings dialog. Don't forget to check that the latest printer driver is used.
Be proud of yourself for what you have produced!
Improve the potential of your computer and Canon MG6370 printer where you can now print a fantastic array of CD & DVD labels, case inserts and case covers, to create lovely gifts.
Have you ever noticed how a personally made gift really matters to someone you like? Why spend money on costly presents that anyone can buy, when with the RonyaSoft CD DVD labels design program, you can save a fortune on gifts and appear ten times more thoughtful?
Try creating some of these:
Life is all about memories, and some of the greatest ones we have are of family days spent together. Everyone has a camera and everyone has their own set of pictures, but what joy to make a assembly of the 'best of' photos from everyone and then print a few copies on to a CD, print your own special labels and case covers using the RonySoft label printing program for CD's, DVD's and Blu-rays and your Canon MG6370 printer and post them as a unique gift to each member of the family who was in attendance.
Chose your best photos and pictures to print CD/DVD case covers or print disc labels.
Do you love being creative? Why not make new styles for the CD or DVD covers for your collection?
It's safer to store all your photos on your computer or a memory stick, but create a picturesque label to put on a CD or create a CD box cover and insert and create a physical library of all your memories.
Want to stand out from the throng when anxiously attempting to impress even before you have been offered a job interview? Produce a fantastic looking DVD complete with printed case cover, printed insert and printed label to make a brilliant memorable impression.
How many blank CD's have you got with music on them, yet you can't remember what? These days are now long gone if you use the RonyaSoft CD DVD label print software to rapidly and effectively run off a few labels with your Canon MG6370 printer.
CD label maker program is compartible with Windows Operational System, including latest Windows 7 and Windows 8 versions and supports a wide range of CD/DVD/Blu-ray surface printers, including: Canon iP4720, Canon iP6700, Canon MG6140, Canon MP800R, Canon Pro9500, Epson Artisan 800, Epson PM-G800, Epson Stylus Photo PX830FWD, Epson Stylus Photo T60, Epson Stylus Photo TX810FW, HP Photosmart C5283, HP Photosmart D5400 series, Yurex MantraJet 1050 and similar.
CD labels making program supports a wide range of CD/DVD/Blu-ray label suppliers, including: Ace 50300 series, Avery 6692, Avery Maxell C95361, CD Technology, Data Becker XXL, De'Smat A4ST-2CD, Indie, LabelWhiz LW61400, Plain Paper, Polyline UZCD458IG, UBL SP0028 CD DVD, Zweckform 6115, Zweckform L6047 and similar.