Canon iP6600D printer
Canon iP6600D printer CD DVD tray layout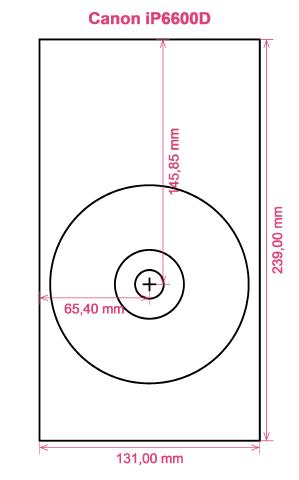 How to print labels on Canon iP6600D printer
Only when you have tried the RonyaSoft CD Label Designer that you will realize how utterly easy it is to use great prints - no longer will you be afraid of not being able to make the most of modern technology! Within moments of installing the CD label software you should be printing CD and DVD labels on your Canon iP6600D printer.
Hold on as there's much more to this CD and DVD labels software than initially meets the eye. Simple and easy to use doesn't produce simple prints, but more professional style CD and DVD labels than you would expect. This CD labels maker software gives you loads of choices and has plenty of CD and DVD label and cover templates already installed, not just for making CD and DVD labels, but also CD and DVD box covers and box inserts to round off the professional look.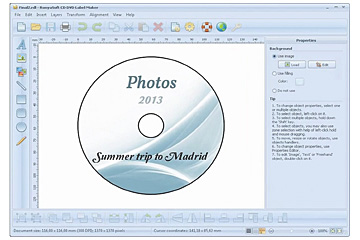 How clever do you need labeling to be? A few clicks of a mouse is enough for you to then be producing your own CD DVD labels, CD/DVD box covers and Blu-Ray CD box inserts. You don't require to be a tech 'nerd' to 'click' with this simple to download labels printing software, just try it and see for yourself!
To automatically download the CD DVD label creation software program, click on the 'Download' button.
Click on your chosen option from a wide choice of brilliant Blu-ray/CD/DVD label and covers templates.
Alter the design of your label according to your liking.
Start printing your specially designed DVD or CD label after clicking the 'Print' button, after identifying your Canon iP6600D as the correct printer being used. Always download the latest free driver updates.
Smile!
Improve the potential of your computer and Canon iP6600D printer where you can now print a fantastic array of CD DVD labels, box inserts and box covers, to create lovely gifts.
Have you ever noticed how a personally made gift really matters to someone you like? Why spend money on costly presents that anyone can buy, when with the RonyaSoft CD labels make software, you can save a fortune on gifts and appear ten times more thoughtful?
What about these for possibilities:
You're at a wedding and you take plenty of un-staged photos or video clips of all the guests looking relaxed and having a great time fun. Select your best, burn them on to a disc and post it to the bride and groom as a thank you for the invitation to their wedding. They will remember you for the kind and personal touch. And what did it cost you to produce one of the most unique presents they will be given during their wedding? - The money for a blank disc, few pieces of paper and a splash of ink from your Canon iP6600D printer. Fab huh?
Use mood photos to design CD, DVD and Blu-ray box covers and design CD DVD labels for your compilation CD's - thunder, sunshine, rain, a calm sea, a rainbow...
Have to keep snaps cataloged? Put a relevant photo on the CD label or DVD case cover.
What occurs if you have your laptop and memory stick damaged - where are all your photos kept? Make extra certain you don't lose all treasured memories of those occasions in your life - just print off some cool CD labels, burn your snaps on to a disc and keep everything sensibly where you can see it.
Make an one-off video for job applications and create an appealing box with a smart CD and DVD label to add the perfect touches.
How many blank CD's have you lying around with music on them, yet you can't remember what? These days are now long gone if you use the RonyaSoft CD labeling software to quickly and easily run off a few labels on your Canon iP6600D printer.
Blu-Ray/CD/DVD labelling software supports Windows Operational System, including latest Windows 7 and Windows 8 versions and works with a wide range of disc label printers, eg: Canon i965, Canon iP4970, Canon MG5310, Canon MP810, Canon MP950, Epson PM-930C, Epson PX-G900, Epson Stylus Photo R260, Epson Stylus Photo RX560, HP Photosmart C5275, HP Photosmart C5500 series, HP Photosmart D5368, Trace Affex CD-Artist and similar.
Blu-Ray/CD/DVD label printing software supports a wide range of disc label papers, eg: Americal 313911, Avery 5694, Avery C6074, Cassette House, DECAdry DLW-1824 CD DVD (old format), DeskTop Labels 3303-CD CD DVD Labels, Kyso 5511 CD DVD, LabelWhiz LW61400, Plain Paper 2-up, Pro CD DVD 2-up CD DVD Label, Quill, Zweckform 3654 6015, Zweckform L7676 and similar.