Canon MG6120 printer
Canon MG6120 printer CD DVD tray layout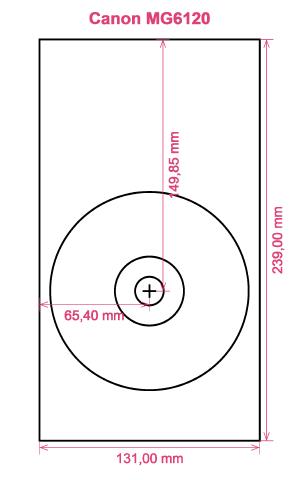 How to print labels on Canon MG6120 printer
After you have actually used the RonyaSoft CD Label Maker you will canyou discover how effective and easy it is - 'user convenient' takes on a completely new understanding! Within a few moments of installing the CD labelling software by clicking on the link, you can be printing Blu-Ray CD DVD labels using your Canon MG6120 printer.
Hold on as there's loads to this CD and DVD labeling software than instantly meets the eye. Simple and easy to use doesn't create simple results, but more professional style CD and DVD labels than you would expect. This disk label maker program gives you loads of choices and has loads of CD and DVD label and cover templates already installed, not just for making CD DVD labels, but also CD and DVD covers and inserts to round off the professional look.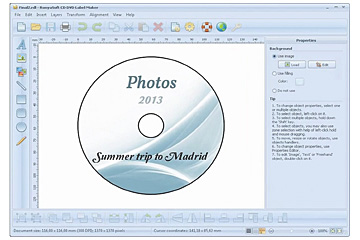 We also mentioned this software was fantastic to employ. Well, we understand that if you feel you are not 'tech-aware', when you have used the RonyaSoft CD DVD labels designer program, you will feel as smart as any professional graphic artist after you start making loads of CD/DVD/Blu-Ray covers, Blu-ray labels and Blu-Ray CD inserts:
Highlight the 'Download' button and installation for the CD and DVD labeling software is automatic.
Choose your favorite design from any of the predesigned CD label and covers templates.
Add any of your own design ideas to print the CD and DVD labels really personal.
Start printing your unique DVD or CD label after clicking the 'Print' button, after selecting your Canon MG6120 as the right printer being used. Always download the latest free driver updates.
Be proud of yourself for what you have produced!
The RonyaSoft label making software immediately gives you and your Canon MG6120 printer so much you could want for personalizing so many great CD or DVD gifts.
There is nothing nicer than receiving a gift which demonstrates someone cares enough to make something special for you. Save on costly shop-bought presents and with your first gift to someone special you will have covered the cost of your RonyaSoft CD DVD labeling program.
Think about these wonderful ideas:
Life is all about memories, and a few of the memorable ones we have are of family days spent together. Everyone has a camera and everyone has their own set of pictures, but what excitement to make a assembly of the 'best of' photos from everyone and then print a few copies on to a compact disc, create your own special labels and covers using the RonySoft label printing program for CD's, DVD's and Blu-rays and your Canon MG6120 printer and give them as a memorable gift to each member of the family who was in attendance.
Use jazzy images and photos to to print CD/DVD/Blu-Ray covers and print Blu-ray labels to easily identify your CD's and DVD's.
Need to keep snaps cataloged? Put a topical photo on the compact disc label or DVD case cover.
What a disaster if you have your laptop and memory stick damaged - where are all your photos put? Make extra sure you don't lose all treasured memories of those great days in your life - just print off some cool CD and DVD labels, burn your snaps on to a disc and store everything securely where you can see it.
Make a personal video for job applications and make an appealing case with a smart CD and DVD label to add the perfect touches.
RonyaSoft CD Label Maker is the perfect software extra to employ with your Canon MG6120 printer so download it now and get those imaginative creative juices flowing!
Blu-Ray/CD/DVD label maker program supports Microsoft Windows OS, including latest Windows 7 and Windows 8 versions and works with a wide range of disc surface printers, including: Canon iP4000, Canon iP6700, Canon MG6340, Canon MG8220, Canon MP950, Epson PM890C, Epson Stylus Photo PX730WD, Epson Stylus Photo R220, Epson Stylus Photo R360, HP Photosmart C309 series, HP Photosmart C5288, HP Photosmart D5160, Trace Affex CD-Artist and similar.
Blu-Ray/CD/DVD labels making program supports a wide range of disc label providers, including: After Burner, APLI 2001, Belkin, CD Stomper CD DVD Label Insert Combo, CoolBeLa LS001, Global ProBiz CD DVD (5x9 sheet), HP CDR6000A 3-up, Maxell J8761, Online Labels O5000, Polyline CLCDW, TDK, Zweckform 6047, Zweckform L7678 and similar.